G4: 1859 Barbara (Shiels) Gilpin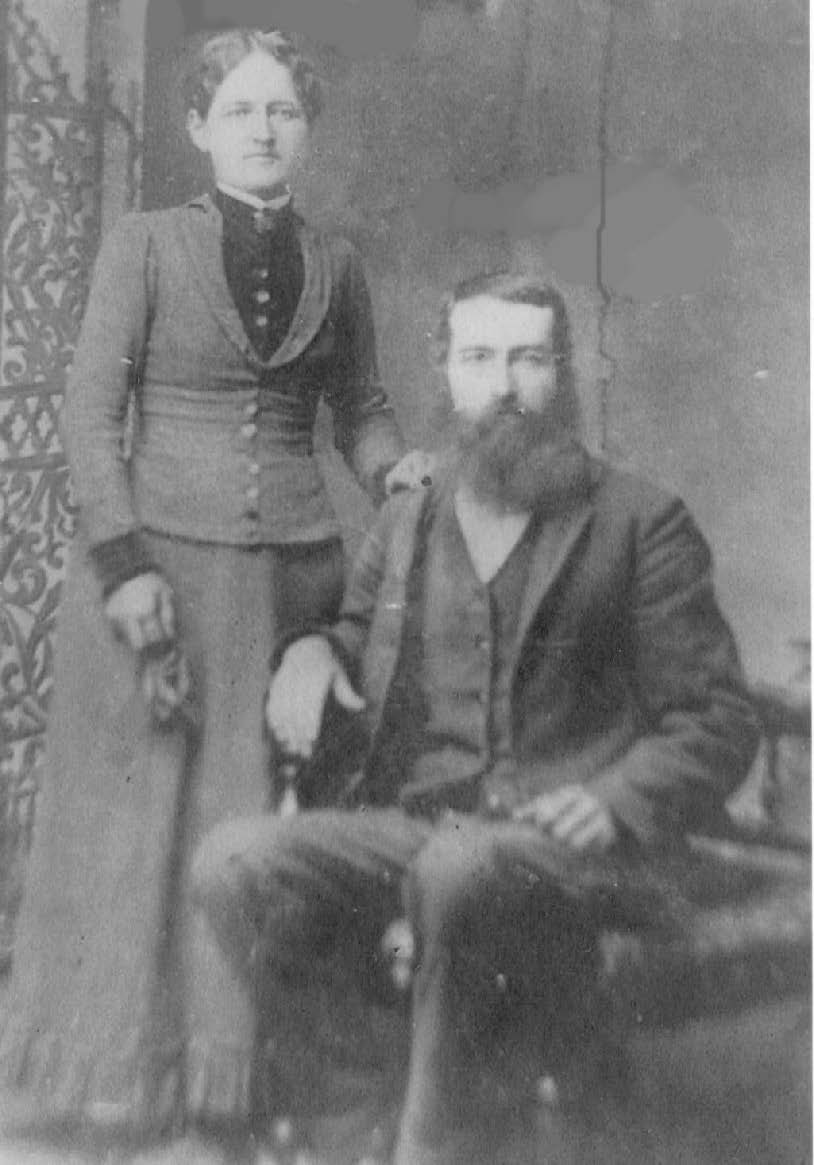 Barbara Shiels was born March 24, 1859. She was the first child of George and Susannah (Wortley) Shiels. She got her education at the school, later designated Grey Township #8, which was on the farm next to her parents homestead.
At age 18, on February 6, 1878, she married Thomas Gilpin Jr, the son of Thomas and Catherine Gilpin of McKillop Township. The Gilpin family were of English background. Thomas Jr had previously been married to Jane McKay, daughter of George McKay of Hullet Township. They had five children when Jane died in 1876.
George McKay had divided his 150 acre farm (lot 2, concession 13 Hullet Township) in half and had given the west half to Thomas and his first wife Jane. Thomas and Barbara lived on this farm until 1880, when they sold out and moved to Turnberry Township, Huron County, apparently to a rented farm.
Meanwhile, Thomas' two oldest sons (from his first marriage), had moved to Oceana County, Michigan, to work in the lumbering industry. In 1890, they persuaded Thomas and Barbara to emigrate to Michigan, where they bought a farm west of the village of Walkerville, Oceana County. They lived out their lives there. Barbara (Shiels) Gilpin died October 21, 1902, and is buried in Walkerville Cemetery, Oceana County, Michigan .
Thomas Gilpin remarried twice after Barbara's death, to Sarah Smith Ball and Mary Livingston. Thomas died November 26, 1917. His fourth wife, Mary Livingston, survived him. Thomas is buried beside Barbara (Shiels) Gilpin in Walkerville Cemetery.
Their first child, Caroline Ellen was born in Hullet, and five more children were born to them in Turnberry. The children were Caroline, Thomas, Annie Jane, Marion, Matthew and Alice. You can follow these lines separately as follows:
— — Caroline (Gilpin) Gulker 1878-1963 (G3)
— — Thomas Gilpin 1880-1963 (G3)
— — Anna (Gilpin) Gilbert 1881-1908 (G3)
— — Marion (Gilpin) Marsh 1883-1930 (G3)
— — Matthew Gilpin 1884-1957 (G3)