G5: 1878 Caroline (Gilpin) Gulker
Caroline (Carrie) Ellen Gilpin was born Nov 24, 1878 in Hullet. She was the oldest child of Thomas and Barbara Gilpin.
At age 16, she met Henry Gulker in Hart, Mich, and they were married Oct 20, 1896. Henry was 32 at the time and was born in Germany.
At age 4, Henry fell on a stony road and injured his knee. Since his father was very ill at the time, no one paid attention to Henry's injury and he became crippled to the point that he required crutches to help him walk. When his father died, his mother remarried. She died when Henry was nine and then his stepfather remarried. Henry lived with his step-parents until he was 21, when he came into an inheritance left by his own father. He used some of the funds to have his knee examined and treated. It was necessary to remove his kneecap. This left him with limited movement of his knee. Soon after the surgery, he travelled to Chicago to the World's Fair. He elected to remain in the USA and ended up in the village of Hart, Michigan. Henry had served an apprenticeship with a tailor in Germany and was classified as a pants maker and "bushel man", meaning a qualified repairman and alteration person.
In Hart, he found employment with a clothing store where he plied his trade. When work was slack in Hart, he worked in Greenville, Michigan.
In 1915, Carrie's uncle, Thomas E. Shiels, proposed that they relocate to the Detroit area, where employment prospects for Henry were better. They obtained living quarters in a building on Michigan Ave, where Henry could establish a tailoring business in the front of the building. He also worked for a time for a custom tailor, Sidney A. Gee, who made suits for many prominent Detroiters, including Henry Ford Senior. Henry Gulker was severely injured in an accident, which forced him to close his business. Henry and Carrie lived out their lives in the Detroit area. Henry died Dec 28, 1952 and is buried at Hart, Michigan. Carrie died Feb 1, 1963 and is also buried at Hart.
Seven children were born to Henry and Carrie. They were William, Florence, Herman Victor, Harold, Clarence, Phyllis Barbara and Walter.
William Gulker 1898-1902 (G4)
William Gulker was born on June 4, 1898. He was the first child of Henry and Carrie (Gilpin) Gulker. William died Nov 1, 1902 in Hart, Michigan, when he was only 4 years of age..
Florence (Gulker) Allen 1900-1990 (G4)
Florence Gulker was born Feb 11, 1900. She was the second child of Henry and Carrie (Gilpin) Gulker. She married William Green Allen on June 3, 1922. He was a tool and die maker and Florence was a real estate broker. They lived in the Detroit area and had a winter home in Florida.
After William's death Nov 27, 1973, Florence kept the Florida home and lived in apartments in the Detroit area in the summer until she died Oct 14, 1990.
They had two children; William Forrest born Aug 23, 1926 and Robert born Nov 5, 1928.
William Forrest Allen 1926 (G5)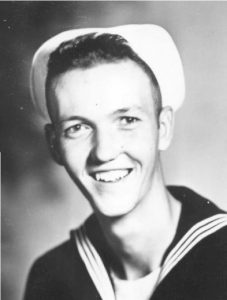 William Forrest was born Aug 23, 1926. He was the oldest child of William and Florence (Gulker) Allen. He married Ilene Kilwin on Nov 25, 1949 and they have two daughters, Lynn Diane born August 28, 1951 and Karen Lee born March 21, 1953.
William was a police officer in Detroit & worked for an auto rental company when he retired. They retired in 1993 and live in Manistee, Michigan.
Robert Allen 1928 (G5)
Robert Allen was born Nov 5, 1928. He was the second child of William and Florence (Gulker) Allen. He married Lillian Garan on May 11, 1956 and had two sons, Bryce Garan Dec 3, 1958 and Mark William Jun 11, 1961.
Robert was a Personnel Manager for Chrysler Corporation. Lillian died June 10, 1989 and Robert died April 25, 2000.
Herman Gulker 1902-1982 (G4)
Herman Victor Gulker was born Dec 12, 1902. He was the third child of Henry and Carrie (Gilpin) Gulker. He married Marguerite Wallion Livingston on September 12, 1927. Herman was employed as a skilled tradesman at Dodge Motor Co in Detroit, and Marguerite was a beautician. They lived in the Detroit area until Herman retired and they moved to Florida.
Herman died in Florida Dec 22, 1982. Marguerite moved to Tennessee and died there in 1998.
They had one son, Louis John, born Aug 5, 1928. He married Lorraine Larsen April 7, 1951. They had two sons: Craig (Feb 18, 1952) and Keith (Mar 17, 1955). Lorraine died July 18, 1963. Louis has remarried and lives in Sevierville, Tennessee.
Harold Gulker 1903-1917 (G4)
Harold Gulker was born in 1903. He was the fourth child of Henry and Carrie Gulker. Harold died on Dec 12, 1917 at the young age of fourteen.
Clarence Gulker 1906-1907 (G4)
Clarence Gulker was born in 1906. He was the fifth child of Henry and Carrie (Gilpin) Gulker. Clarence died in 1907 at the age of three months.
Phyllis (Gulker) Brown 1913- (G4)
Phyllis Barbara Gulker was born Jan 11, 1913. She was the sixth child of Henry and Carrie (Gilpin) Gulker. She married Robert Brown Jan 30, 1937. Phyllis was a sales manager for Awrey Bakeries in Detroit and Robert was a supervisor of shipping for Kelvinator Corp.
When Kelvinator closed in Detroit, Robert took a job with the Livonia School Board. After retiring, they moved to Florida. Robert died in 1992 and Phyllis moved back to Livonia.
They have one son, David Ernest, born June 17, 1941. He married Sharon Williams on Feb 3, 1968 and they have one son, Clark David (July 30, 1970). David is a school teacher and lives in the Detroit area.
Walter Gulker 1917-1991 (G4)
Walter Gulker was born in Detroit on May 21, 1917. He was the youngest child of Henry and Carrie (Gilpin) Gulker. He was employed by a manufacturer of machine tools in Detroit. He served in the U.S. Army in Europe in W.W.II. Walter retired and lived in the southwestern United States. He died on April 8, 1991.