G4: 1883 David Shiels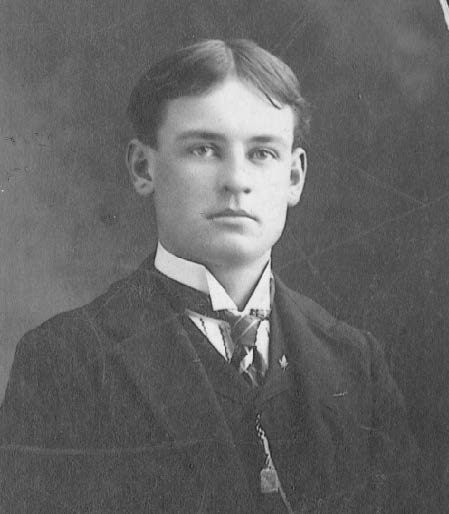 David Shiels was born Nov 19, 1883. He was the youngest child of George and Susannah (Wortley) Shiels. He attended school #8 and lived at home until his father died in 1906. On Nov 14, 1906 he married Velma Annie Ward, a daughter of Robert and Eliza (Tomlinson) Ward, who farmed on the 12th concession Logan Township, Perth County. Robert Ward had come from Yorkshire, England and settled at Woodstock. He then moved to Hickson, Oxford County, where he met Eliza Tomlinson, whom he married. They moved to a farm on the 12th concession of Logan Township, Perth County, where seven children were born to them.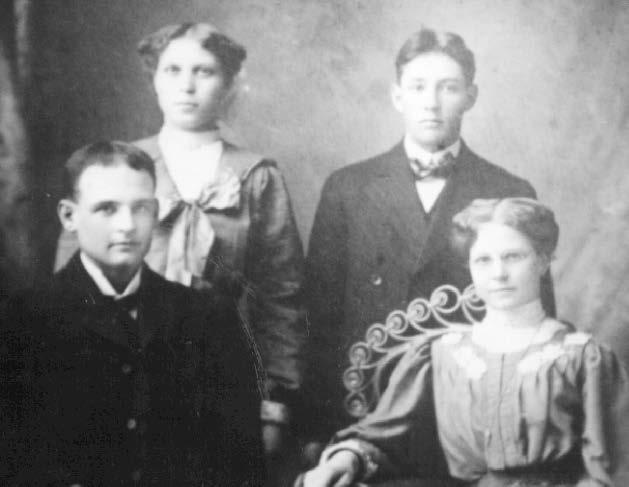 David and Velma Annie used the funds David inherited from his father to purchase the general store at Moncrieff, a crossroads settlement on the 16th concession of Grey Township a couple of miles east of the George Shiels homestead. Dishonest employees ruined the business and they moved to Detroit, Michigan.
Their son, Harold Robert, was born there on Nov 17, 1908. David worked in retail stores while in Detroit. In March, 1911, Velma Annie died from complications of surgery.
David returned to Grey Township, Ontario and on July 25, 1912, he married Marjorie Ellen Ward, a sister of his deceased first wife.
Marjorie was maid of honour at his first marriage, and was always called "Nell" by the family. They farmed lot "C" con18, Grey Township for a while and then moved to Brantford, Ontario, where David worked in a piano factory. This shop made aircraft parts for W.W.1. They later moved to St. Mary's, Ontario and back again to Detroit, where David owned a variety store, managed a grocery store, and worked in automotive plants.
In 1931 they moved to Amos, Quebec, where he worked at maintenance in a gold and uranium mine. In 1937, they moved back to Brussels, Ontario where David traded his new Chevrolet car for a small house and 9 acres of land. There he worked at farming, did mechanical work and was the town sign painter. When the government required all truck owners to have their name and address displayed on their vehicles, David was overloaded with work.
David was a man of multiple talents and skills. He was an accomplished artist who made many paintings of wildlife scenes and animals. His farmyard fence was lined with paintings of cattle, deer, horses and other animals. He was a talented musician, who could play several instruments well, although never having had a lesson. He could overhaul a car motor, build a building and do calligraphy long before it became "stylish". Late in life, around 1960, they sold the Brussels place and moved to Onondaga, a village near Brantford, Ontario to be near their son Harold, who lived at Brantford. They had a beautiful place there, on the banks of the Grand River, with a large garden producing vegetables and flowers.. They lived out their lives there.
David Shiels died Dec 27, 1969, and is buried at Mitchell, Ontario. Marjorie Ellen (Ward) Shiels died June 15, 1970, and is also buried at Mitchell, Ontario.