G4: 1877 Ellen (Shiels) Ford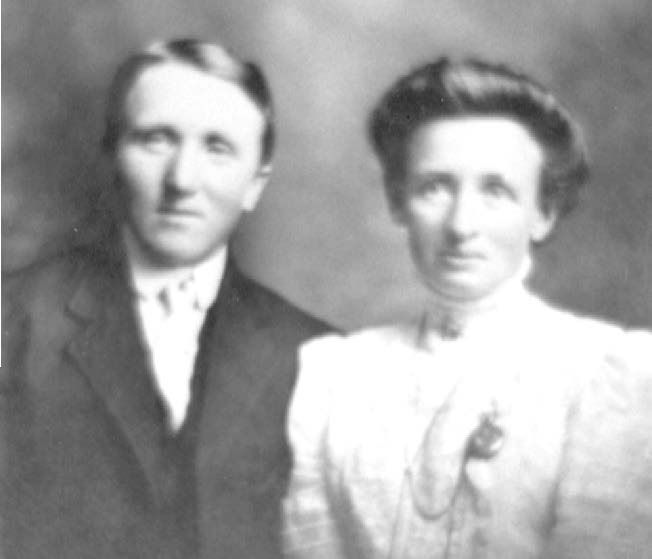 Ellen Shiels was born July 12, 1877. She was the ninth child of George and Susannah (Wortley) Shiels. Her name as written in the family Bible by her father, was "Hellen", but she never used that name. Everyone knew her as "Nellie". She was educated at school #8.
The "Brussels Post" of March 1, 1886, shows "highest mark, second class, Ellen Shiels" and the Post of April 9, same year, shows "highest mark, third class, Ellen Shiels".
When Nellie was twelve, her mother died. Her father had promised to send her to "town" (Brussels) to high school, but her mother's death stopped that. Nellie then got the job of "keeping house" for her father and two younger brothers. She did this for several years and then "went out" as a hired girl. She worked as a practical nurse keeping house and caring for her sister Jemima until Jemima died in 1902. The church register of Knox Church, Cranbrook shows "Miss Ellen Shiels admitted as church member, June 20, 1902" and "Ellen Shiels, Grey Twp County Huron, daughter of George Shiels, farmer, Baptized January 23, 1903". Nellie remained to "keep house" for Jemima's husband, George A. Hart at his farm on con14 Elma Twp Perth County, until he moved to Hullet Twp Huron County in 1906.
When George Hart died, Nellie remained in the Hullet Twp, Village of Clinton district. There she met George Alfred Ford, a son of John and Louisa Elizabeth (Cawte) Ford of Gosport, Hampshire, England. Nellie and George were married March 29, 1911, in the manse at Clinton, Ontario, by Alex Stewart. The witnesses were Francis Glew and Elizabeth J Stewart. George Alfred Ford was born January 28, 1884, in Gosport, Hampshire, England. George's mother died at the birth of twin sons when he was nine, leaving his father with nine children, the oldest 13, and newborn twin boys.
George and his next younger brother, Thomas Walter who was seven, were sent to the Barnardo Home for Orphans in London, England. The older children were left with their father to care for the youngest ones. George and Walter remained at Barnardo Home for two years. At that time the administrators asked George if he and his brother would care to be sent to Canada, to foster homes there. They elected to go, and were sent to a foster home in the Muskoka Lakes district of Ontario, where they remained for two years. They were then sent to Hullet Twp Huron County, to two farmers who were brothers named Brown. Alex Brown took George and had lot 1 con 1 immediately east of the village limits of Clinton. When George turned 18, his was "on his own". He spent the next ten years working on farms as a "hired man" in the summer and working in the lumber woods in the north in the winter. George rented an acreage on the road between Bayfield and Goderich (now highway 21) to raise small fruit. He later headed west in the summer to work in the wheat fields on the prairies in Saskatchewan. On May 26, 1910, George applied for a "pre-emption" on the NE quarter of section 5, township 7, Saskatchewan, near the village of Glasnevin. When he and Nellie were married, they started west.
Apparently, Nellie got a look at the prairies and decided she did not want to be a "prairie wife", so they continued west to Victoria, BC, where they had friends. George and Nellie bought a lot, probably about ½ acre, on Dalmeny Road in Colquitz, a suburban district outside Victoria, with funds inherited by Nellie from her father. George bought a load of used lumber and with the help of friends, built a small four-room house. The writer, in 1981, had the emotional experience of a tour of the house, which he had not seen since he was 1 ½ years old, conducted by Miss Youell, a daughter of the man who purchased the place from George and Nellie in 1920. Three children were born to them in the home in Colquitz:
Edith Helen, born March 5, 1912
Velma Annie, born December 5, 1916.
William George, born October 19, 1918.
George obtained employment with a cereal mill in Victoria and he and Nellie lived in the home until the mill closed and left George without employment. Further search for a job proved fruitless and in 1920, they sold out and moved back to Ontario.
There they lived in rented premises near Clinton for a while and then purchased a farm lot l5 con 14 Grey Twp Huron County. This is 1-1/4 miles south of the village of Cranbrook and two miles from Nellie's birthplace. Their daughters Edith and Velma attended Grey Twp school #7 at Cranbrook while they lived there. They farmed there until the spring of 1923, but crop failures and lack of financing forced them to sell out.
They moved to Detroit, Michigan where they were able to live with Thomas E Shiels, Nellie's oldest brother, until George found employment in the automobile industry. They moved from uncle Tom's home into rented quarters for a couple of years and then bought a small house on the outskirts of Detroit. The writer remembers that the back of our lot was the railroad and much time spent in playing on the tracks, also his father buying a used 1923 Model "T" Ford and the great difficulty George had in learning to drive it!
In 1932, George's employment failed and they lost the house due to inability to make mortgage payments. A longtime friend, a Mr. Brown, nephew of George's foster parents in Canada, provided a home in Detroit free of rent for a couple of years. During those years George began selling food products door-to-door. In 1937 they purchased the home from Mr. Brown and lived in it until 1946. George continued selling food products and spices door-to-door for several years. When WW2 started, he took a job in a war plant until the war ended. He then became caretaker of a large church building. In the fall of 1946, Nellie and George decided to retire to Grand Rapids, Michigan where their oldest daughter, Edith Helen Koopmans lived. They sold their home in Detroit to William and Janet. In Grand Rapids, George worked as a custodian for the American Red Cross office building. They lived in the upper apartment of their daughter's home.
Ellen (Nellie) Shiels Ford died January 23, 1951, age 73, and is buried in Rosedale Cemetery in Grand Rapids, Michigan. George Alfred Ford died January 15, 1973, age 88, and is buried in Rosedale Cemetery alongside his wife.
Edith Helen (Ford) Koopmans 1912-1952 (G3)
Edith Helen Ford was born March 5, 1912 at Victoria, B. C. She attended school in Victoria, then in Cranbrook, Ontario and finally in Detroit where she completed 11 grades. She was compelled to leave school due to illness. Edith worked for Michigan Bell Telephone Company until she married Harry Koopmans of Grand Rapids, Michigan.
Harry was born in The Netherlands and was brought to the United States by his parents, Mr & Mrs Thomas Koopmans. Harry finished High School in Grand Rapids and went to work for Consumers Power Company, the electric utility. He worked for them until he retired in 1965 at age 65. They had no natural children, but adopted a boy in 1944. They named him Gary Lyndon Koopmans.
Edith died May 9, 1952 and is buried at Grand Rapids. Harry remarried in 1952 to a cousin of his first wife on the Ford side. She died in 1965, and he remarried twice more. Harry died November 18, 1981, age 81, and is buried at Grand Rapids. No data is available on their son, Gary Lyndon.
Velma Annie Ford 1916-1927 (G3)
Ellen and George's second child was Velma Annie, born Dec 5, 1916 at Victoria. She attended school first in Cranbrook, Ontario and then in Detroit. Velma was an excellent student but subject to many illnesses. She died May 15, 1927, age 10, and is buried in Detroit.
To review the history of William Ford and his descendants, click on the links below.
— — William George Ford 1918-2007 (G3)
— — — John William Ford 1947- (G4)