G4: 1871 George Shiels Jr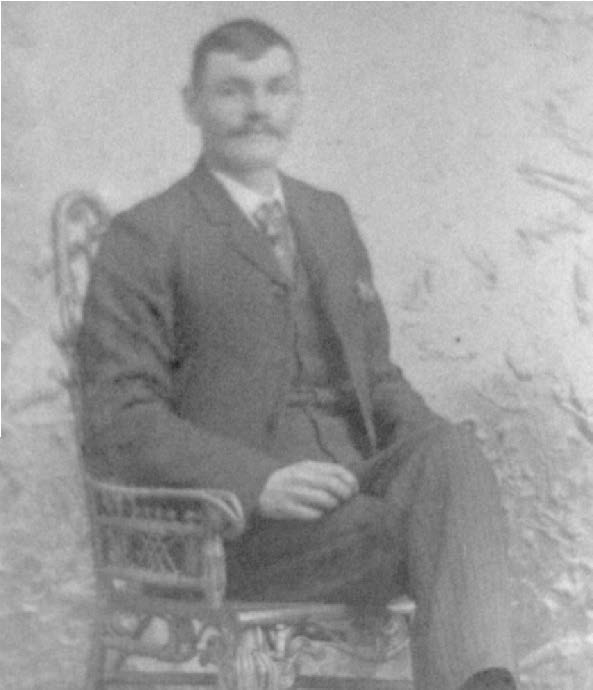 George Shiels Jr was born October 18, 1871. He was the seventh child of George and Susannah Shiels. He worked on the home farm and also for others as a bricklayer and stonemason. The "Brussels Post" o f May 28, 1886 reports that George Shiels Sr. was raising his barn and putting a stone stable underneath. George Jr. undoubtedly had a hand in that, as did his brother Robert. The "Post" of August 6 the same year reports that Robert Shiels was injured by a large stone he was putting in his father's basement. It is fairly certain that Robert, Thomas, and George Jr. worked with their father in building the large frame house on the home farm. George's father gave him lot 21 con 17 Grey Twp. when he married Frances Mary Combs on July 29, 1896.
He and Frances never built or lived on the farm. It was a swampy, low lying lot only suitable for pasture land. They lived in Brussels where George plied his stonemason and bricklaying trade.
George did dig a well on his land and developed respiratory problems as a result, which eventually caused his death on Mar13, 1904. George and Frances had one daughter, Edna, Following George's death, Frances was married to Andrew Joynt of Seaforth.
Frances and Andrew had two daughters, Bernice and Jeanette. Following Andrew's death in 1920, Frances and her daughters remained in Seaforth, Ontario until Frances married Thomas E. Shiels in 1928.Thomas was an older brother of her first husband, George Shiels. His first wife, Jessie Anderson, had died in 1927. Frances and her daughters Bernice and Jeanette came to Detroit to live in Thomas' home. Thomas E. Shiels died September 23, 1936 and is buried at Detroit. Frances Mary Combs (Shiels) (Joynt) (Shiels) died August 28, 1970 and is buried at Brussels, Ontario, beside her first husband, George Shiels Jr.
Edna (Shiels) Johnston 1898-1991 (G3)
Edna was born June 14, 1898 and attended school in Brussels. She was the only child of George and Frances Mary Shiels. At age 17, Edna married Wilford Johnston on May 10, 1916. Wilford was a plumber by trade. They lived in Detroit, Michigan, then Owen Sound, Ontario, and finally settled in Smithville, Ontario where they lived out their lives. Wilford Johnston died in 1984. Edna (Shiels) Johnston died August 18, 1991. Both are buried at Smithville, Ontario.
Edna and Wilford had five children:
Carson was born July 29, 1918. He contracted polio at a young age and was permanently handicapped. Carson never married and is living at Smithville, Ontario.
Milton was born March 15, 1920. He married Connie Rainsberry in July, 1945. They had four children, Fred, Carol, Dorothy and William. Milton died in 1970.
Edna Frances was born November 20, 1921. She married Henry Shantry on September 27, 1947. They had no children. Henry died in the early 1980′ s.
Eleanor Wayne was born March 7, 1924. She married Don Fisher on June 25, 1944. They had two children, William David and Twila Ann. Eleanor died in April 1982.
Dorothy Louise was born August 27, 1930. She married Bruce Larmon on June 24, 1950. They had Judy Louise on March 31, 1952.