G4: 1869 Mary (Shiels) Hart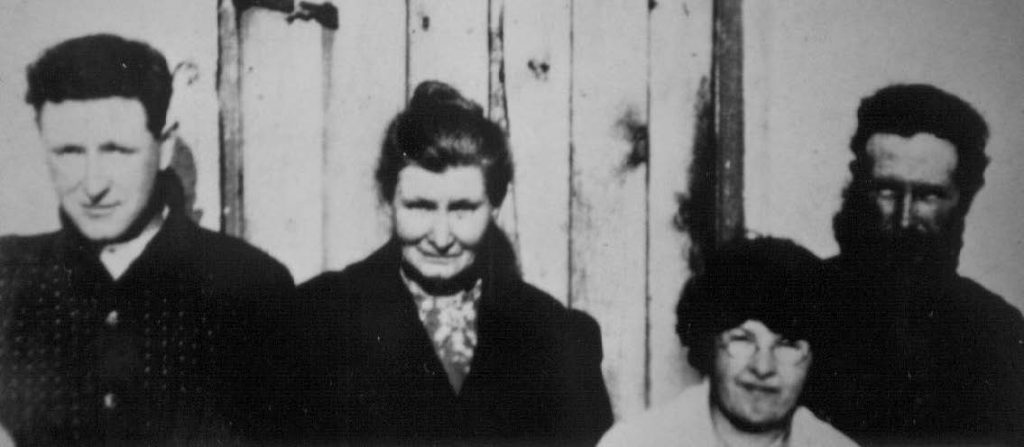 Mary Shiels was born May 22, 1869. She was the sixth child of George and Susannah (Wortley) Shiels. On Oct 8, 1891, she married Henry (Harry) Hart of McKillop Twp. The Harts emigrated from Devonshire, England and settled in McKillop Twp. Harry became a partner of Robert Shiels (his wife's brother) in a blacksmith shop in Leadbury, a crossroads settlement in McKillop, 7-1/2 miles north of Seaforth.
In 1906, Harry and Mary moved to lot 2 con 4 Elma Twp, Perth County, where they farmed. Mary died there on January 16, 1921. Harry bought the east half of lot 24 con 13 Grey Twp and farmed there with his daughter Elizabeth. Harry remained there until he sold the place to Teasdale Whitfield in 1930. He did general farming and also collected milk from the farmers around and delivered it to the cheese factory.
Henry (Harry) Hart died October 16, 1948 and is also buried at Brussels. Harry and Mary had two children, George Henry & Elizabeth Susannah Hart.
George Henry Hart 1891-1961 (G3)
George Henry Hart was born Aug 1, 1891. He went on to learn the cheesemaking trade. On Nov 19, 1919, he married Lillian Matilda Davidson. George and Lillian began married life at Ethel, Ontario where George was the cheesemaker at the local cheese factory. From there they moved to lot 25 con 14, Grey Twp. In 1926, they bought the cheese factory and adjoining home at Newry, Perth County. They lived there the rest of their lives.
In the late 30's, George sold the cheese factory but retained the residence and acreage and began dealing in eggs, chickens and feed. He would sell you pullets and feed for them, buy the eggs from you, and when the hens were too old for profitable egg production, he bought them back and sold you new pullets. His son Curnel and his son-in-law Clifford Coghlin were both employed in the business.
George Henry Hart died Sept 18, 1961 and is buried at Atwood. Lillian Matilda (Davidson) Hart died Dec 29, 1979 and is also buried at Atwood. George and Lillian had two children, Curnel and Elva.
Curnel Stewart Hart 1920-1969 (G4)
Curnel Stewart Hart was born May 16, 1920. He married Gladys Goldie Louisa Ward on Aug 1, 1940. Curnel and Gladys built a home in Newry where he was employed in his father's business. Curnel Stewart Hart died on Dec 11, 1969 and is buried at Atwood. Curnel & Gladys had two children, Kenneth Stewart born Nov 7, 1942 and Gladys Pauline born April 11, 1948.
Kenneth Stewart Hart 1942 (G5)
Kenneth Stewart was born Nov 7, 1942. He married Gwendolyn Vanderburgh on August 17, 1963. They had three children
Daryl George was born Jan 31, 1964. He married Janet Stemmler on March 5, 1987 and they had Kimberley Ann and Timothy Daryl.
Darleen Ann was born on July 1, 1967. She married Brian Thedoriff on June 2, 1989 and they had Shauna Jade and Christopher Kenneth.
Heather Lynn was born Oct 5, 1969. She married Stephen Cook on Aug 15, 1992 and live in Harriston, Ontario.
Gladys Pauline Hart 1948 (G5)
Gladys Pauline was born April 11, 1948. She married Donald Roy McEwen on Sept 24, 1966. They have two children
Curnel Douglas Earl born July 8, 1967. He married Barbara Graham on Sept 9, 1989 and they have a daughter Jessica Amy.
Colin Stewart born June 17, 1971. Colin married Melissa Anne McKessoch on March 15, 2002.
Elva Gertrude Marie (Hart) Coghlin 1921- (G4)
Elva Gertrude Marie Hart was born June 10, 1921. She graduated from Atwood High School and married Clifford Frederick Coghlin on Nov 1, 1941. Cliff did farm work and worked for a hatchery and feed business in Newry. After marrying Elva, he began to work for her father. When his father-in-law died, Cliff began his own business, selling chicken feed and pullets and buying eggs. He also dealt in scrap metals.
Cliff and Elva bought several adjoining lots in Atwood and moved a small house in from the country onto their lots. They also built a cottage on the Lake Huron shore at Amberley, Bruce County. Elva worked for Campbells Soup-Swanson at Listowel for several years. Clifford Frederick Coghlin died December 22, 1972, and is buried in Elma Center Cemetery at Atwood. Upon Cliff's death, Elva moved to an apartment at Listowel and sold the Atwood home. She was employed at Listowel Hospital for several years. When she retired from the hospital she modernized the Amberley property and made it into a year-round home.
Elva and Clifford Coghlin had two children, Sharon Ann was born August 6, 1944 and Shirley Pauline Coghlin born May 3, 1946.
Sharon Ann Coghlin 1944 (G5)
Sharon Ann was born August 6, 1944. She graduated from Atwood High School and was employed at the bank. On February 21, 1970, she married Gary Lynn Evans. Gary worked for the lumber company at Brussels where they lived following their marriage. Sharon works for a bank at Brussels. Gary inherited the farm at lot 16 con 11 Grey Twp, (immediately north of the town of Cranbrook) from his grandfather. He and Sharon and family moved there. Gary left the lumber company and now is raising hogs and driving a school bus. Gary and Sharon have two sons:
Robert Duane, born August 15, 1970, graduated from Grey Twp. Consolidated School & after college, he worked for Huron County.
Brent Allen, born June 30, 1973 has also graduated from High School and is in college. On December 18, 1998 he married Sharon Jacklin in Jamaica. On Nov 10, 2000 they had Darren Joseph.
Shirley Pauline Coghlin 1946 (G5)
Shirley Pauline was born May 3, 1946. She graduated from Atwood High School and was employed at the bank. On August 20, 1966 she married James Frank Quipp. Jim worked in the feed mill at Mitchell for several years following their marriage. They bought an abandoned country school building on the highway between Atwood and Monkton and converted it into a nice home. In the summer of 1975, Jim was offered a good ,job with a ready mix concrete contractor at Tiverton, Bruce County, so they sold out and bought a place in Tiverton. Shirley is presently employed at the bank in Tiverton. Shirley, Jim, her sister Sharon and a fourth were a prize-winning square dance group for several years. Robert Hart, a Shiels cousin, was caller for the group. James Frank Quipp died in hospital in London January 22, 1993, age 45, of heart disease. He is buried at Tiverton. Shirley and Jim have two children:
Michael James was born February 6, 1968 and graduated from high school in Tiverton. He is a good hockey player. He married Vicky Maureen Leggett. They have bought a home in Tiverton and are both employed. They have two children, Jordan Michael, born February 21, 1991 and Brittany Susan, born February 25, 1993.
Kelly Joanne was born July 1 , 1970. She also graduated from high school in Tiverton. Kelly married James Elden Robertson and they have a daughter Morgan Elizabeth, born April 17, 1998, and a son Bradley James Robertson, born May 3, 2000.
Elizabeth (Hart) McAlpine 1895-1928 (G3)
Elizabeth Susannah Hart was born Oct 8, 1895 at Leadbury. She was the second child of Harry and Mary Hart. She lived at home with her parents and when her mother died in 1921, she continued to "keep house" for her father until her marriage to John Colin McAlpine on March 17, 1926. John had a farm at Hanna, Alberta and Elizabeth, (who was always called "Lizzie") went to live with him there.
Elizabeth Susannah (Hart) McAlpine died in May, 1928, apparently o f "blood poisoning" and is buried at Hanna, Alberta. John Colin McAlpine died Aug. 19, 1974 and is also buried at Hanna, Alberta.
They had a son, Donald John Henry McAlpine on August 8, 1927. On June 14, 1952 Donald married Marion Joan Bickerbike. Donald has worked for the railroad and has built and sold several homes. Marion died May 15, 1995. Donald and Marion have four children:
Deb was born August 10, 1955 and married Rick Hearsey. They have Gina, born August 18, 1973 and twin girls born August 31, 1982.
Cindy was born April 2, 1957. She married Dwight and they have a son born June 1, 1982.
Douglas was born September 4, 1958
Lisa, who is married and has a son Michael.