This page provides details on William John Shiels & Mary Machan
Back one generation to George Shiels and Susannah Wortley
G4: William John Shiels 1880-1906 & Mary Machan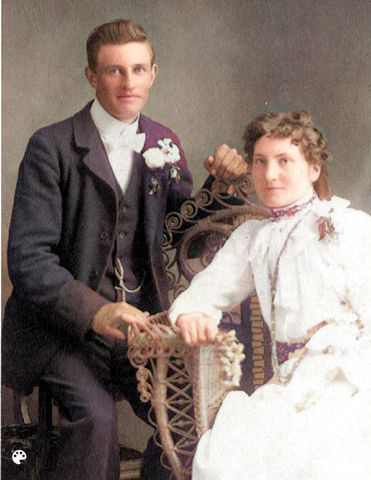 William John Shiels was born April 10, 1880. He was the tenth child of George and Susannah (Wortley) Shiels. He was the only one of the children who had a middle name. He lived at home on the family farm until he married Mary Machan on June 25, 1902.
Mary was the daughter of Robert and Eliza (Elnor) Machan. Robert had come to Canada from Scotland with his parents Robert, Sr and Mrs. Machan. The Machan's settled on Lots 33, 34 and 35, Con18, Grey Twp. In 1879, Robert Jr. owned lots 31 & 32, con.18. Eliza was the daughter of Daniel Elnor, who served in the Coldstream Guards during the Upper Canada Rebellion. In appreciation of his service Queen Victoria granted Daniel an honourable discharge and 100 acres of land near Sarnia. In the 1860's, the Machan family founded a village on or east of Lot 35, Con.18, which they named "Carmunnock" There was a post office, which was named "Stowe", a general store and a sawmill. That village has completely disappeared.
William and Mary (Machan) Shiels lived in the village of Ethel, in the subdivision of lot 23, concession 8. Their home was on Lot K of that subdivision.
They had one daughter, Mary Etta. She was born May 19, 1903 and died September 27, 1904 and is buried at Brussels.
William John Shiels died July 20, 1906, and is buried at Brussels. Mary (Machan) Shiels was remarried to Robert John Rennick on August 21, 1908. Mary died September 6, 1957 and is buried at Mitchell, Ontario.