G6: 1920 Howard Shiels
Howard Shiels was born north of Stoughton, Saskatchewan on October 20, 1920. He was the seventh child of John and Pearl (Gerry) Shiels. When he was 16 he had a bad case of the german measles and nearly died. Howard moved along with his dad to Manitoba in 1937 and worked with his father on the farm. He joined the army with his brother George in Melita, Manitoba in 1941 and served overseas in World War II.
While overseas, Howard was wounded twice. He returned home in August of 1945 and his father and sister Ethel went to Brandon to meet him. They rode back with him on the train to Napinka, Manitoba. With Howard being in active duty and being wounded while in service, he was very nervous and jumpy when he arrived home. He went to live with his father, and brothers Ken and Mel, north of Napinka.
During the time Howard was at war, his mate for life, Eva Kennedy, wrote letters to him. They went together when he returned and were married in Brandon, Manitoba April 30, 1947. They moved to Moosmin, Saskatchewan and lived in a room above Howard's sister, Dorie and Gar Blackwell. Howard worked for Starge Industries building snow planes. He took a job at the elevator and then worked for Joe Green Trucking. Eva went to the nursing home in Hartney, Manitoba to have their first son, Malcolm on June 21, 1947. At Christmas time 1947, Howard applied for a job at the Brandon Mental Hospital. In 1948 they moved to Brandon, Manitoba. Howard took his training to be a Psychiatric Nurse. He only had his grade eight education however he worked hard and graduated highest in his class and won the silver medal for proficiency. Howard worked at the Brandon Mental Hospital for 15 years. During this time they had two more children; Karen born May 5, 1949 in Hartney, and Gerry November 7, 1962 in Brandon.
In 1963 they moved to Killarney, Manitoba where Howard looked after the golf course and ran the curling club. They put in the grass greens at the golf course there. In 1966 they moved back to Brandon to run the curling club and the golf and country club. They also put in the grass greens in Glenboro and Minnedosa, Manitoba while in Brandon. In 1971 they moved to Treherne, Manitoba, where they also put in the grass greens at the golf course. Howard and Eva worked side by side to build this golf course from scratch. They also ran the curling club in winter. In the summer of 1974 Howard was very sick and Eva ran the golf course and looked after the provincial park by herself.
Howard & Eva were a hard working couple who lived, worked and loved their life together. Howard died October 7, 1974, after a long fight with cancer. Eva moved their trailer to Dunrea, Manitoba. Eva worked part-time hairdressing at Killarney with her daughter-in-law.
Eva and Gerry continued to live at Dunrea until Eva's death on March 28, 1985. Eva, like her husband also died from cancer. Eva was a very friendly person and liked to work with beads. She made beautiful table decoration and also made a number of lamps and other pretty things from her beads.
Malcolm Shiels 1947-2012 (G5)
Malcolm Allan Kennedy Shiels was born on June 21, 1947 at Hartney, Manitoba. He was the first child of Howard & Eva (Kennedy) Shiels. He spent his early school years in Roseland south of Brandon before going to high school in Brandon and Killarney. During those years, he excelled in curling and golf and spent most weekends in curling rinks or golf courses; sports which he still did and enjoyed. Malcolm worked with his dad until he married Brenda Chapman on February 1,1969. Brenda was born April 26, 1949 in Killarney, Manitoba and was the only daughter of Jack & Honey Chapman of Killarney.
Malcolm and Brenda have two sons; Malcolm Scott, born September 20, 1971 and Tyler Jay born June 22, 1974. After the boys got to hockey age, Malcolm gave up his sports a bit to coach and manage baseball and hockey. The boys kept him busy also hunting, boating, golfing and curling. They all enjoyed the many years Mal spent doing things with their friends; the house was always full of extras! Malcolm was an avid hunter from the time he was a young boy; helping his Dad shoot a deer for food for winter. He always believed the first day of deer hunting was a day off of school. Because there were things in life you had to learn besides school work. The freezers were always full. Because he was such a lover of bird hunting, he bought himself the "ultimate hunting companion" – Suni. Suni will be waiting to go hunting with Mal in heaven. They raised registered Golden Retrievers for 15 years; making "Suni and Cher" parents to 39 puppies.
Malcolm was very community minded; Golf Course, Curling Club, Senior Hockey, Minor Hockey, Legion and Ducks Unlimited.
In 2002, Malcolm and Brenda purchased 14 acres of lakeshore property on Pelican Lake. Five years later they started a little resort "Shiels Shores" selling 9 lake lots, to share some of what they called a "little piece of heaven on earth". They spent hours touring the lake on their pontoon boat or pulling their grandkids behind on the tube. Barbecuing bacon and eggs on the beach Sunday morning was Mal's favorite. Also watching his two grandsons cruising on his new Gator round and round made Malcolm happy. He was so proud of his grandkids, being called "Grampa" or "Grampy" was so special to him. Brandon and Drew both carry on Grandpa's name.
Malcolm was a salesman all his life starting at age 17, traveling to North Saskatchewan sending his paycheques home to help his parents. He sold everything from McKenzie Seed to GM vehicles (Chapman's) to Case Farm Machinery to John Deere equipment. He had the gift of the gab which both his sons inherited. Malcolm and Brenda had traveled some, Hawaii (2), Mexico, Texas, and Arizona but had hoped to do some more in their retirement years. Five years ago they bought a small yard care business thinking of retirement in the near future. The small business turned into big business, "Suni-Daze Lawn Care", buying new and bigger equipment and needing to hire help.
In 2011, Tyler decided to buy into the business and do his carpentry in the winter months, now under the name "Suni-Daze Ltd.". Unfortunately, Malcolm was not able to carry on with Tyler for very long. He turned 65 in June, celebrated with a big barbeque at the lake, July 1st and shortly after started his toughest battle in life. In late July, he was diagnosed with stage 4 cancer. He said, "It's been a good life, only too short". Two months and one day later, he was gone on September 27, 2012.
Scott Shiels 1971- (G6)
Malcolm Scott Shiels was born on September 20, 1971. He was the first child of Malcolm & Brenda (Chapman) Shiels. Scott was married and had three wonderful children, Shaelynn Renee born February 22, 1995, Brandon Malcolm David born March 13, 1998 and Alexis Kennedy born June 15, 2001.
Scott has worked in the grain industry for many years, starting with Paterson Grain in Minto, Manitoba in 1992. In 2012, he joined Grain Miller Canada in Yorton, Saskatchewan. He was recently promoted to Procurement Manager for Canada.
Scott was remarried to Jennifer Rackel on August 19, 2017. They live in Abernathy, Saskatchewan. Jenn is a certified drug and alcohol counsellor as well as a cognitive behavioural therapist. She also does hot stone massage and is a certified Master Reiki practitioner.
Shaelynn Renee, graduated college in Saskatoon and is a lab and xray tech in Esterhazy, SK where she lives with her fiance Matt Sarich and their dogs Boots, Charlie and Lulu. They will be married on July 21, 2018.
Brandon Malcolm David is currently enrolled at the University of Regina studying film production. Brandon is still playing junior hockey and has quite a successful career so far.
Alexis Kennedy is finishing up grade 11 and has found her passion on the volleyball court. She has been playing elite level club volleyball in recent years and has been a provincial team finalist 3 times. Her dream is to play volleyball in college and see where it takes her.
Jenn has 2 sons from a previous marriage, Derrek and Bradley. Derrek and his girlfriend Jessica live in Ituna, Saskatchewan, and he is employed with a landscaping company in Fort Qu'Appelle. Bradley currently resides in Abernethy, Sask and works in his grandparents pet store in Fort Qu'Appelle.
Tyler Shiels 1974- (G6)
Tyler Jay Shiels was born on June 22, 1974. He was the second child of Malcolm & Brenda (Chapman) Shiels. Tyler married Lisa Cuvelier on June 20, 1998 in Dunrae, Manitoba. Lisa was born September 17, 1976 to Brian & Lori Cuvelier of Killarney. Tyler and Lisa live in Gillam, Manitoba. Tyler is a carpenter with Manitoba Hydro and Lisa is a school teacher with Frontier School Division. They are very involved in this small northern community. Teaching grades 1 and 2 over the last three years have kept Lisa very busy along with her curling and coaching high school sports. Tyler keeps busy in his off time with hockey, fishing and hunting. They belong to Ducks Unlimited and work at many community functions.
Karen (Shiels Pow) Hollett 1949- (G5)
Karen Elwoodine Shiels was born on May 5, 1949 at Hartney, Manitoba. She was the second child of Howard & Eva (Kennedy) Shiels. Karen married Terry Pow in 1967 and they did not have any children. The marriage ended in divorce and Karen met and married Malcolm Hollett. Malcolm was with the RCMP and was from Newfoundland. They had two sons; Dallas on June 19, 1971 and Malcolm Richard Gerry on March 18, 1973. Malcolm & Karen have since divorced and Malcolm has remarried.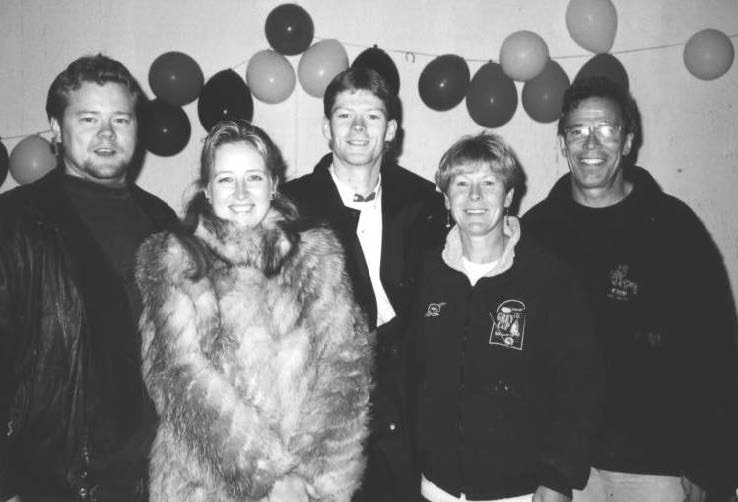 Karen lived in Virden, Manitoba with her son Dallas for a few years. Malcolm lived with his father in Yellowknife, North West Territories. Karen moved to Rosser Manitoba and lives with Lawrence Anonachuk. For the last 18 years, they have bred German Shepard and Whippet dogs for sale and show. They also board and train race horses.
Gerry Shiels 1962- (G5)
Howard Alexander Gerry Shiels was born on November 7, 1962 in Brandon, Manitoba. He was the third child of Howard & Eva (Kennedy) Shiels.
Gerry married Kim in Winnipeg before heading west. They lived in Langley, BC where Gerry is a heavy duty mechanic.
Gerry was remarried to Kim Macht-Shiels and moved back to Manitoba, living near Beausejour.