This page provides details on William Shiels & Mary Elizabeth McKenzie and their descendants.
Up one generation to John Shiels & Janet McNair
G4: William Shiels 1875-1948 & Mary Elizabeth McKenzie

G5: James Charles Shiels 1903-1960 & Margaret (Min) Coe
G4: William Shiels 1875-1948 & Mary Elizabeth McKenzie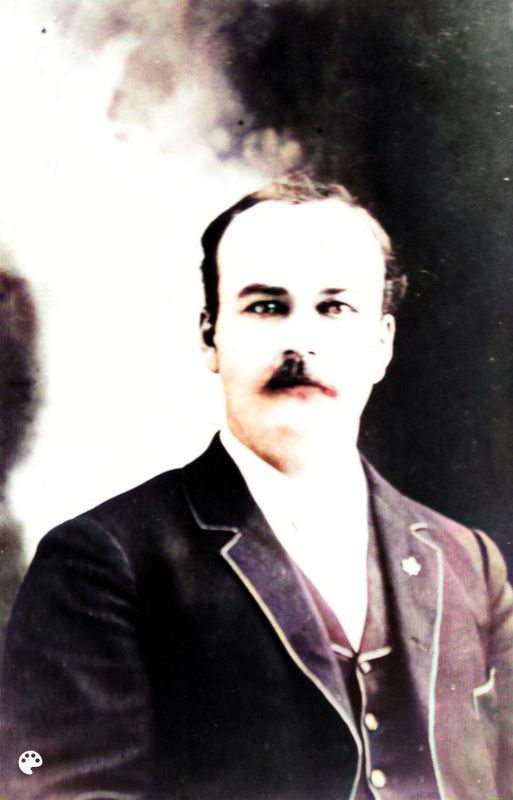 William Shiels was born July 15, 1875 at Cranbrook, Ontario. We was the youngest of nine children of John and Janet (McNair) Shiels. William grew up on his father's farm, Lot 19 Concession 14 in Grey County.
William married Mary Elizabeth McKenzie on June 25, 1901 in Brussels, Ontario. They subsequently moved to Keppel, Ontario where William became the town blacksmith. They had one son, James Charles, born February 11, 1903 in Keppel, Ontario.
Several years later, William and Mary, with son James, boarded the trans-continental train westward in search of new adventures in the fast-growing western logging industry. They settled in Burnaby, British Columbia where William practiced his blacksmith trade in the sawmills. He also did much needed shoe repairs for the loggers and appeared to prosper very well in the family's new location.
In later years, William retired from the logging industry and became well known in the southern parts of the province for his favorite hobby – weaving many items of furniture from split willow strips. His porch and lawn chairs with tables were much in demand.
Mary died on August 24, 1938, in Burnaby, British Columbia, at the age of 68. William died on October 16, 1948, in Burnaby, British Columbia, at the age of 73.
G5: James Charles Shiels 1903-1960 & Margaret (Min) Coe
James Charles Shiels was born February 11, 1903 in Keppel, Ontario (near Brussels). He was the only child of William & Mary (McKenzie) Shiels. He moved with his parents to Burnaby, British Columbia and finished his schooling there. As a young man, he acquired work in the sawmills as an apprentice millwright.
He married Margaret (Min) Coe on Dec 12, 1923. Min was the daughter of a local merchant in Vancouver. They lived in Burnaby during which time their daughter, Isabel, was born on August 31, 1924. A son, Donald James (Bud), was also born there on May 5, 1926. They moved for a time to Port Alberni where James received work at the local sawmill. James was introduced to the art of violin making and repair through a friend. At this time, the Great Depression was becoming a reality and work became scarce for everyone, particularly in the sawmill industry.
James and his family moved to Sidney, on Vancouver Island, and then on to Cranbrook, BC where a son, William George, was born on May 30, 1930. Shortly thereafter, James obtained employment with the Consolidated Mining and Smelting Company and worked underground in the Sullivan lead zinc mine at Kimberley, BC. The family moved to the little town of Marysville ,just south of Kimberley in 1931.
Acquiring a house for the family, James & Min, became greatly involved in community work and helping others in need. James or "Jim" now found time to take up his old interest in violin making and repair. He made a number of beautiful instruments, complete with his own formulas for varnishes that enhanced the tonal qualities of his instruments said to be beyond compare. That he was proficient at his art was made evident when the most famous violinists of the time, Fritz Chrysler, in the United States, heard of his expertise and commissioned Jim to repair one of his priceless Stradivarius violins.
About 1940, Jim resigned his underground work at the mine and started his own sawmill operation in the St. Mary's Lake area with his son Donald. At that time, Donald was a promising young golfer and was seriously considering entering the professional tournament circuits.
On August 5, 1943, daughter Isabel married John Kaye of Cranbrook at Regina, Saskatchewan while he was a member of the RCAF in pilot training.
During the war years, James and Min lived in Cranbrook, Creston, and Keremeos until they moved to Quesnel where Jim continued his work in the lumber and forest industry.
Their son, Donald married Nelline Schug on November 8, 1948 and their youngest son, William married Veronica Gassoff in Barkerville, BC on July 3, 1949.
In later years, Jim's work often took him northward as far as the Yukon Territory and it was it Atlin, Yukon that James became very ill and had to be returned to Quesnel for proper medical attention and family care. Members of the family were notified of the seriousness of his illness. With all of his family present, Jim suffered heart failure and expired on June 4, 1960. He was buried in the Quesnel Cemetery.
Min continued to live in Quesnel, BC until 2003 when she moved to Vancouver. Min died on February 8, 2006, in Vancouver, British Columbia, at the age of 101.
G6: Isabel Arletta (Bubbles) Shiels 1924-1998 & John Roy Kaye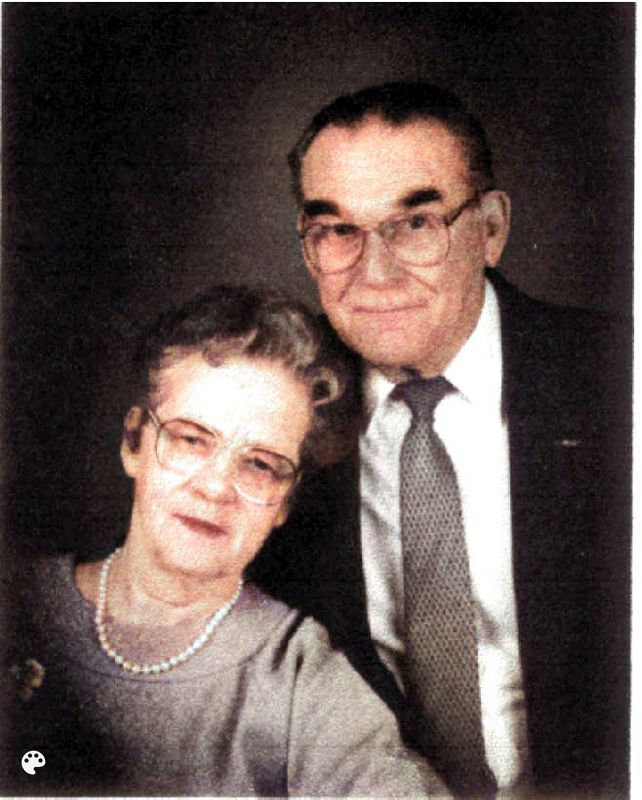 Isabel Arletta Shiels was born August 31, 1924 at Vancouver, BC. She was the first child of James and Min (Coe) Shiels. She was always known as Bubbles.
She married John Kaye on August 5, 1943 at Regina, Saskatchewan while John was in training with the Royal Canadian Air Force. John fought in WW2 with the 408 Goose Squadron Bomber Command until 1945.
They had 4 children, Judy 1944; Bexie 1955; Patricia 1959 and Shelley 1961.
Bubbles died on Mar 2, 1998 in Creston and John died Dec 28, 1998, also in Creston.
Click here for more information.
G6: Donald James Shiels 1926-1970 & Nelline Marie Schug
Donald James Shiels, or Bud as he was known, was born May 5, 1925 at Vancouver, BC. He was the second child of James and Min (Coe) Shiels.
He married Nelline Marie Schug on November 8, 1948 at Keremeos, BC.
Bud and Nelline had six children: Claire 1951, Robert 1952, Franklin 1953, Richard 1956, Dan 1961 and Karen 1963.
Bud died on March 24, 1970, after a heart attack in his hometown at the age of 43.
Click here for more information.
G6: William George Shiels 1930-2019 & Veronica Teresa Gassoff
William George Shiels was born on May 30, 1930, in Cranbrook, British Columbia, to Marjorie Clara (Min) Coe, age 26, and James Charles Shiels, age 27.
He married Veronica Teresa (Vera) Gassoff in Barkerville, British Columbia, on July 3, 1948, when he was 18 years old.
They had seven children, Sharon 1949, Gordon 1951, Ronald 1952, Teresa 1954, Margaret 1958, Ruth 1960 and Christine 1966.
William died on May 20, 2019, in Swift Current, Saskatchewan, at the age of 88.