G6: 1914 Christine (Shiels) Cox
Christene Shiels was born May 7, 1914. She was the second child of William and Janet (Pollock) Shiels. Christene moved from Kisbey, Saskatchewan to Winnipeg with her parents during the depression. When she graduated from school, she found work as a stenographer with McColl Frotenac Oil. Christene married Reg Cox on May 29, 1937.
Reg started working with CP Telecommunications when he was 13 years old as a telegraph boy. He was a self educated man and attended night school to complete his education. Reg was stationed in Winnipeg when they were married and moved to Saskatoon in 1956. They stayed there for 13 years and moved to Regina for a promotion in 1969. Three years later, they moved to Winnipeg where they retired.
Christene & Reg settled in Winnipeg, Manitoba and had six children, Geraldine, Janet, Maureen, Graham, William & Gregory. Reg died in 1995 and Christene still lives in her own apartment in Winnipeg.
Geraldine Bryden (Cox) Tipping 1939 – (G5)
Geraldine Bryden Cox was born August 13, 1939 in Winnipeg. She was the first child of Reg & Christine (Shiels) Cox. She married Gary Tipping on May 20, 1972 and they live in Gold River, BC where Gary is a dentist and Geraldine was a school teacher.
Geraldine & Gary have two children
Christene Nicolle born August 7, 1976 and began teaching in Japan in 1998.
Lindsay Dawn born January 5, 1978 and began teaching in China in 2000.
Janet Eleanor (Cox) Clark 1941 – (G5)
Janet Eleanor Cox was born May 12, 1941. She was the second child of Reg & Christine (Shiels) Cox. She married Larry Clark and they live on a farm near Ft Erie, Ontario.
Larry is self employed. Janet & Larry have 5 children, Cathy, Sharon, Daniel, Jennifer & Maureen.
Catherine was born March 21, 1966. She married Philip Pikel and they lived in Winnipeg for many years. In 2001, they moved to Ft Erie, Ontario where Philip works as a mechanic for Canadian Tire. They have two sons, Benjamin Philip, born July 6, 1999 and Damien Lawrence, born April 13, 2001.
Sharon was born July 17, 1967. She married Terry Akers and they live at Beamsville, Ontario. They have three children, Brookley, born Feb 2, 1988, Erica, born December 22, 1990 and Lisa, born July 13, 1994.
Daniel was born May 10, 1969. He married Tammy Lint and they live near Welland Port, Ontario. Dan is an electrician and they have two children, Kailey Marie, born May 8, 1998 and Matthew William, born May 17, 2000
Jennifer was born August 1, 1970 and lives in Toronto.
Maureen was born May 13, 1974 and lives in Crystal Beach, Ontario.
Maureen Louise (Cox) Hanna 1942-1967 (G5)
Maureen Louise Cox was born August 9, 1942. She was the third child of Reg & Christine (Shiels) Cox. She married Glen Hanna and they lived in Edmonton, Alberta.
Maureen died Sept 29, 1967. Glen has remarried and moved to Calgary to work for Imperial Oil. Maureen & Glenn had two children.
Barbara Louise was born October 22, 1963. She married Wayne Fras and they live in Calgary. They have two children, Katrina Maria, born May 2, 1997 and Carter Reed, born May 5, 1999.
Jeffery Glen was born September 5, 1967 and lives in Calgary.
Graham Reginald Cox 1950- (G5)
Graham Reginald Cox was born January 1, 1950. He was the fourth child of Reg & Christine (Shiels) Cox. He married Maxine Barbara Joyner and live in Winnipeg. Graham is a Captain in inland water and plans to operate a Hovercraft on Lake Winnipeg in the summer of 2001. Graham & Maxine had 4 children
Angela Bryden was born Mar 3, 1981
William Andrew was born November 3, 1982
Gina Louise was born January 9, 1985
Miranda Lien was born October 28, 1987
William James Cox 1951-1974 (G5)
William James Cox was born January 14, 1951. He was the fifth child of Reg & Christine (Shiels) Cox. He died on October 7, 1974 in a car accident on his way to Regina for work.
Gregory Alexander Cox 1956- (G5)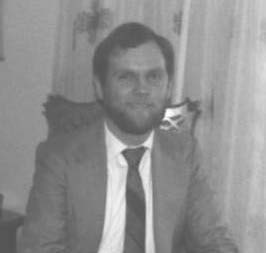 Gregory Alexander Cox was born November 25, 1956 He was the sixth child of Reg & Christine (Shiels) Cox. Greg lives in North Hampton, NB and works at Jolly Farmer, a very large greenhouse operation.