George Robert Shiels was born in 1886 and was the eighth of nine children born to Thomas Prentice Shiels and Margaret Avery. He was an eighth generation descendant of Micheal Shiels. 
The following is Thomas's lineage.
G1: Micheal Shiels 1671 & Bessie Brown
G2: Daniel Shiels 1719 & Jessie Scott
G3: James Shiels 1750 & Janet Younger
G4: Robert Shiels 1769-1845 & Annie Dickson
G5: Thomas Shiels 1795-1839 & Barbara Jean Cranston
G6: Thomas Shiels 1819-1897 & Elizabeth Prentice
G7: Thomas Prentice Shiels 1845-1892 & Margaret Avery
G8: George Shiels 1886-1962 and Rosa Stefansson

G9: Mildred Charlotte Shiels 1910-1950 & William Cecil Lamont
G9: Clara Kelly Shiels 1912-1971 & Lawrence Marsh
G9: Fredrick Johann Shiels 1914-1986 & Stephania Stefaniuk & Helen Doty
G9: Margaret Norma Shiels 1916-1984 & William Lidster
G9: Sigurlaug (Ruby) Shiels 1917-1987
G9: Robert Eugene Shiels 1919-1976 & Leona Haywood
G9: George Thomas (Bill) Shiels 1922-1948
G9: Jean Bernice Shiels 1926-1976
G8: George Shiels 1886-1962 and Rosa Stefansson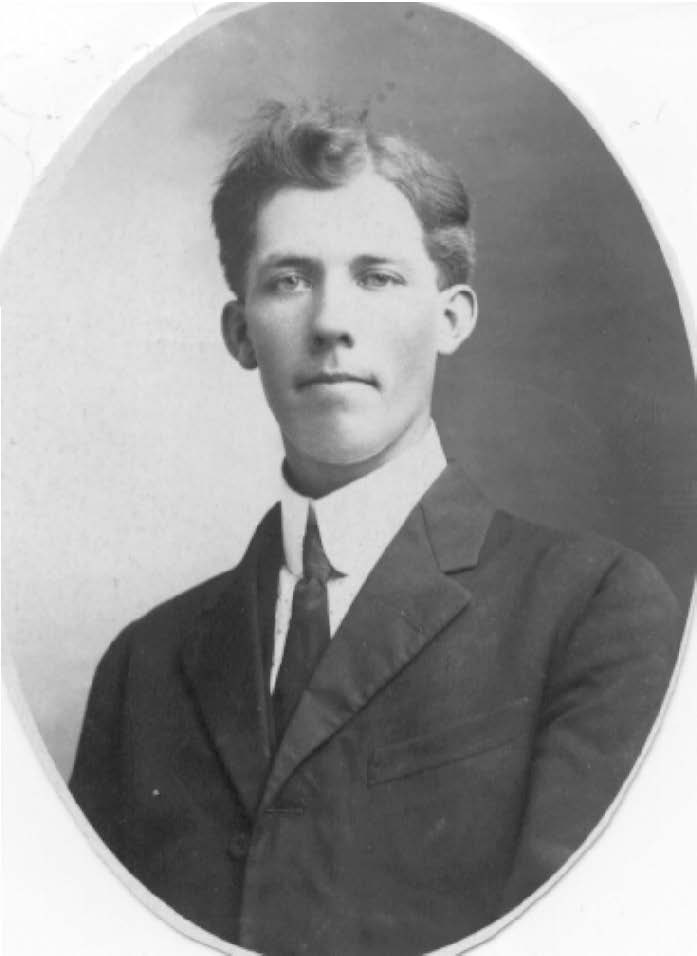 George Robert Shiels was born March 5, 1886 in a sod house in Dakota territory, USA. He was the eighth child of Thomas Prentice and Margaret (Avery) Shiels. Sporting a good crop of curly red hair, he first opened in bright blue eyes on a clear March morning in the "soddy" on his father's homestead which was situated on the west rim of the Sheyenne Valley and was only a short distance from the little town of Fort Ransom nestled snugly in the valley itself. The farm was near the site where the old mud Fort had been erected in the days of Indian fighting but the military had moved to a new location Fort Abercrombie and the mud walls allowed to return to nature.
George was the second youngest in a family of nine children – three boys and six girls, all of whom survived to adulthood. George was the only male sibling to marry and raise a family. When he was not very old his father was in a farm accident and a few years later when George was only five years of age his father died as a result of this accident. Some memories of his father that he would recall were such things as going to the mill with a load of grain with his father, the mill wheel splashing and the great grind stone turning; his father teaching him to fish and make little willow whistles, little sail boats, playing ball, etc; how strict his grandmother was re church, Sunday restrictions on play; how his childhood was coloured with tales of the Jesse James gang – apparently they robbed a bank in Minnesota not far from Fort Ransom and the younger brothers of notoriety were from a town not far from Fort Ransom. These were before his time but good "badmen" stories died hard among small boys with no comics or T.V. There were also memories of his school days in a one-room schoolhouse; adventures with boyhood friends in the freedom of those times on the open prairie and along the lovely little Sheyenne River, building rafts, swimming, etc. George seems to have acquitted himself creditably in school with a few stories of boyish pranks with his friends a la Tom Sawyer.
After the death of his father, his mother kept the farm going with his oldest brother operating it. Mother had a house built in Fort Ransom so the younger children would have an easier access to school. This situation continued until uncle Jim Shiels went out to Saskatchewan to take up a homestead. As George's mother was not well and was worrying about getting George and brother Art settled into something permanent, and free land was for the taking in western Canada, the move was made in 1905. Mother, Bert and George each took a quarter section near Craven, Saskatchewan. Art did not take a homestead at that time but worked with the others. Legal description of the homesteads were township 21 range 20, section 6 – N.E. quarter – George; S.E. quarter – Margaret; S.W. quarter -Albert (Bert).
Then in 1908 after a lengthy illness, his mother died at the homestead in Saskatchewan. The remains were taken back to Fort Ransom by train and interred beside her husband, Thomas Prentice Shiels in Standing Rock Cemetery.
George did not settle on the homestead but sold it and took up barbering. In 1909 he was plying his trade in the little town of Craven when fate stepped in and changed the even tenor of his ways. It was early spring and the barbershop gang were "horsing around" and throwing snowballs. One of these slushy, cold missiles upon leaving George's hand smacked into a pretty young stranger just rounding the corner. Red haired fellows do blush and the snickers and catcalls from the gallery didn't help matters.
But he managed an apology and she must have accepted as she accepted his ring a few months later. Now fate had planned this meeting quite a ways back as the Saskatchewan government were planning big things for Valeport (a landing place on Last Mountain Lake near the source of the Craven River). So they requested a dredge from the Dominion Government to clear the channel where the lake flows into the Craven River.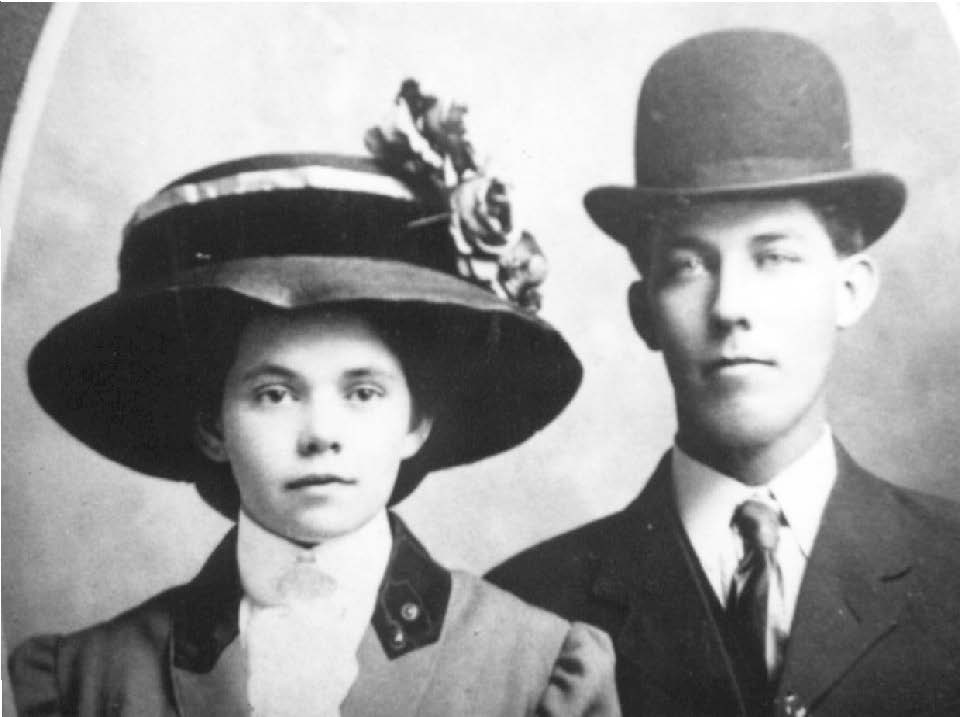 This machine had to be transported by train from one of the lakes in Manitoba where three of them operated constantly. This also included a small tug boat and crew to man both. The engineer was William Ward whose wife and two small children would accompany him. Now the wife Bertha, had a lovely young sister, Rosa Stefansson, who came along to help with the kids. Bertha and Rosa were of Icelandic descent and with a bit of an accent which must have been charming and Rosa's charms were not overlooked by our blushing hero.
So a love was born that was to last beautifully for more than fifty years. And so they lived happily ever after. The marriage took place in Lumsden, Saskatchewan. on April 30, 1910. The happy couple moved to Selkirk, Manitoba and George started working with the Dominion Government in what was called the government yard -involving dredge operation, boat repairs and maintenance of dredges and boats, large and small lake-going vessels; there was also a drydock connected with this work and he did diving (heavy, weighted rubber suit and large, globular, iron helmet with glass visor and attached to long hoses) for this operation as there were underwater tracks to be maintained. At this time he was taking his stationary engineers course and achieved his second papers in this. He also worked on the construction of the bridge and locks at Lockport to enable larger vessels to move upstream as far as Winnipeg. He was involved in diving again and also driving a span of horses scooping earth for foundations and forms for the large amount of concrete required.
Meanwhile, back at the little cottage George had built on Greenwood avenue in Selkirk, the little feet were multiplying: Mildred Charlotte born 1910 – black hair, grey eyes; Clara Eleanore (Kelly) born 1912 – blonde hair, blue eyes; Frederick Johann born 1914 – black hair, hazel eyes; Margaret Norma born 1916 – reddish brown hair, green/hazel eyes; and Sigurlaug Ruby born 1917 – black hair, blue eyes.
Then came a letter from brother Bert back on the old homestead in Saskatchewan asking if George would come back to help out on the farm and that he also needed a housekeeper. They must have figured it was worth it as off we went by train and settled in at the old farm house in the spring of 1918. And in time more little feet were added to the growing horde: Robert Eugene (Bob) born 1919 – black hair, brown eyes and George Thomas (Billy) born 1922 – black hair, green eyes.
So George was back in the farming game out west, renewing old acquaintances, getting involved in community affairs and sports. Some activities recreation-wise were such things as: he played baseball and was usually the pitcher; all the family were taken along to the games, dances, picnics, any gathering in the area and all had a great time; dances at Burnside School house had little ones tucked into seats sound asleep where the seats were stacked along one wall; uncle Jim played the fiddle as he stamped one foot and called the square dances; private little family picnics like going down Wood's hill into our little corner of the Qu'Appelle valley to the little Craven River flowing amid tall trees; kids played while father fished; the yearly school picnic was an event to look forward to; visiting other farms on Sundays, or they visiting Bert's. But the serious side of George's return to farming involved long hours in the hot sun doing the hard work of the prairie farmer of that era. Also his fair skin and red hair (more like auburn now) were not suited to being outdoors in the shadeless fields all day and sunburn must have bothered him immensely.
He loved animals and would have preferred a stock farm rather than grain – at one point he had a large herd of cattle. But of course, this was not his farm and so becoming restless in the summer of 1923, he packed up the seven-passenger McLaughlin touring car with wife, kids, baggage and headed back to the land of broad river, tall spruce and pine trees with its huge lakes in the area of Red River country. That was an adventurous trip and involved spending four nights on the road and arriving very late at night in Selkirk. He then traded the McLaughlin for a farm in the Teulon district of the interlake area of Manitoba. This turned out to be a disaster; the only decent piece of ground was around the log house and farm yard; the rest was swampy or too stoney to work. So he tried cattle.
He and the oldest boy Fred took the train to Selkirk and purchased about eight or ten cows and drove them on foot along the roadside to Teulon about thirty-five miles. Along the way they were joined by a Bezenji-type female dog who took over most of the herding and as she would not go home (if she had a home) they adopted her, named her "Queenie" and she became a greatly loved and useful member of the family. It was a matter of spending two nights on the road for these intrepid travellers each night at a friendly farmstead – one family took them into the house, the other allowed them to sleep in the barn. They arrived home tired but with hope for the future in the start of a dairy herd. It became routine for a couple of the older children to drive into Teulon or Inwood with cream cans to sell the product to one of the creameries on Saturday. However, this did not prove as profitable as hoped, so we were on the move again – this time by "Colonist" car on the west bound CPR back to Craven. That mode of travel was another adventure and could fill a whole chapter.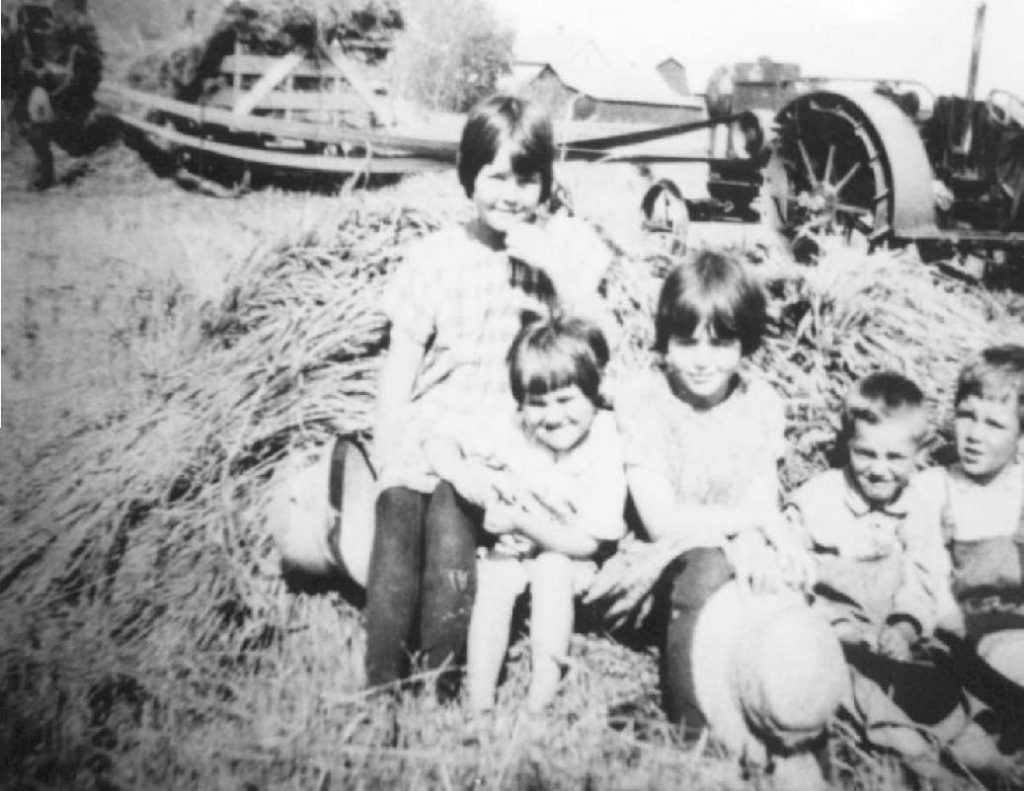 However, once again settling down at the old family homestead proved a pleasant transplant for all of us. George was back into the familiar routine of a familiar farm and country side; the older kids settled into Burnside School (typical one-room-eight classes schoolhouse on the open prairie), younger ones wandering free, mother occupied with house and the youngest pair of little feet: Jean Berniece born 1926 – very blonde, blue eyes. This situation existed till 1927 when farm profits were dropping and there seemed to be insufficient ready cash for the needs of a large growing family. George tried various means of supplementing his income – cattle (in the herd there were 10 or 12 huge steers that could not be kept corralled; they would jump the fence in follow-the-leader fashion; George would be rounding them up or building the corral higher with little effect), dairy herd, taking a Raleigh franchise and driving his team and van around the territory. But times were hard and things only got tougher. But none-the-less it was a happy time with relatives and pleasant neighbours, social and sporting events still included all the children (baby-sitters were unthought of – children were part of the "good times"). One special event which took place on Sunday afternoons at our place was a home barber shop. George would get out his old barbering tools, strop the straight razor to a fine edge and set to work on all who came needing a trim or to be shorn. This was not a business but a social event. In summer this took place out of doors and, of course was an ideal time for all these men to sit around or loll on the grass and have a gab-fest and good gossip. These sessions were not held every week but certainly showed the friendly feeling that prevailed on the prairies. So the farm years came to an end, and we moved to Silton which was not far away.
Fred, the oldest boy developed mastoid and was a very sick boy for a while. Then George took him to Regina for specialist diagnosis and a major operation on the ear. Then Rosa was not well and required major surgery which was done at Grey Nun's hospital in Regina. Silton was a pleasant little town with a lovely lake and beach nearby (Last Mountain Lake) George worked at various jobs – lumber yard, painting and decorating, did the two room school house in vacation time and a couple of store, worked on construction of the United Church. In winter he tried fishing with nets through the ice on the lake and did well but it was a short season. He worked for several farmers near town – during the bad flu epidemic in the winter of 27-28 some farm families were all down with the flu at the same time and George kept the livestock from starvation and milked, etc. brought groceries to the families. It must have been hard going as he had only recovered from the "bug" himself when he set out on these rounds. The two oldest girls were working, not earning much but keeping themselves anyway. George worked at the local Dairy for a time and the "middle" kids – Fred, Norma and Ruby delivered milk with a horse and buggy before school. And this helped with the milk bill as times were getting really near rock bottom.
Then George was a good horseshoe pitcher and often picked up $5.00 or so (a lot of money then) at tournaments at picnics and local fairs. So we moved again. This time to Strasbourg, Saskatchewan. with a similar work pattern but nothing permanent but there was plenty of painting mostly of stores but not enough. And everything was packed up again and after another long train journey, we arrived back at Selkirk. Rosa's father and mother were getting old and she felt she would like to be near them and as the west wasn't being too kind, they figured Selkirk would not be any worse. Now into the "dirty thirties" and no one figured things could get any worse.
But they ain't seen nothin' yet. The town was as low as you could get on the scale of providing for unemployed persons. Rations were doled out to each needy home – no choice by the recipient; no thought of what one needed only what appeared to be excess stock on the self of the grocer who got your order for that week. Like ten pounds of dry white beans (inevitable), hard little green apples (no sugar, tea or coffee), some boiling bee (by skimping a large family could make it last two days), some flour, lard, maybe some prunes, mother did sewing for a farm family for butter, eggs, potatoes. Milkman was kind enough to extend credit (said he would only pour it out – to pay when we could). George eventually did pay him off when he got work, as he did a grocer who was kind enough to help out at the worst times.
To add to everyone's misery, summers were hot. No rain. Clouds would build up but never deliver their promise, dry wind, blowing eternally – farm lands so dried out, soil just took off on the wind and drifted like snow, piling up against fences, in ditches, against abandoned buildings; the sky would be full of dust, dimming the sun – you could see it and taste it; it drifted into houses even in towns. Pavements were so hot you couldn't step on them in bare feet or thin soled shoes (if you were lucky enough to have "summer" shoes).
Day after day the heat beat down suffocatingly – all summer long – nights airless, to this add great swarms of grasshoppers everywhere. During this period, the oldest girl Mildred married William C. Lamont and they began a family and were living with us for a time. "Amma" and "Afi" (Rosa's parents) died – first big, handsome Afi, then dear little Amma.
Norma became dangerously ill with peritonitis following a ruptured appendix and major surgery; this required a stay in Ninette Sanitarium to clear the infection. The second daughter Clara also married during the time and set up housekeeping with her new spouse, Lawrence Marsh.
George became active in organizing the unemployed men who were on "relief" (as the food hand-outs were called by the town administration). He obtained the town council chambers (and courtroom) for meetings and they formed an "association" which sent a delegation to the mayor and council and managed to have things changed so that each family was given a voucher to chose what food items they required for the week. Still no clothing vouchers were forthcoming though and never were throughout those horrible times. Social life also picked up as the unemployed association held fund raising events such as whist drives, movie nights, hard-time dances, box or pie socials, kids Christmas concerts, etc.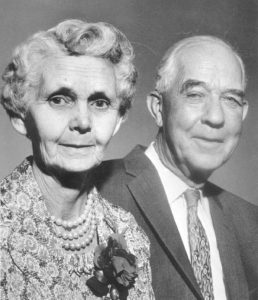 George worked an odd day here and there or cut cord wood, a few days work at the docks unloading fish at the freezers down at the river, a job now and then on one of the steam boats out onto Lake Winnipeg. He was constantly putting in applications somewhere. It was a terrible time for a proud family man to live through – seeing his children in hand-me-down clothes (made over by mother) and never getting quite enough to eat and his dear wife constantly worried.
One evening in 1937 he had gone out to a meeting and about 9 o'clock, he burst in the kitchen door, his eyes bright, shining face glowing and shouted "mother, I got a job!" She said "how long is this one for?" wearily. "It's permanent! I was at the school board meeting – and I got the janitor job at Central School because I have Engineer's papers." (Central was the largest school and had steam heat) then he hugged her and kissed her soundly and now she too was glowing – with tears in her eyes.
Things slowly became better. We moved to a better house then obtained Amma & Afi's place that had gone to the town for unpaid taxes (old age pension was $25.00 a month for man and wife – not much left for taxes) George and the other three janitors joined a curling league and played in many bonspiels. He would chuckle over the fact that they scored a perfect end against the league's current leader. More marriages: Norma married Bill Lidster and went to live in Elm Creek; Fred married Stephanie Stefaniuk. Ruby graduated from collegiate and later attended Business College in Winnipeg. War was declared and Bob joined up – Royal Canadian Army Service Corps. As soon as Billy finished school he joined up too – Royal Canadian Signal Corps. Both were sent overseas – Bob to England, Billy to the Netherlands. Although food was rationed prices were held in line so that though one had money you did not live much "higher on the hog." And there was the constant worry of two boys overseas. Radio news was crammed with almost nothing but the war – we were saturated with it – bombings, ships being sunk, air raids, learned speeches – "buy bonds" and the feeling of life being suspended and of waiting for the other shoe to drop. Jean had finished school and taken a business machines course so both she and Ruby went to Winnipeg where there were jobs. So George and Rosa were back to square one child wise. After much discussion they decided to sell the house and move to Winnipeg where they could have at least part of a family again. So they obtained a house on Colony Street and George became a full time decorator and paperhanger. He did well at this and bought a house on Victor Street. He then took a job as icemaker at the Thistle Curling Club during the winter and enjoyed this very much and he maintained his decorating in the summer.
Bob had returned from overseas with a medical discharge and married Leona Hayward. He was destined to spend a good deal of time in Deer Lodge veteran's hospital and undergo a number of operations with very little to show for it. Billy didn't return until the war was over and then attended University of Manitoba. In his second year of University, he was drowned while working at Flin Flon in northern Manitoba. This was the first break in the family circle and an extremely hard and difficult time for Rosa and George. Billy was only 26 and the one who was getting a chance at University. Two years later, Mildred died at Sudbury, Ontario where they were living and the remains were returned to Winnipeg for burial.
In 1951 George reached retirement age so took on the less strenuous job of caretaking the large and beautiful St. Paul's United Church. The family now consisted of George, Rosa & daughters Ruby and Jean with an occasional grandchild boarding for a while. A move was made to the suburbs in 1959. In 1960 they celebrated their golden wedding and then on February 6,1962 George died suddenly and Rosa followed him on February 12, 1970. They both rest in the Presbyterian Cemetery at Kildonan Presbyterian Church.
They went through some hard times but there was always love and fun even if it was "home-made" at times. They both had a keen sense of humor and the knack of making the home snug and secure with a feeling of contentment even with little to eat and not enough to wear in winter. And they knew grief and anxiety at times but never lost their love for each other.
G9: Mildred Charlotte Shiels 1910-1950 & William Cecil Lamont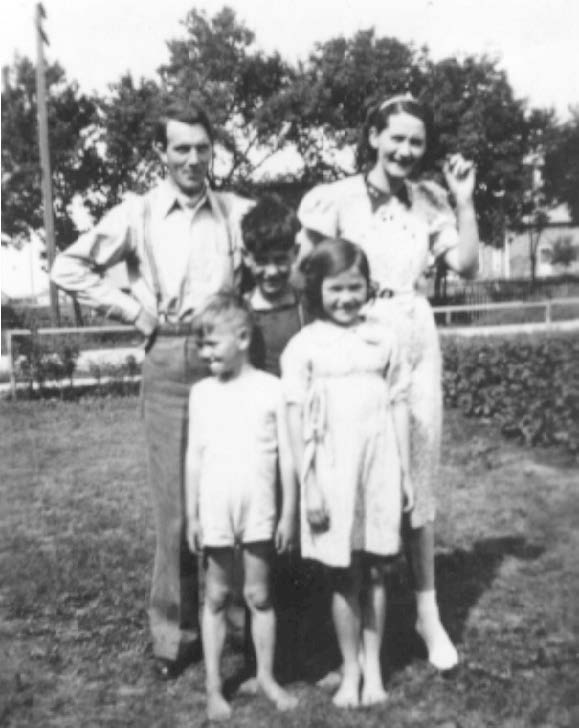 Mildred Charlotte Shiels was born October 29, 1910 in Selkirk, Manitoba. She was the first child of George and Rosa (Stefansson) Shiels. She had black hair and grey eyes. Mildred married William Cecil Lamont on December 31, 1929 when she was 19 years old. They had three children, Douglas 1929-1963; Joyce 1932-2006 and Kenneth 1934-1997. Bill was a barber and they lived in various locations around Manitoba. Mildred died on May 1, 1950 in Selkirk, Manitoba and is buried in Winnipeg, Manitoba.
G9: Clara Kelly Shiels 1912-1971 & Lawrence Marsh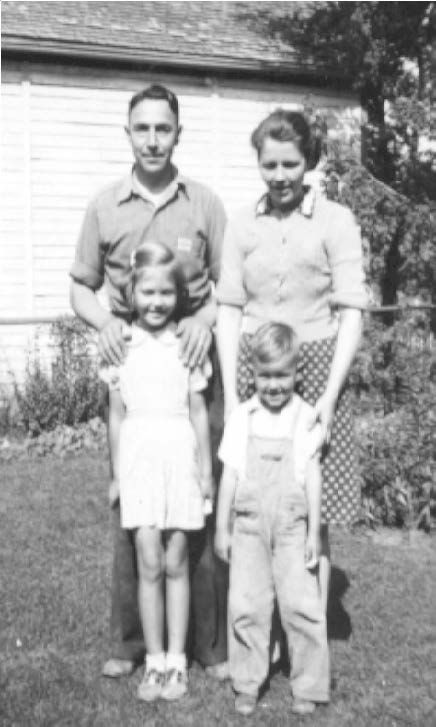 Clara Eleanor Shiels was born on August 9, 1912. Clara always went by the name of Kelly. She was the second child of George and Rosa (Stefansson) Shiels. She had blonde hair and blue eyes. Kelly married Lawrence Marsh on November 8, 1934, in her hometown. They had two children: Eleanor May 1935 and Ronald Lawrence 1937. Lawrence was a male nurse at the mental hospital in Selkirk and they moved to Flin Flon where he worked for the Hudson Bay Mining and Smelting then moved to Snow Lake. Lawrence was the first mayor for the town of Snow Lake, Manitoba. Clara died on December 25, 1971, in Snow Lake, Manitoba, at the age of 59. Lawrence died on November 30, 1996, in Snow Lake, Manitoba, at the age of 85.
G9: Fredrick Johann Shiels 1914-1986 & Stephania Stefaniuk & Helen Doty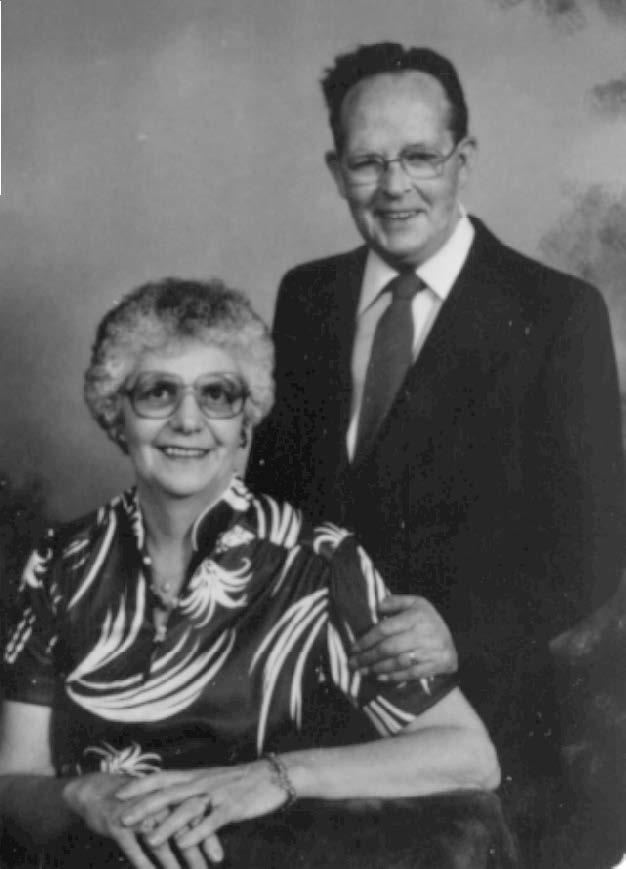 Fredrick Johann Shiels was born in Selkirk, Manitoba on January 8, 1914. He was the third child of George and Rosa (Stefansson) Shiels. He had black hair and hazel eyes. He was the first son and he got a lot of attention from his sisters Mildred and Clara. His family moved to Craven, Sask where he got most of his education. He married Stephanie Stefanik and they had two daughters: Victoria Diane 1943 and Cassandra Adele in 1945. This union ended in divorce.
Fred then married Helen Doty from Westbourne, Manitoba and they had two daughters; Marlene in 1949 and Nadine in 1960. Fred died on December 13, 1986.
G9: Margaret Norma Shiels 1916-1984 & William Lidster
Margaret Norma Shiels was born April 15, 1916. She always went by the name of Norma. She was the fourth child of George and Rosa (Stefansson) Shiels. She had reddish brown hair and green hazel eyes.
Norma was quite ill when she was a teenager. She married William Lidster and had one son, James. William served with the Armed Forces in World War II; he was an excellent mechanic and worked at the trade on his return from overseas.
William died January 13, 1976 and Norma died October 23, 1984.
G9: Sigurlaug (Ruby) Shiels 1917-1987
Sigurlaug Ruby Shiels was born September 23, 1917. She was the fifth child of George and Rosa (Stefansson) Shiels. She had black hair and blue eyes. Ruby never married and lived with her parents until they died and then took an apartment together with her sister Jean. After graduating high school, Ruby took a stenographers course and worked at the old Winnipeg City Hall until it was closed and replaced. She then went to work for Royal Trust and stayed there till her sister Jean became ill.
Ruby left work to look after Jean and after Jean's death, Ruby had a lot of trouble finding employment. In her late 50's, she found a position with the Crippled Children & Adults of Manitoba. During her younger days had spent summers employed on one of the large passenger boats (S.S. Kenora) plying the waters of Lake Winnipeg.
At age 65, she retired to "The Beach", her cabin at Winnipeg Beach. She hoped to spend her remaining years in her Garret painting pictures with oil paint, gardening and loving her little dog "Brandy". Four years later, Ruby passed from this life with grace and dignity from Lung Cancer. Sparkling, twinkling blue eyes, always a gracious lady. On July 14, 1987, Ruby died in Winnipeg.
G9: Robert Eugene Shiels 1919-1976 & Leona Haywood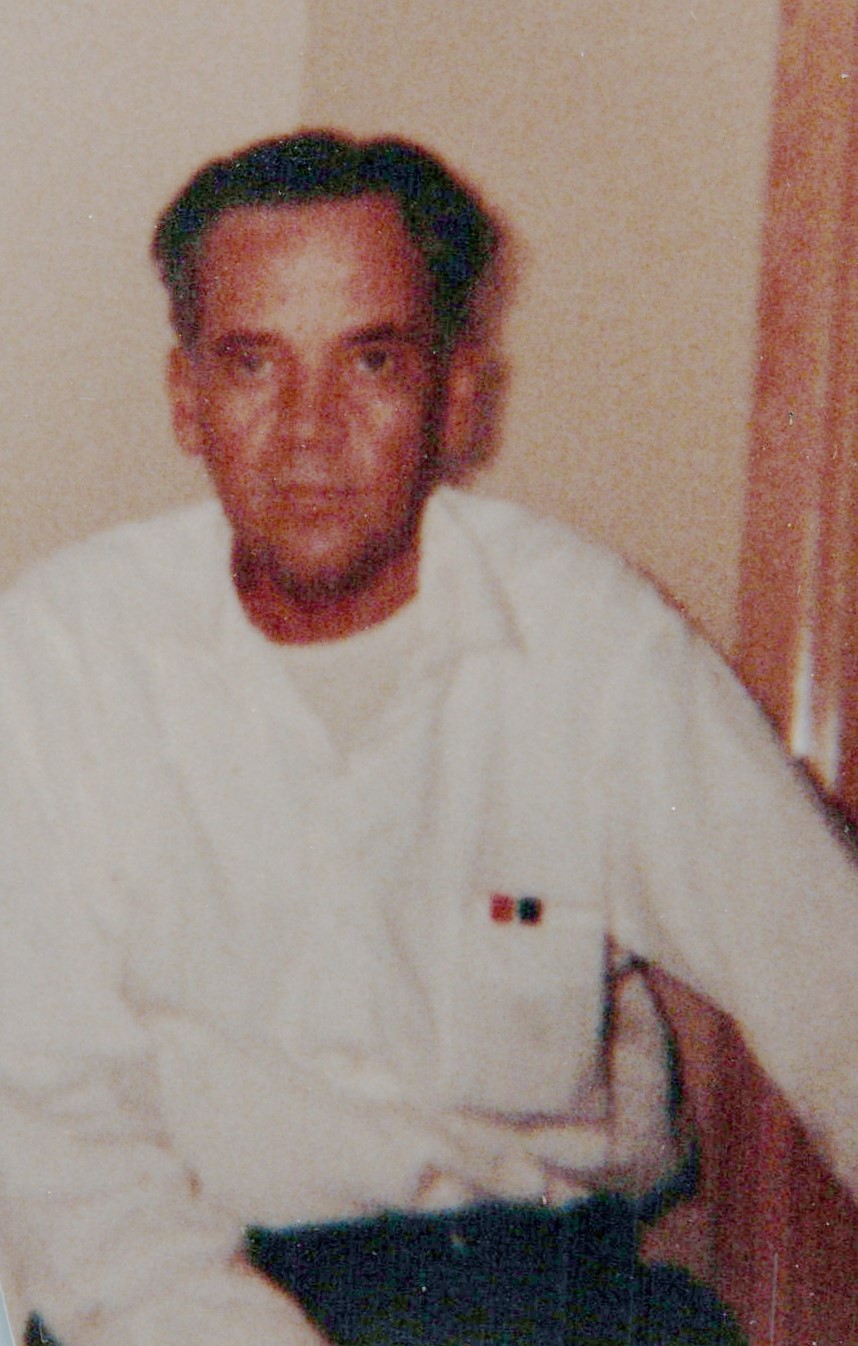 Robert Eugene Shiels was born June 9, 1919. He was the sixth child of George and Rosa (Stefansson) Shiels. Bob had black hair and brown eyes. Bob married Leona Haywayhe after returning from overseas in World War II on December 31, 1942. They started their married life together in Winnipeg but soon moved to Saskatchewan. After their second child was born, they moved back to Selkirk, Manitoba and took up residence at "The Shanty". This was a little house built by Robert's grandfather Johann Stefanson, a giant Icelandic settler. On January 3, 1976, Bob secummed to emphysema when he developed phenomena. Leona went on to work as a home care worker until she retired. Leona passed away on August 1, 2001 after a long battle with cancer. Bob & Leona had four children: Hugh Gerald in 1943; Ruby-Anne in 1944; Roberta in 1946 and Ashley in 1960.
G9: George Thomas (Bill) Shiels 1922-1948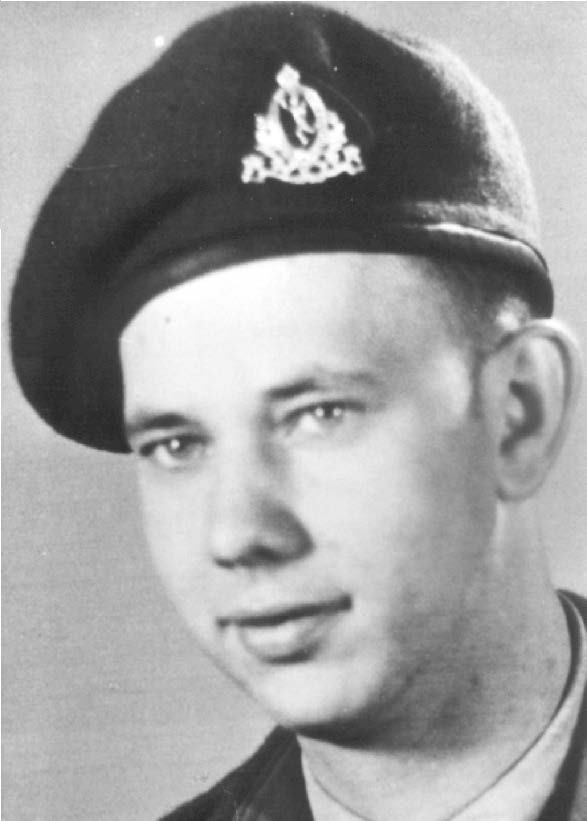 George Thomas (Bill) Shiels was born December 19, 1922 at Craven, Sask. He was the seventh child of George and Rosa (Stefansson) Shiels.
George Thomas was always known as Bill and he had black hair and green eyes. He joined the army just after leaving school and went overseas in World War II. On his return he attended the University of Manitoba.
In his second year of University, he was working at Flin Flon when he was drowned in a boating accident while out fishing on September 12, 1948. This was the first break in the family circle and an extremely hard and difficult time for Rosa and George. Billy was only 26 and the one who was getting a chance at University.
G9: Jean Bernice Shiels 1926-1976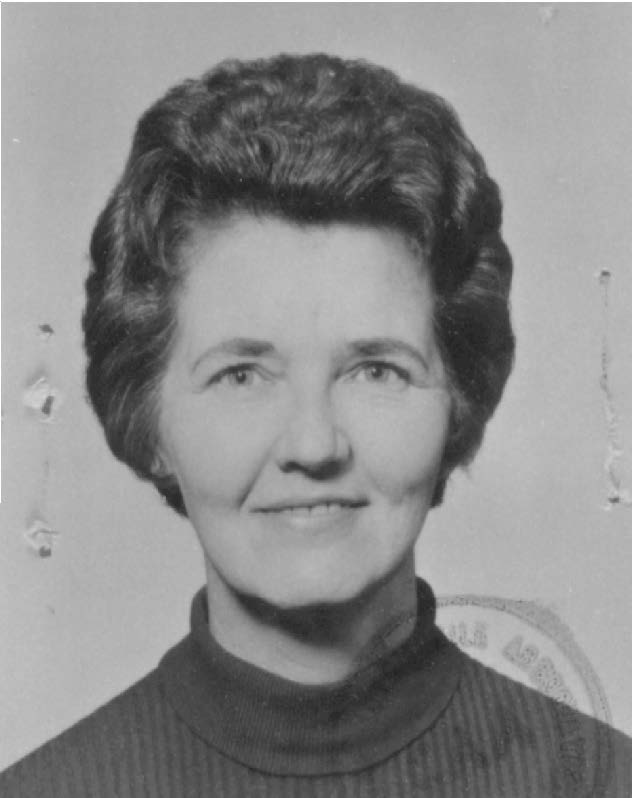 Jean Bernice Shiels was born October 22, 1926 at Craven, Sask. She was the eighth child of George and Rosa (Stefansson) Shiels. She had very blonde hair and blue eyes.
Jean loved life, as a young woman just out of school, she took a course as a comptometer operator and landed a job at Eaton's, where she worked for many years. Around the age of 40, Jean applied and successfully landed a position with Air Canada, which gave her the freedom of flight and fly she did. She was always planning her next "weekender". Quite often Jean traveled alone, with the knowledge that there was always another person in the same tour she could buddy up with. Hawaii, Ireland, England & France were just a few airports of call that the family received post cards from.
Jean & her sister Ruby took care of their Mom & Dad in the later years of their life. They bought a new home in a new housing development. Their first "new home". After George and Rosa passed away, they found an apartment closer to work and purchased a cottage at Winnipeg Beach and spent all their spare time fixing it up.
On January 30 1976, breast cancer cheated her of her life at the age of 49. As she lay on her deathbed, in the last month of her life, her brother Robert Eugene, died suddenly on Jan 3, 1976 and her brother-in- law William Lidster passed away while shoveling snow on Jan 13, 1976. With 3 deaths in the family that month it can be said, there was much sadness. Jean was very bitter and angry right up to the end, throwing things, smashing against the wall of her bedroom turned prison.
Jean loved to draw, mostly with pencil or charcoal. Knitting and crocheting, purses to afghans. Although she died over 26 years ago many of her creations remain in the family. She loved shopping and her motto was "If you like it, you need it". She was a Belle'