Elizabeth Barbara Shiels was born in 1860 and was the sixth of seven children born to Thomas Shiels and Elizabeth Prentice. She was a seventh generation descendant of Micheal Shiels. 
The following is Elizabeth's lineage.
G1: Micheal Shiels 1671 & Bessie Brown
G2: Daniel Shiels 1719 & Jessie Scott
G3: James Shiels 1750 & Janet Younger
G4: Robert Shiels 1769-1845 & Annie Dickson
G5: Thomas Shiels 1795-1839 & Barbara Jean Cranston
G6: Thomas Shiels 1819-1897 & Elizabeth Prentice
G7: Elizabeth Barbara Shiels 1860-1926 & James Tracy Logan

G8: David H. Logan 1887-1972 & Emily Church

G9: William David Logan 1913-1999 & Georgina Escasena
G9: Kenneth Robert Logan 1915 & Dorothea Jeanette Oppelt
G9: Clarence James Logan 1916-1980 & Vida Mae Williams
G9: Margaret Evelyn Logan 1918-1992 & Frank Norman Anderson 

G8: Mabel Edna Logan 1889-1975
G8: Abigail Florence Logan 1891-1976
G8: Grace A Logan 1893-1989 & David George Esplen

G9: Tracy Burrell Esplen 1919-2005 & Sally Stroh
G9: David Ray Esplen 1928-2001 & Ruth Guillam
G9: Ruth Esplen 1921 & James N Dunn

G8: Tracey J Logan 1896-1918
G8: Clara May Logan 1898-1960 & Cameron Ostrom
G8: William Ray Logan 1900-1965
G7: Elizabeth Barbara Shiels 1860-1926 & James Tracy Logan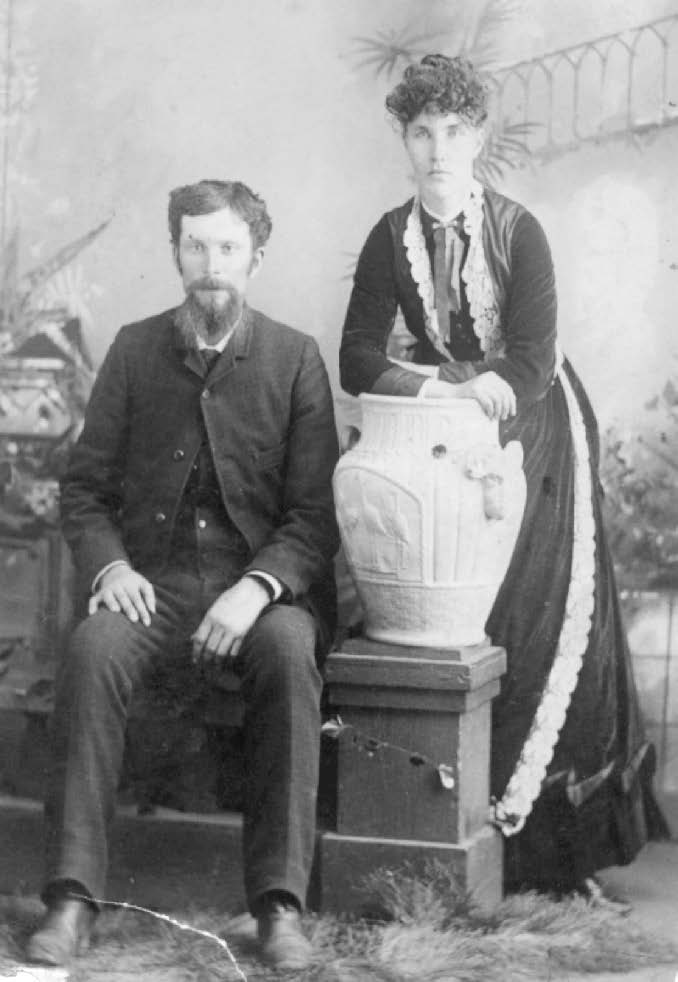 Elizabeth Barbara Shiels was the third child of Thomas and Elizabeth (Prentice) Shiels. She was born February 4, 1860 at Cranbrook, Ontario. Her parents had emigrated from Scotland to the United States earlier and moved from Quincy, Illinois to Canada in early 1860. In 1886 she moved with the family to Fort Ransom, North Dakota.
Elizabeth married James Tracy Logan shortly after moving to North Dakota on September 9, 1886 in Lisbon, the County seat of Ransom County. At age 26, Elizabeth was a handsome. tall red-haired woman, very proud and proper in her dress and behavior, being very mannerly and well spoken. James Tracy Logan was the "boy next door" back in Ontario. He had moved to Ransom County in May 1882 and had a homestead of 160 acres.
By the time James and Lizzie were married, James had built his second house on the homestead. It was a single story wood frame house with a shingle roof and board floor.
He also had a sod stable and livestock. He had his best harvest in 1886 with 1380 bushels of wheat and 200 of barley. The couple lived on the farm until 1900 and all of their children were born there. Their children were David H. (Jun 1,1887), Mabel Edna (Jun 25,1889), Abigail Florence (Jun 26,1891), Grace A. (May 11,1893), Traceye J. (Mar 14,1896), Clara Mae (Jul 19,1898), and William Ray (Sep 26,1900).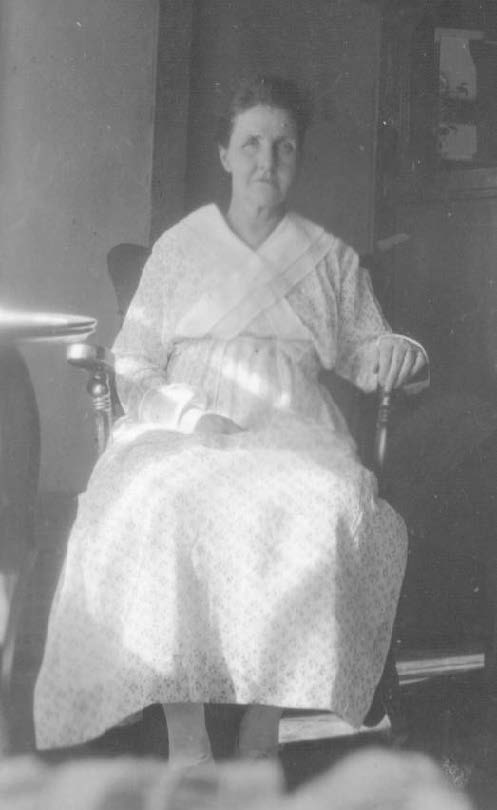 It was difficult farming the prairie. At first the settlers plowed the fields by hand, then they used oxen and horses. In 1887, the Logan wheat farm was almost half of the previous year and the following year, it was almost half again. For several years the crops failed completely. Hail would flatten the wheat and the land suffered from drought. If the farmers did have a good year, then the price of the wheat would drop. In addition to the lack of income, the families suffered the terrible winter conditions of a long winter on the prairie with temperatures reaching 40 to 60 below zero. Inadequate heating and blinding snowstorms were also difficult where one could be lost only a few feet from home.
In the late fall of 1900, the Logans decided to leave farming. The oldest son David, accompanied by his uncle James Grant Shiels and the family sheepdogs, hitched the horses to a wagon load of wheat and headed north to Killarney, Manitoba. Lizzie's cousin Thomas & Rachel (Brigham) Shiels lived in Killarney. The journey north was interrupted when the travelers were snowed in at Brantford, North Dakota. They finally reached their destination and the rest of the family joined them by train taking the Great Northern Railroad from Valley City to Estevan, Saskatchewan and then Canadian National Railroad to Killarney, Manitoba.
James Logan and his son David worked as draymen (teamster) in the Killarney area. They hauled wheat for the farmers to Brandon. In the winter, Dave would cut wood in the Turtle Mountains. In the early years of World War I, a cyclone hit Killarney. The Logan family decided to move again and went to Regina, Saskatchewan. It was during this time that Jim and Lizzie were separated
for several years. Jim moved to Seattle and then to Sylvan, Fox Island, Washington. He also bought land in Fort Townsend. Lizzie continued to live in Regina until 1923 when she too moved to Sylvan. Lizzie and Jim had a lovely house with a huge maple tree in the front yard.
They grew Loganberries there until March 6, 1926 when Elizabeth (Shiels) Logan died a tragic death. Lizzie always wore long full skirts, not adopting the flapper style that was common at the time. On that day, she was burning a pile of brush when the skirt caught fire. Hearing her screams, Jim came running and extinguished the flames.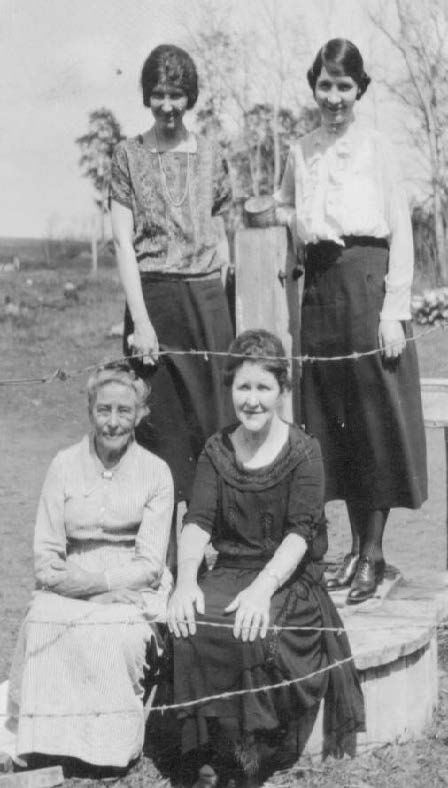 Neighbors got her by boat to Tacoma hospital but she died within two hours from the shock of her burns. Jim went to live with his son David and wife Emily on the mainland and lived there until his death on January 10, 1936 in Shelton, Washington.
James & Lizzie's son David married Emily Church and raised a family.  Son Traceye fought in World War I in Europe and was killed in action in France on September 26, 1918.
Daughter Grace married George Esplen in Regina, Saskatchewan and lived there all her life. They had 3 children Ruth, David and Tracy.
The other three daughters Mabel, Abigail and Mae had worked as Telephone operators in Regina. They moved to Seattle, Washington along with brother Ray. The 'girls', as they were always called, worked as sales ladies at various department stores, and ladies apparel shops in Seattle and even had their own shop as well as cosmetic company for a number of years.
Mae married Cameron Ostrom on September 4,1937 but this marriage ended in divorce. Mae died May 23, 1960.
Mabel and Abigail never married and lived the balance of their lives in Seattle. The three 'girls' and Ray lived in a large, well kept home on Queen Anne Hill and attended the First Presbyterian Church in downtown Seattle. Mabel died in 1975 and Abigail in 1976. Ray also never married. He worked as a dental technician and lived the balance of his life in Seattle until he died on December 10,1964.
G8: David H. Logan 1887-1972 & Emily Church
David H. was the oldest son of James Tracy Logan and Elizabeth Barbara (Shiels) Logan. He was born on June 1, 1887 near Ransom, North Dakota. In 1900, he moved to Killarney, Manitoba. He worked with his father as a drayman hauling wheat to Brandon.
During the wheat harvests on the prairies he worked as large as a 20+ horse hitch. In the winter, Dave would cut wood in the Turtle Mountains. While Dave was working on the farm of Dave & Belle Foster in Lena, he met his future wife Emily Loretta Church. Emily was the daughter of farmer, brick-maker and Methodist Church elder Robert Church and Mary Ann (Helsey) Church. Robert Church did not approve of the match as Dave was several years younger and appeared to have poor economic prospects. In 1910, when they retired to Victoria, British Columbia, they took Emily with them.
Dave was determined and went to work as a lumberman in the west, living for a time in Peace River, Alberta. When he finally arrived in Victoria, he could not find much work so he continued to the State of Washington where he found a job as a teamster. He wrote a letter to Emily asking her to join him and they were married in Tacoma, Washington on November 10, 1912.They were living in Ballard (near Seattle) when their first child was born, William David on December 14, 1913. A separate history will follow on him.
Dave and Emily lived in many different places following the lumber business around the Cascade Mountains region. Three more children were born, Kenneth Robert (Jun 17,1915) Clarence James (Jun 14, 1916) and Margaret Evelyn (Jan 29,1918). A separate history will follow on Kenneth Robert. After living and working in several sawmill company towns, about 1925, they moved to Shelton, Washington, where Dave joined Markee-Reed Mills, a lumber company, as an edgerman. While working there, Dave suffered the loss of three fingers on his right hand in a sawmill accident. Dave was fortunate to be able to manage very well after that using just the thumb and little finger to perform almost any task.
In Shelton, Dave and Emily bought a brand new house on Fairmont Ave in the Hillcrest District. The children went to Lincoln Elementary School. After a couple of years, Dave bought 10 acres of land outside town. There was a big creek running through the middle of the valley and five acres on each side ran up the slope, half wooded and half barely cleared. The whole family, including grandfather Jim Logan, cleared five acres and planted strawberries, raspberries, loganberries, cabbage, carrots, turnips, lettuce and lots of potatoes in the rich black soil. They dug a hole in the ground and put planks in it to make a root cellar which kept the harvested produce from freezing and spoiling. By 1929, the family was doing very well. Dave had a good job, a house that was paid for and good standing in the community. With the depression however, everything came to a shuttering halt! There was no job and no money for months on end but they always ate well as they had their own produce. Jim had learned to make sauerkraut and they ate a lot of that.
They fished in their stream for salmon and other fish. They also kept chickens and pigs. It was almost as though Dave knew the depression was coming and had planned for it! In the city, people lined up at soup kitchens. Dave continued to cut trees and sell logs and firewood. Young Bill collected pigeon eggs from the rooftops of office and apartment buildings and sold them to the Chinese community.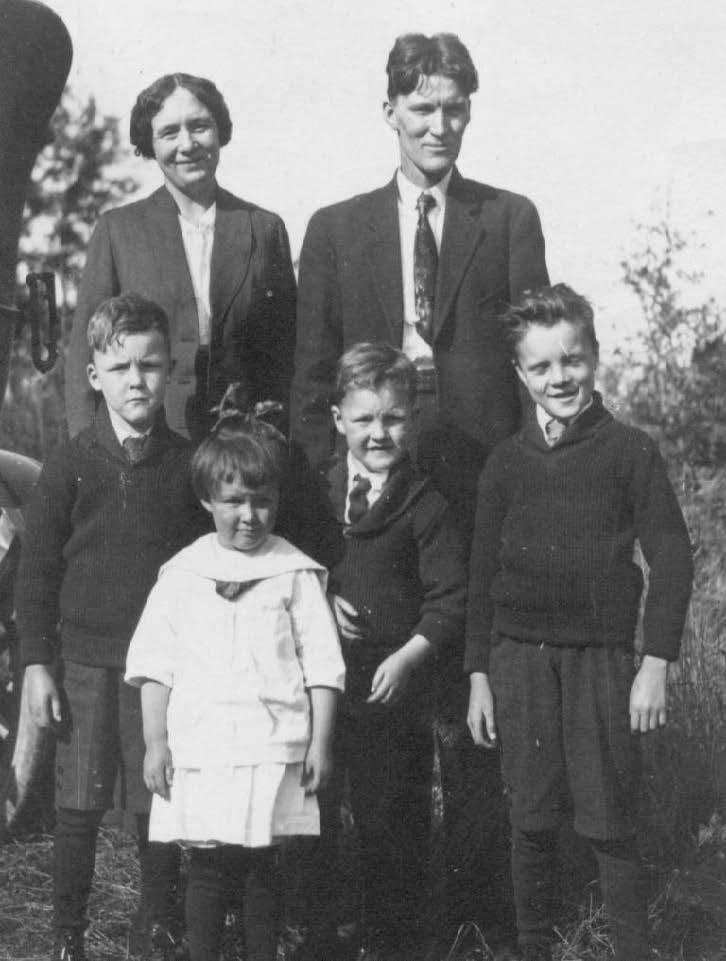 Dave and Emily continued to live in Shelton, Washington the rest of their lives. Dave saw many changes in the sawmill industry before he retired from ITT-Rayonier Mills at the age of 65. Starting his career as a teamster, then an edgerman, and finally operating an automated peeler-chipper in the pulp mill. Emily died on January 30, 1961 after an extended stay in a nursing home following several strokes. During those years, Dave would visit her every day to assist her with her meals. After Emily's passing, Dave continued to maintain his home. He also had seen many changes in this area; from hauling water from the well to inside plumbing and from cooking on a wood stove to using an electric range.
Over all the years from his youth Dave never lost his love for horses. In the 40s and 50s, when grandson Bob would spend school vacations with Grandma and Grandpa Logan, there was many an evening after the Walter Winchell Newscast on the radio, while grandma (Emily) was washing the dinner dishes, with his pipe of Prince Albert tobacco lit he had Bob on the arm of his large leather rocker telling him 'horse stories' from his past.
In the fall of 1970, grandson Bob with wife Myrna and sons Mark and Brett, took Dave to the Pacific National Exhibition in Vancouver, British Columbia. They wanted grandpa Logan to have another chance to see the Draft Horse Competition and Show. He sat on the edge of his seat the entire time. He gave a running commentary on each hitch, identifying each horse by the name of its position in the hitch and describing what that horse would have to do to make the team function. The eight-horse hitches at the show were his favorite! He also related stories of his experiences working with horses over the years, from driving a team and sled full of wheat over the winter snowfields of Manitoba to working a 27-horse hitch harvesting wheat on the prairies.
Though he saw many changes in his lifetime, some things didn't change. Dave was thrifty, hardworking, devoted to his family, dependable, a man of integrity and a loyal riend. Another constant was his skill as a gardener. From his first years as a family man,
Dave always provided for them with his vegetable garden. He always planted 'by the moon.' And it worked for him. He always had a very productive garden up to his last years.
He had a very healthful life with very little sickness. During the last 10 years of his life, he walked 5 miles down the hill from his home on Hay Street to The Pine Café and Tavern in town, visited with those he had worked with for so many years at the mill, and walked the 5 miles back up the hill to home. His grand-daughter Sharon got him a really nice man's umbrella for one Christmas during these years. He asked, "What's this?" and when she told him it was an man's umbrella, he replied, "Men in Shelton don't use these!" He hung it in the closet, where it stayed! David lived to be 84 and died on January 23, 1972.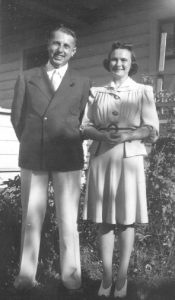 Dave & Emily's daughter Margaret Evelyn took her nurses training at Tacoma General Hospital in Tacoma, Washington. She married Frank Norman Anderson. He was from a very successful pioneer mill family that had settled in the mid 1800s in Portland, Oregon. Margaret and Frank lived in Portland, and then in Chicago, Illinois for a(s) few years. Frank was a salesman and then a district manager for the American Tobacco Company, first in Portland and then taking a promotion with them to the Chicago District. During World War II he was in the Sea-Bees (Construction Battalion, USN) in the south pacific. After the war they moved to Tillamook, Oregon where Frank owned and operated a cigarette/candy/chips vending machine company with routes on the northwest Oregon coast from Astoria to Florence. He serviced all of the grocery stores, taverns and resorts. Margaret began her career as office nurse in Tillamook, where she retired in 1983. Margaret and Frank had no children. They moved to Lincoln City, Oregon following their retirement where they enjoyed life in this resort area on the Oregon coast. They loved the outdoors and spent time together hunting, fishing and digging for razor clams over the years of their married life. He became a model railroad enthusiast with a complete room devoted to his trains in his later years. Frank Anderson died May 15, 1990. Margaret was diagnosed with lung cancer and in the spring of 1992 Myrna Logan, her niece who was also a nurse, travelled from Independence, Missouri to care for her until her death. She died on December 23, 1992.
Dave & Emily's son Clarence James married Vida Williams on September 7, 1940. During the war, he worked in the shipyards in Tacoma, Washington as a pipefitter and later became a plumber working at Fort Lewis as a civilian worker. He was a fun-loving, outdoors man. They had no children and lived for many years in the Tacoma, Washington area. Clarence was diagnosed with mesothelioma, most likely caused from his working with asbestos in the shipyard, and died on September 28, 1980 and Vida passed away shortly thereafter.
G9: William David Logan 1913-1999 & Georgina Escasena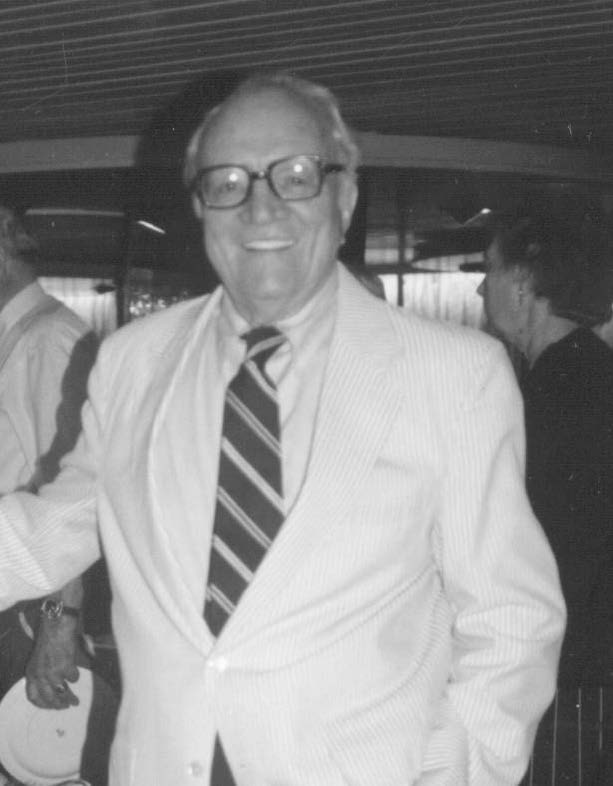 William David Logan was the oldest son of David & Emily (Church) Logan. He was born in Ballard, Washington (near Seattle) on Dec 14, 1913. Bill learned to play the trombone, the clarinet and the piano at an early age. In high school he led a band and after graduation decided to continue his education and try his luck working as a jazz musician in New York in order to support himself. It was 1931 and the country was in the beginning stages of the Great Depression. It was the heyday of Jazz in New York and Bill faced some steep competition. Although he left the music field, his love of jazz as well as classical music would remain for the rest of his life.
He enrolled in Columbia University and held on as long as he could, becoming thinner with each passing day. Fortunately, one of his classmates was the son of a shipping lines magnate. Through this fortunate connection, Bill was able to secure a position as a bursar on a merchant ship. Bill soon was travelling through the Caribbean and across the Atlantic to Europe, widening his experience and introducing him to the cultures of Europe, Central and South America, instilling in him a lifelong love of travel. During this time, he came to meet many fascinating people, among them, a frequent traveller between Havana and New York, Eduardo Escasena, a judge and lawyer from Havana, Cuba, who extended to Bill an open invitation to drop in on him and his family when ever Bill was in port. It was at such a visit that Bill met the judge's family, including the judge's eldest daughter, Georgina.
When World War II was declared in 1941, many officers on merchant liners, including Bill, were commissioned into the U.S. Navy and eventually sent to Boston for a crash course at MIT. Once settled in, Bill wrote Dr. Escasena a friendly note to let him now of the most recent developments in Bill's life. By the time the letter arrived in Havana, Dr. Escasena had passed away. His daughter Georgina, by then herself in New York, taking course at Columbia, responded to Bill's note to let him know of the family's painful loss. Shortly thereafter began a romance between Bill and Georgina via the New York to Boston train. By the time Bill & Georgina decided to marry in 1943, Bill, no longer in Boston, had to petition the U.S. Navy for leave to go to Havana to marry and Georgina had to petition the Archbishop of Havana for permission to marry a non-Catholic (Vatican II was far in the future at the time). The navy declined permission yet the Archbishop gave it. The bride and her mother then travelled to San Francisco where Bill and Georgina were married on January 8, 1945, at St. Catherine's Church in Burlingame, California. On July 25, 1946, their son William David was born in San Francisco, California. Being a Navy family, they lived in many different locations.
While they were in West Palm Beach, Florida, their daughter Georgiana Marie was born on May 6, 1948. Although Bill left the active Navy after the war, remaining in the Reserves, he was soon back into active duty during the Korean War. Like many Navy men who passed through San Diego during the war, Bill returned with his small family after the Korean war to settle in San Diego, California.
Bill Sr retired from the Navy as a Lieutenant Commander and lived in Laguna Hills in Southern California. After his divorce to his first wife Georgina in 1972, Bill married Marion Flynn. Marion passed away on Aug 7, 1987. Bill married Isabel Robinson on August 7, 1992. Bill continued to work in the Real Estate business at Leisure World, a retirement community where they lived till Bill's death on December 2, 1999. During his time at Columbia, and later in Europe and Latin America, Bill had become drawn to the Catholic Church, and became a member. In his final years he was proud of having been a 50 year member of the Knights of Columbus and in his retirement found great consolation serving as a Minister of the Eucharist in his parish, praying and taking communion to shut-ins.
G10: William Logan 1946 & Ann Beal
Bill Logan, Jr, was born in San Francisco, Ca, on July 25, 1946. He was the first born child of Bill & Georgina (Escasena) Logan. Bill Jr.'s first years were marked by shuttling between the U.S. and Cuba, benefiting from both cultures and a broad education.
He advanced quickly in school, graduating at 16 and continuing his education at the California State University at San Diego where he majored in Spanish and History. He met his wife Ann Christine Beal there where Ann was studying for her teaching credentials. They were married on April 7, 1973. After finishing his studies at San Diego State, Bill entered the international business world. They lived and worked in Central and South America for several years. In 1975, Bill's company transferred them to Ontario, Canada, more than 60 years after Bill's grandfather David left Victoria, British Columbia.
Their first home in Toronto was within driving distance of the homestead where the first William Logan settled in Ontario after migrating from Scotland in the 1830's (the cite is marked by a communications tower located on a hill that remains known as Logan's Hill).
 After 7 years in Toronto, a son David Edward was born (Feb 17, 1980). They moved to Oakville, Ontario and their second son William James (Jamie) was born Aug 30, 1984.
Bill owned his own business in the welding and industrial gas field for many years while Ann worked as a Teacher.
Eventually Bill entered politics as a councillor for the Region of Halton. However, within a few years he was back to his great love of international business, in charge of the Latin American market for a subsidiary of Noranda Mines of Canada.
Bill and Ann have divorced and Ann lived in Oakville with David & Jamie. Ann continued to work for the Toronto Catholic District School Board as an Assessment and Programming Teacher.
Bill remarried Liset Jurado, a female engineer he met in Havana, Cuba,  in November, 1997. At first they lived in Santiago, Chile, and then moved to Miami, Florida in 1999, a few months before their son, Kevin Joseph was born (August 25, 1999).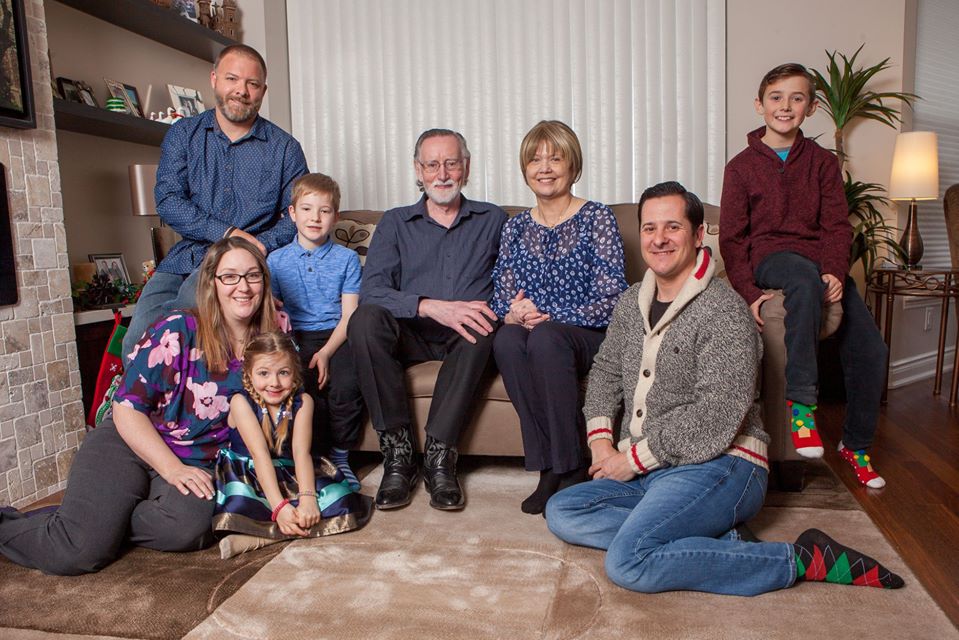 Ann also remarried to Larry Morgan. Ann passed away Jul 22, 2020. She was a wonderful lady and spent a great deal of time researching family history.
This photo includes David, Alexis, Jack & Isabel; Larry & Ann; Jamie and Austin.
G11: David Edward Logan 1980
David Edward Logan was born on February 17, 1980, in North York, Ontario, to Ann Christine Beal, age 31, and William David Logan, age 33.
He married Alexis Knight and they have one son, Jack William Logan born March 9, 2012 and a daughter Isabel.
G11: William James (Jamie) Logan 1984
William James (Jamie) Logan was born on August 30, 1984, in Oakville, Ontario, to Ann Christine Beal, age 36, and William David Logan, age 38.
He was married and has a son, Austin Logan born Mar 23, 2009.
G10: Georgiana Marie Logan 1948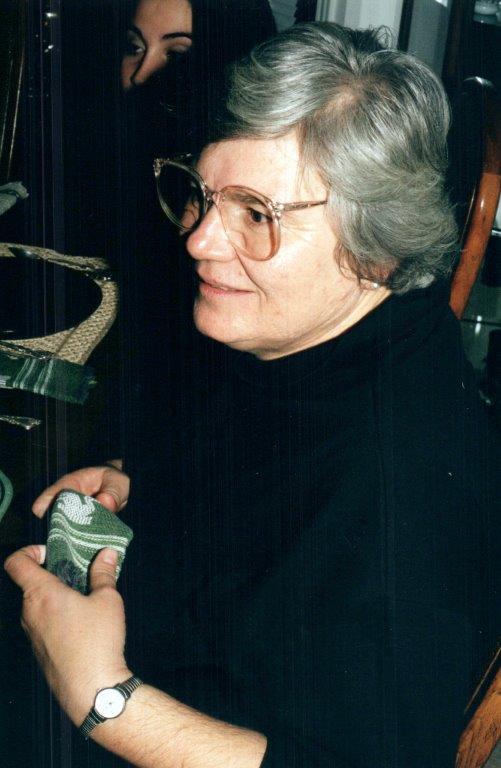 Georgiana Marie (Georgie) Logan was born May 6, 1948 in West Palm Beach, Florida. She graduated in 1970 from the University of San Diego with majors in Spanish Literature and U.S. History.
Two years later she entered religious life as a Religious of the Sacred Heart. After her noviceship, she began work as a teacher but soon asked to work with the poor. Sister Logan then began working with the Hispanic community as a Public school liason and Educational advocate for the Hispanic community in the inner city of Boston.
She went on to get her Masters in Sociology at Boston College (1983) and has served in many parts of North America as well as Nicaragua, El Salvador and Venezuela. After a year of service at the Mother House of the Society of the Sacred Heart in Rome where she worked in communications (1991-1992), she returned to Boston to complete two degrees: a Masters of Arts in Pastoral Ministry and a Masters in Clinical Social Work.
She has gone on to become a psychotherapist working in Interfaith counselling as a member of the American Association of Pastoral Counselors (AAPC) serving both the English and Spanish speaking communities in Boston. Most recently, her interests in intercultural issues led her to participate in a Japanese Spirituality Conference in Tokyo (August 1999), edit a journal on the conference, and further explore the psychological and spiritual intricacies of intercultural communication. In September, 2000, she began a Clinical Fellowship in psychoanalytic psychotherapy with the Boston Institute of Psychotherapy.
G9: Kenneth Robert Logan 1915 & Dorothea Jeanette Oppelt
Kenneth Robert was the second oldest son of Dave & Emily (Church) Logan. He was born Jun 17,1915 at Ballard, Washington near Seattle. About 1925, he settled in Shelton, Washington with his parents, 2 brothers and sister. He attended school in Shelton; first Lincoln School and then graduating from Irene S. Reed High School. During high school he was active in athletics and captain of the basketball team. He was also known for his roadster with the big chrome horns on the front fenders. During his high school years, and until World War II, he worked at a dry cleaners and then Olson's Furniture Store in Shelton.
He married Dorothea Jeanette Oppelt (eldest daughter of Orville Leston and Bertha Jemima (Kerstetter) Oppelt on January 9, 1937 in a home wedding performed by her father.
They had two children, Sharon Jeanette (Aug 26, 1937) and Robert Leston (Nov 16, 1938).
Because he had two children at the time of the war, Ken worked in the shipyards at Tacoma, Washington with his brother Clarence as a pipefitter.
After the war, he started his own roofing and insulation business in Tacoma. Later he became a housing contractor and then managed several different lumberyards in the greater Seattle area for Lumberman's Mercantile, headquartered in Shelton. He served on the board of directors for the Tacoma Master Builders Association and later as president of the Northwest Lumbermen Retailers Association (Washington, Oregon and Idaho). He also served his church, the Community of Christ, as an ordained Elder on the Samish Island Retreat and Conference Center board as well as pastor of a Seattle congregation for a number of years.
Dot died in Seattle on June 18, 1974. Ken was diagnosed with mesothelioma, most likely caused from his working with asbestos in the shipyard. He was admitted to Swedish Hospital in Seattle on July 4 and passed away on July 15, 1978.
Ken always retained strong family ties to the older generations during their lifetimes. He would visit 'the girls' ( Elizabeth Shiels & James T. Logan's oldest daughters, Mabel and Abigail) several times a week during their last years to fill the hopper and take the ashes out of the furnace, mow the yard and do necessary repairs around the house, and to bring them their groceries.
G10: Sharon Jeannette Logan 1937-2019 & John Muir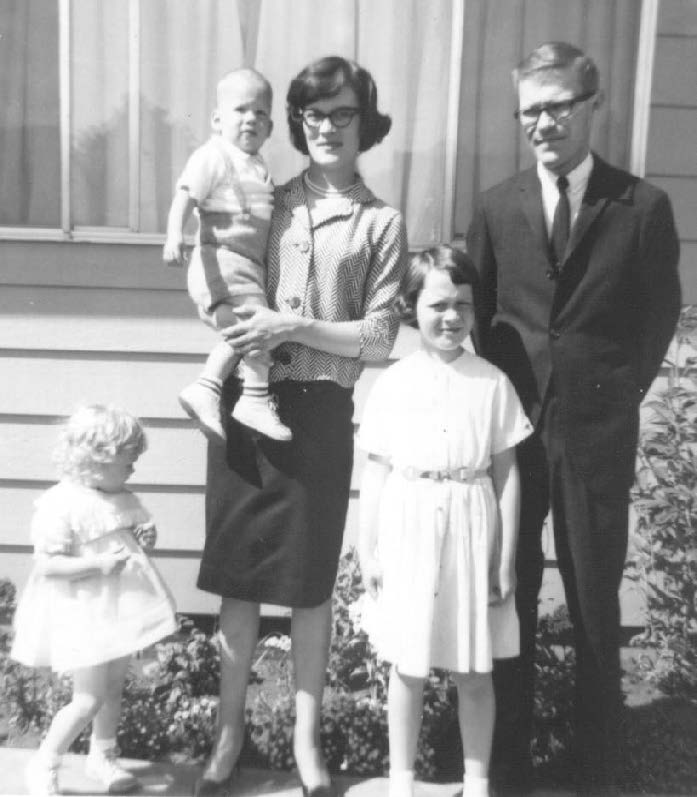 Sharon Jeanette was born August 26, 1937. She was the first child of Kenneth and Dorothea Jeanette (Oppelt) Logan.
Sharon married John Leslie Muir on October 28, 1955 in Shelton by her maternal grandfather, Elder Orville Leston Oppelt.
They lived in Tacoma, Washington and had three children, Pauline Britton (June 1, 1956), Leslie Jean (Jan 31, 1962) and Christopher Logan (Feb 5, 1973).
Pauli married Leonard Nelson on Jul 12, 1974. They have a son Jarrad Christopher on Nov 22, 1976 in Tacoma, Washington. This union ended in divorce on Dec 6, 1993.
Leslie married Dennis Volpe on Aug 9, 1989. They had no children and lived in West Boothbay Harbor, Maine.
Christopher married Teri Madson on Dec 8, 1982 in Pierce, Washington. They had three children Zachary Logan (Jun 26, 1983), Celinie Christine (Apr 9, 1985) Nicholas Aaron (Nov 30,1986) and lives in Tacoma, Washington.
Sharon worked for many years as an executive secretary for a variety of employers from Western Plastics to the Weyerhauser Foundation, and John as an executive for the Pederson Fryers Company where they raised, packed and distributed chicken products before owning and operating several very successful 'pubs' in the Tacoma area. Their keen business skills and Sharon's outgoing and friendly personality have built these family businesses.
Sharon died on April 10, 2019 in Puyallup, Pierce county, Washington.
G10: Robert L. Logan 1938 & Myrna Jean Navey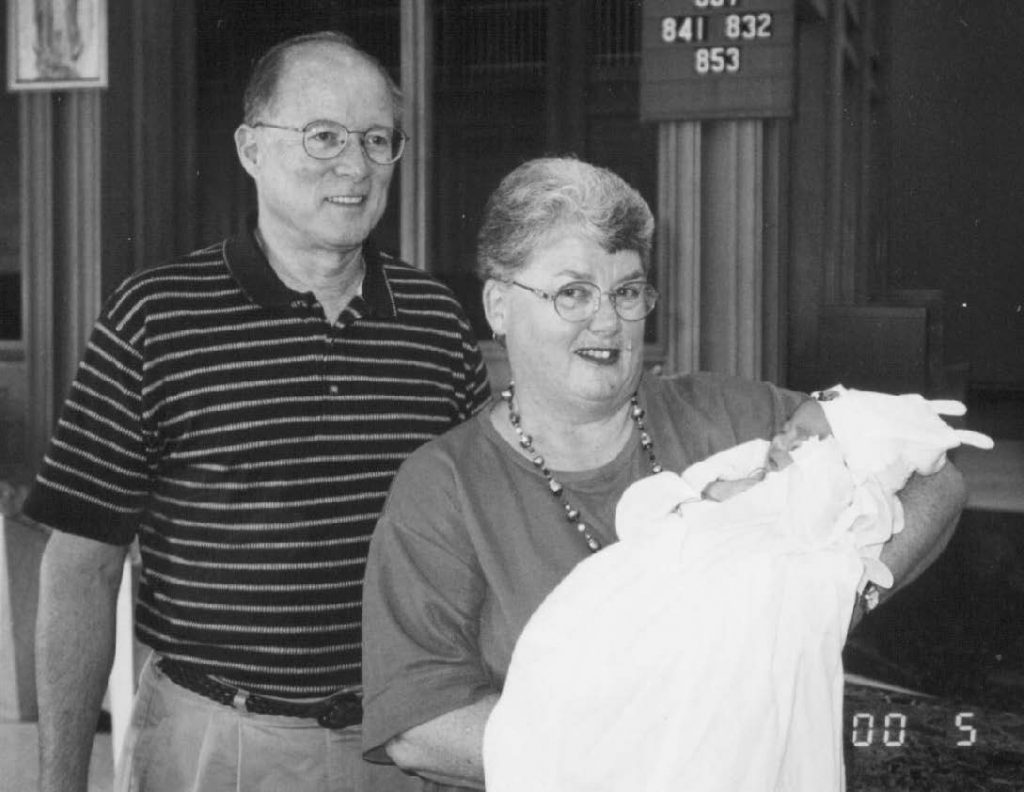 Ken & Dot's son Robert Leston Logan was born Nov 16, 1938. All of his schooling, through high school, was in Tacoma, Washington where he graduated from Stadium High School in 1956. While at Stadium, he sang with the Madrigal Singers who performed in the Tacoma area. Youth activities at his church, the Community of Christ, were very important in his life. Serving as president of the congregation youth group and later the district youth group gave him opportunities to assist in planning youth meetings, retreats and camps. He was ordained a Deacon at age 14 and developed a keen interest in serving through the ministries of his church, which has continued to the present. In preparation for a life of continued service he attended Graceland University in Lamoni, Iowa.
Bob worked in Seattle at Boeing Airplane Company, as an electronic assembler, and for the Washington State Employment Security Department, as an interviewer to earn money to continue his education. He married Myrna Jean Navey, eldest daughter of Lloyd George and Jessie Catherine (Butterfield) Navey on Nov 4, 1961 in New Westminster, British Columbia. She had attended Graceland University and then completed her R.N. training graduating valedictorian of her class at Royal Columbian Hospital in New Westminster. Plans were to continue Bob's education and he was enrolled when he received his draft notice to report for induction into the US Army. He served 2 years, after basic and advanced training at Fort Ord, California, as a Chaplain's Assistant with the 4th Division Artillery Headquarters at Fort Lewis, Washington.
Bob and Myrna's first son, Mark David (Feb 18,1963), was born while Bob was in the army. Their second son, Brett Robert (Mar 29,1966) was born 3 years later. As an ordained lay minister Bob has followed a career in sales and development/fund-raising work, in and outside the church, to support his family. This has taken the family across the country and back again.
Bob completed his baccalaureate in sociology at Western Washington University and has completed postgraduate study at the University of Missouri-KC and the College of William and Mary. Myrna completed her Pediatric Nurse Practitioner certification at the University of Washington. Bob and Myrna lived in Tacoma and Olympia, Washington while he was pastor of those two congregations; in Lamoni, Iowa where Bob was the director of Student Auxiliary Services, Admissions Counsellor and then Associate Director of Development at Graceland University and Myrna was director of Student Heath Services. They also have resided in Auburn, Washington where Bob was a sales manager for Beatrice/Hunt-Wesson Foods, being recognized as national salesman of the year. He continued to serve in their church as Director of Youth Ministries and Camping Supervisor for Western Washington and British Columbia. Their next move was to Independence, Missouri where Bob served as an executive minister for the Community of Christ denomination headquarters, as an ordained Bishop. His responsibilities, including Stewardship Ministries Division Director and Assistant to the Presiding Bishop, allowed him to travel and work extensively throughout the United States and Canada which he found very enjoyable. He seemed to be carrying on the 'tradition' of his great grandfather, James Tracy Logan and his grandfather, David H. Logan, who also did considerable travel at various periods during their lifetimes. During this period, Myrna worked at the Graceland University campus in Independence as a Public Relations Assistant for the Division of Nursing .
In 1995, with the failing health of Myrna's father and mother who lived in New Westminster, British Columbia, they returned to Samish Island, Washington. Bob is semiretired working for a local grocery broker and Myrna works as a pediatric nurse at Madrona Medical Group in Bellingham. They continue to serve the church in the Samish Congregation; Myrna as communication co-ordinator and Bob as stewardship minister.
G11: Mark David Logan 1963 & Andrea Kuykendahl
Mark David Logan was born Feb 18, 1963. He attended Graceland University, Seattle Community College and graduated with a Graphic Arts degree from the Seattle Art Institute. His career has been predominantly in the graphic arts/marketing fields. While living in Seattle he was very active in the Seattle Men's Chorus and local musical theatre.
While living in Honolulu, Hawaii he married Andrea Kuykendahl of Salt Lake City in 1993 while launching an athletic sportswear company. They have since divorced. Mark currently resides in Palm Springs, California six months out of the year, and travels abroad with his employer the other six as a personal valet and major-domo.
G11: Brett Robert Logan 1966 & Paula M. Flores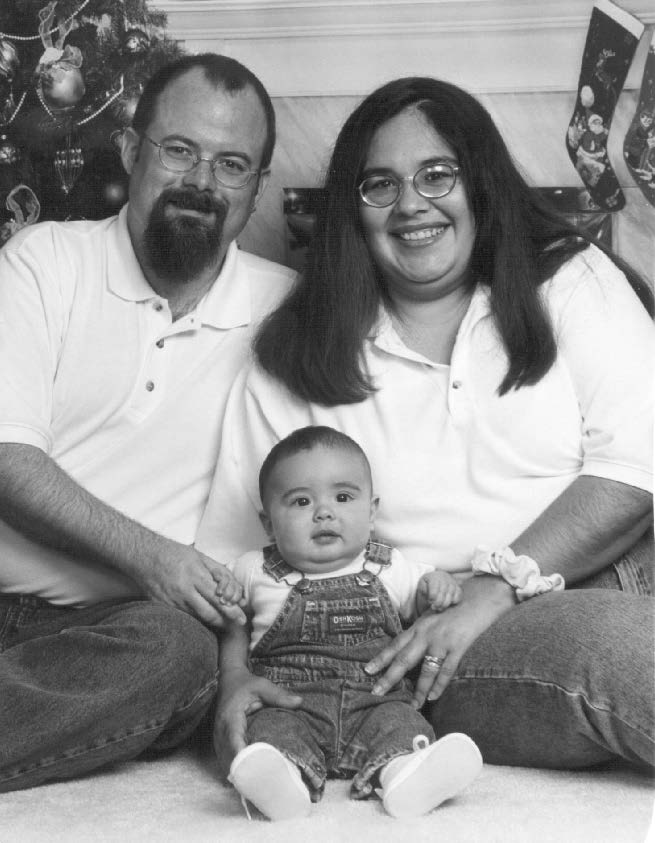 Brett Robert Logan was born Mar 29, 1966. He completed an automotive mechanic certificate program at Creston Community College in Iowa. He then joined the US Air Force, took training as an Aerospace Ground Equipment mechanic, and was stationed at Upper Heyford Air Base in England. Following his time in the military, he settled in Austin, Texas where he completed an Associates of Applied Science/ Electronic Technology/Technician Option degree. He is employed at Cirrus Logic, a leading manufacturer of computer chips installed in many national branded electronic and computer products.
Brett married Paula M. Flores, youngest daughter of Gilbert and Sarita Flores of Corpus Christi, Texas, on January 16, 1999.
Their first son, Benjamin Lloyd Donaciano Logan was born April 26, 2000 at Austin, Texas.
G9: Clarence James Logan 1916-1980 & Vida Mae Williams
Clarence James Logan was born on June 14, 1916, in Ballard, Washington, USA to David Logan and Emily Church.
He married Vida Mae Williams on September 7, 1940. They never had children.
Clarence died on September 28, 1980, in Tacoma, Washington, USA, at the age of 64.
G9: Margaret Evelyn Logan 1918-1992 & Frank Norman Anderson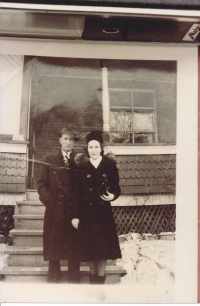 Margaret Evelyn Logan was born on January 29, 1918, in Ballard, Washington, USA, to Emily Church, age 34, and David H Logan, age 30.
She married Frank Norman Anderson on June 29, 1940, when she was 22 years old. They never had children.
Margaret was a nurse and worked in the Tillamook hospital for a number of years. In 1952, she went to work in Dr George Lemery's office and continued there until retirement in 1973.
Frank passed away on May 15, 1990, in Lincoln City, Oregon, USA. They had been married 49 years. Margaret died on December 23, 1992, in Lincoln City, Oregon, USA, when she was 74 years old.
G8: Mabel Edna Logan 1889-1975
Mabel Edna Logan was born on June 25, 1889, in Fort Ransom, North Dakota, USA, to Elizabeth Barbara (Lizzie) Shiels, age 29, and James Tracey Logan, age 36.
Mabel never married and moved to Seattle, Washington in the 1930's. She died in March 1975 in Washington, USA, when she was 85 years old.
G8: Abigail Florence Logan 1891-1976

Abigail Florence Logan was born on June 26, 1891, in Fort Ransom, North Dakota, USA, to Elizabeth Barbara (Lizzie) Shiels, age 31, and James Tracey Logan, age 38.
Abigail never married and moved to Seattle, Washington in the 1930's. She died on March 9, 1976, in Seattle, Washington, USA, when she was 84 years old.
G8: Grace A Logan 1893-1989 & David George Esplen
Grace A. Logan was born on May 11, 1893, in Fort Ransom, North Dakota, USA, to Elizabeth Barbara (Lizzie) Shiels, age 33, and James Tracey Logan, age 41.
She married David George Esplen in 1918 when she was 25 years old. They had three children, Tracy Burrell was born on February 24, 1919, in Regina, Saskatchewan; David Ray was born on April 28, 1928, in Regina, Saskatchewan and Ruth born Jul 19, 1921.
They farmed near Pense, Saskatchewan until 1943 when they moved to Regina. George worked for Bird Construction until his retirement in 1965.
Grace A. Logan died in 1989 in Regina, Saskatchewan, when she was 70 years old.
G9: Tracy Burrell Esplen 1919-2005 & Sally Stroh
Tracy Burrell Esplen was born on February 24, 1919, in Regina, Saskatchewan, to Grace A. Logan, age 25, and David George Esplen, age 22.
Tracy served as a Lance Corporal with the RCASC in WW2 and was stationed in Canada, England, Scotland, Sicily, Italy, France, Belgium, Holland and Germany. After the war, he was employed by CPR and later joined the Provincial Police force as a law enforcement officer in Regina until his retirement in 1984.
Tracy married Sally Stroh and they had one son, James Esplen.  Sally died Jun 19, 1975 at 53 years old. Tracy was remarried to Bertha and they had two more children, Larry Esplen and Dorothy Esplen.
Tracy Burrell Esplen died on September 22, 2005, in Calgary, Alberta, when he was 86 years old.
G9: David Ray Esplen 1928-2001 & Ruth Guillam
David Ray Esplen was born on April 28, 1928, in Regina, Saskatchewan, to Grace A. Logan, age 34, and David George Esplen, age 31.
He married Ruth Guillam and they had three children, Ken Esplen, Karen Esplen and Shelley Esplen.
David was listed as a Trainman and Ruth was listed as a Bookkeeper in the 1963 records for the City of Regina. In the 1972 records, David is listed as a salesman and ruth as a bank supervisor.
David died on February 18, 2001, in Regina, Saskatchewan, when he was 72 years old. Ruth died on December 30, 2015, in Regina, Saskatchewan, at the age of 84.
G9: Ruth Esplen 1921 & James N Dunn
Ruth Alma Esplen was born on July 19, 1921, in Regina, Saskatchewan, to Grace A. Logan, age 28, and David George Esplen, age 25.
She moved to Vancouver and married James N Dunn from Claremore, Okla. Ruth and James arrived in USA at the port of Blaine, Washington on April 6, 1946. They lived in Oklahoma City in the mid 1990's.
Unfortunately we have no further info.
G8: Tracey J Logan 1896-1918

Tracey J Logan was born on March 14, 1896, in Fort Ransom, North Dakota, USA, to Elizabeth Barbara (Lizzie) Shiels, age 36, and James Tracey Logan, age 44.
He never married and was a Private in the 139th Infantry Regiment in the US Army in WW1. He was killed in action on September 26, 1918 and is buried in Meuse-Argonne American Cemetry in Romagne, France.
G8: Clara May Logan 1898-1960 & Cameron Ostrom
Clara May Logan was born on July 19, 1898, in Fort Ransom, North Dakota, USA, to Elizabeth Barbara (Lizzie) Shiels, age 38, and James Tracey Logan, age 46.
She married Cameron Ostrom in King, Washington, USA, on August 18, 1937, when she was 39 years old. They had no children.
Clara May Logan died on May 23, 1960, in Seattle, Washington, USA, when she was 61 years old. Cameron died in February 1971 in Washington, USA, at the age of 70.
G8: William Ray Logan 1900-1965
William Ray Logan was born on September 26, 1900, in Fort Ransom, North Dakota, USA, to Elizabeth Barbara (Lizzie) Shiels, age 40, and James Tracey Logan, age 48.
He never married and died on December 10, 1965, in Sedro, Washington, USA, when he was 65 years old.