John Shiels was born in 1826 and was the fifth child born to Thomas Shiels and Barbara Jean Cranston. He was a sixth generation descendant of Micheal Shiels. 
The following is John's lineage.
G1: Micheal Shiels 1671 & Bessie Brown
G2: Daniel Shiels 1719 & Jessie Scott
G3: James Shiels 1750 & Janet Younger
G4: Robert Shiels 1769-1845 & Annie Dickson
G5: Thomas Shiels 1795-1839 & Barbara Jean Cranston
G6: John Shiels 1826-1908 & Janet McNair
G7: Thomas Shiels 1857-1928 & Rachel Ann Brigham

G8: John George Shiels 1885-1975 & Pearl Alberta Gerry (Dan Shiels Ancestor)
G8: Lottie Shiels 1893-1989 & Howard Burdett
G7: Thomas Shiels 1857-1928 & Rachel Ann Brigham
Thomas Shiels was born December 9, 1857 near Cranbrook, Ontario. He was the eldest of nine children of John and Janet (McNair) Shiels. Tom grew up on his father's 100 acre farm. Tom was a very tall man, standing nearly a head taller than most men. On October 31, 1883 at the age of 26 years, he married Miss Rachel Ann Brigham in Brussells, Ontario.
Rachel Ann Brigham was born in the township of King, County of York, Ontario on November 4, 1858. She was the oldest child of George and Jane (Tatton) Brigham and had four brothers and two sisters; Alfred, George, John, Nelson, Mary, and Jessie. Rachel's mother, Jane Tatton was one of the United Empire Loyalist and came to Canada at the age of four. Rachel went out to work at the age of twelve for the sum of five dollars per month. All of the money went home to help out as times were hard. When Rachel was growing up, she had several admirers, one in particular was her choice, but she learned that he liked the bottle, and that settled the matter for good. Later she fell in love with Thomas Shiels, a neighbour boy who lived across the road from the Brigham family, as they had now moved to Grey County and they were married.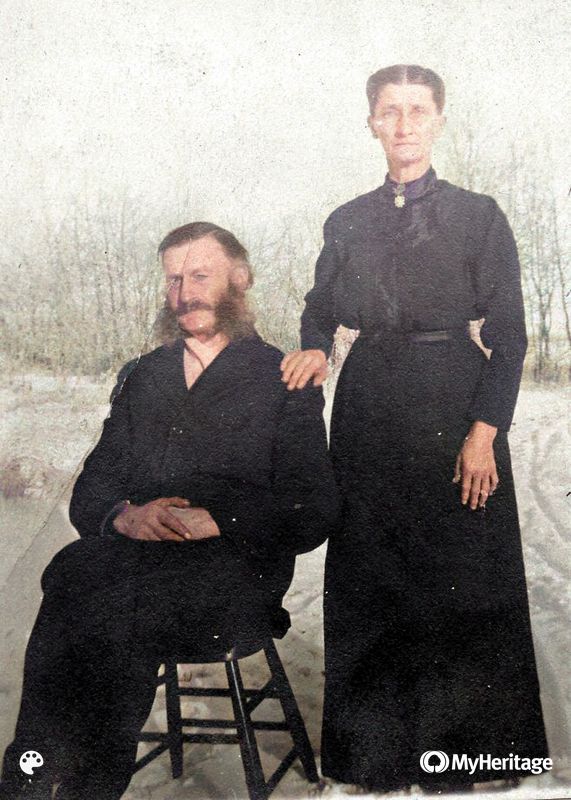 Tom and Rachel farmed in the Brussels area for eight years and had a son there, named John George on February 17, 1885. Tom bought a 200 acre piece of land at Trout Creek near Parry Sound, Ontario. It was nearly all bush with beautiful trees of hardwood (beach and maple). They moved there in 1891. A daughter, Lottie Jane was born there on February 28, 1893.
Tom worked in the lumber mills where they sawed the lumber in the winter time. While the family was living there, Rachel became very sick with a large tumour growing on her back over the hip and nearly up to the waistline. We had a clever young sergeant for a doctor. There was no hospital nearer than Toronto so the surgery had to be done at home. The kitchen table served as the operating table. The tumour had to be removed for it was taking all her strength away and when it was removed, it weighed 12 pounds. Rachel threaded the needles for the doctor and then she climbed on the table. Tom was sitting outside with tears in his eyes as he feared the worst. Rachel had very strong faith in the lord and she began singing a hymn as she went under the chloroform. The doctor had to leave the operation twice to get Rachel's heart beating again. The operation was a success and in no time she was her old self again. The family continued to farm there until 1898.
Tom had a great desire to see the west and the prairies. He tried to get work close to home but none was available. He kept walking west and ended up in Winnipeg, Manitoba. He stayed on with relatives for a few days and then went on to Killarney, Manitoba where he got a job on a farm. Rachel was instructed to sell the bush farm and they got one dollar per acre for it.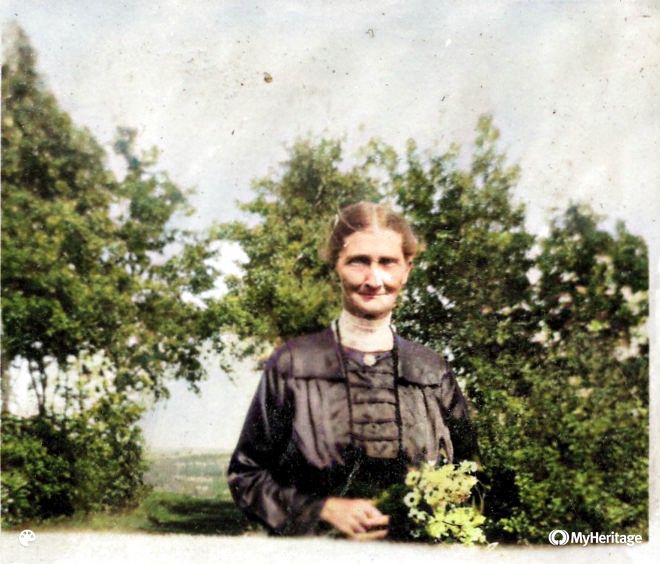 Rachel, John and Lottie packed their belongings and boarded the train for Winnipeg in 1899. It was a far cry from the coaches of today. A little heater stood in one corner to heat the coach and the seats had no cushions. There was no dining car and you made your bed wherever you could. It took four days and nights to get there. Tom met the train and they stayed on in Winnipeg for a few days before going on to Killarney.
They were in the Golden West at last. Tom had a house to move into with his job close by. Rachel got a job cooking for their landlord as he was getting married in the fall and was building a new house. Tom bought a house and half an acre of land in town and John went to school. Tom got a steady job on the railroad as section man where he worked for a dollar and a quarter a day.
When the prairie was open for homesteads in 1902, Tom filed his papers and obtained entry for a homestead on N.E. 24-11-8 W2 in September 1902. When Tom got his homestead it was impossible for him to go as he was sick and his wife was also sick. He had his place protected by a friend named Dan McLeod. Tom arrived in what is known today as the Lost Horse District, later known as Glenada, on June 15, 1904.
When the railroad came through two miles to the north, the village of Corning came into being. He set to work building a kitchen and then broke 15 acres of his land. Tom's wife Rachel was sick all through the spring of 1904 so Tom only stayed three months and returned to Killarney for the winter.
In March 1905, Tom returned to his homestead. Tom started seeding his land and cropped a total of 20 acres that year. Tom only managed to break 6 acres of land in 1905 as he had a run of bad luck. He arrived in March with three horses and by the end June, two horses had died and he was left with one. In March 1906, Tom built the front part on his house.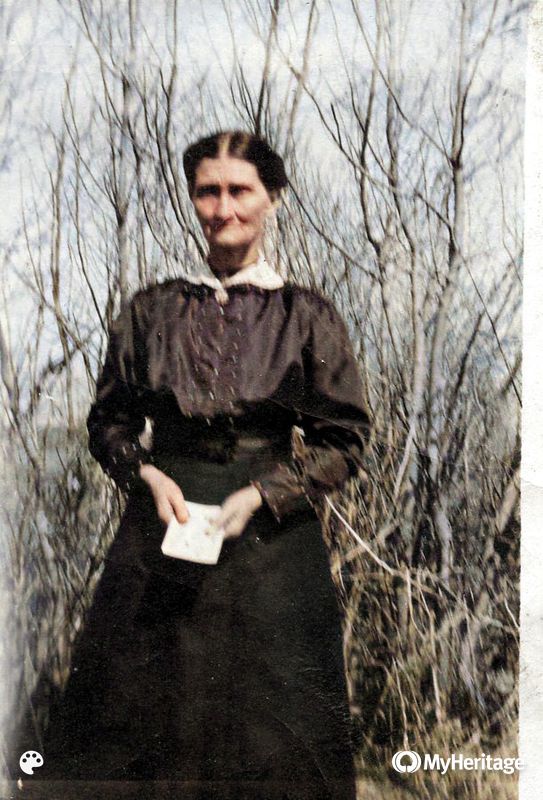 Tom's son John rode the box car with the stock and possessions up to Stoughton. Rachel and Lottie came by passenger train 3 days later. Tom and John met the girls in Stoughton. They all had dinner at the hotel for twenty five cents per person. The meal was roast beef with all the trimmings and pie and coffee. With the team and wagon, and with the help of some neighbours, they moved their possessions out to the homestead.
Tom's son John took a homestead half a mile from his fathers on S.E. 30-11-7W2. Tom managed to break another 11 acres in 1906 and cropped 21 acres. They could get their mail in Corning, but there was no store so groceries had to be purchased in Stoughton. Then a man named Mr. Zink started a little store at Momart. (He travelled through the country with a dray carrying groceries and exchanged them for eggs from the farmers in the area). Later Mr. Zink purchased a building in the Golden West District, three miles West of the Shiels'. They purchased their groceries there.
When Tom filed his six months notice papers in January 1907, he had three horses, three head of cattle and two hogs. He also had a house valued at $400, a stable valued at $25 and a granary valued at $25. When he applied for patent on July 2, 1907, Tom stated he had broke another two acres and had cropped a total of 37 acres. He also now had four head of cattle and four horses. The size of the house was 12×12 with an 16×18 addition. Tom received his patent on August 28, 1907 and continued to farm the land.
Both Tom and Rachel attended the Methodist Church in Killarney. Rachel was a member of the Missionary Society of the Church, helping to pack boxes of clothes for the needy. She also helped with baking to raise funds for the church. After moving to the homestead Tom and Rachel attended the services in the school house, but it was a far cry from the nice church in Killarney.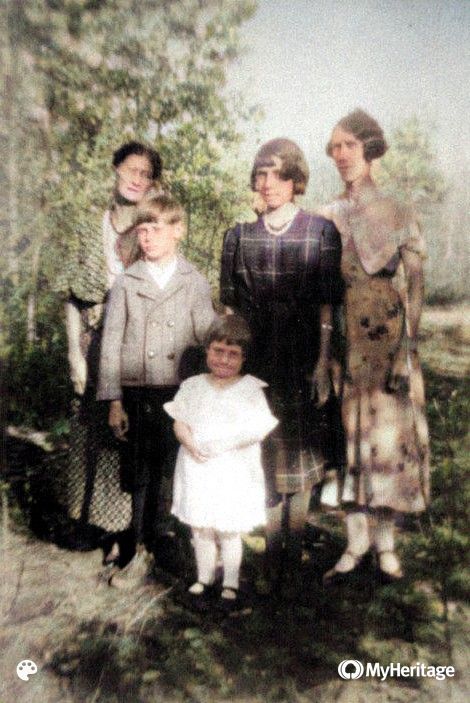 Rachel baked bread for bachelors and made Christmas dinner for them. They were pretty poor cooks and enjoyed a good meal. She helped many a sick person no matter how ill a person was she would fight for their life, as long as they had a breath and she would never give up. She was in good demand where there was sickness, especially on the long prairie, where there was no nurses or doctors in those far off days. She seldom received pay for her work with sick folk but she was always willing to help.
Thomas Shiels had a stroke on January 19, 1928 and died nine days later on January 25, 1928 at the age of 71. His interment was at Corning, Saskatchewan. After Tom's death Rachel continued to live on the farm with a small grand-daughter for company. Her home was very close to her daughter Lottie's home so she wasn't really alone.
The depression came in 1927 and by 1930 was in full swing. It was at this time that Howard, and Lottie decided to move north to the Tisdale area. Rachel moved them so they could take care of her. She lived with Howard and Lottie for her remaining years. They had heard that it was not as bad in that area. Howard travelled by train with the livestock and furniture. The Corning Storekeeper, Mr. Luke Deacon, drove Rachel, Lottie, and Lottie's children by car to the Tisdale area. They stayed with Tom Stovin, a prairie neighbor who had gone north before them. Howard arrived two days later and they moved to the Willow Hill District for the winter, then to the Eastman School District for six years. It was during this time that Rachel Ann Shiels died on August 16, 1939. She is buried at Tisdale, Sask. She was 80 years old. A real pioneer had gone to live with the angels.
G8: John George Shiels 1885-1975 & Pearl Alberta Gerry
John George Shiels was born on February 17, 1885, in Brussels, Ontario when his father, Thomas, was 27 and his mother, Rachel, was 26. He married Pearl Alberta Gerry on December 3, 1912, in Stoughton, Saskatchewan. John and Pearl resided on the Thomas Shiels farm for the first winter. Then they moved south of New Hope (Stoughton). They had 11 children in 18 years.
John died on September 11, 1975, in Napinka, Manitoba, at the age of 90.
(Dan Shiels Ancestor)
G8: Lottie Jane Shiels 1893-1989 & Howard Burdett
Lottie Jane Shiels was born on February 28, 1893, in Parry Sound, Ontario when her father, Thomas, was 35, and her mother, Rachel, was 34. She married Howard Burdett on July 14, 1920, in Corning, Saskatchewan. They resided with Tom and Rachel Shiels until the fall of 1926. William Howard Burdett was the son of William Burdett and Maude Louise (Haycook) Burdett. Louise Maude Haycook's sister Emily had the privilege of singing before Queen Victoria in a theatre in London, England. In 1926 Lottie and Howard moved to their farm SE 25 11 7W2 just north of Tom.
They had three children during their marriage.
Lottie died on March 21, 1989, in Tisdale, Saskatchewan, at the age of 96.