Olive Shiels was born in 1915 and was the fourth child born to John Shiels and Pearl Gerry. She was a ninth  generation descendant of Micheal Shiels. 
The following is Olive's lineage.
G1: Micheal Shiels 1671 & Bessie Brown
G2: Daniel Shiels 1719 & Jessie Scott
G3: James Shiels 1750 & Janet Younger
G4: Robert Shiels 1769-1845 & Annie Dickson
G5: Thomas Shiels 1795-1839 & Barbara Jean Cranston
G6: John Shiels 1826-1908 & Janet McNair
G7: Thomas Shiels 1857-1928 & Rachel Ann Brigham
G8: John George Shiels 1885-1975 & Pearl Alberta Gerry
G9: Olive Shiels 1915-2012 & Allan Gannon

G10: Janet Gannon 1943-2012 & Gordon Patterson & Marti Levy

G11: Brenda Patterson 1982 & Terry Koshin

G10: Douglas Gannon 1946-2018 & Fern Church
G10: Linda Diane Gannon 1948 & Donald Watson
G9: Olive Shiels 1915-2012 & Allan Gannon
Olive Shiels was born October 24, 1915, on her father's farm near Corning, Saskatchewan. Olive was the oldest living child of John and Pearl (Gerry) Shiels. John and Pearl had three children Lottie, Tom and Henry before Olive was born. Lottie only lived 6 weeks and the twins, Tom and Henry died at birth. Olive was therefore considered to be the oldest.
Olive was 7 years old when she started school at Corning. Her first teacher was a man and she was quite scared of him as she never had much to do with men before that. She left school when they moved to the Dan Bowen farm as it was not close to any school. When she was 9 years old, she went back to school with Ken & Dorie. They attended O'Brien school and their mother drove them the three miles to school by horse & buggy. The next family move was close to Walton School and the kids continued there. Olive was there in grade 10 when her mother died in 1933. Olive quit school and stayed home to help her father raise the rest of the children. The youngest, Mel was only 10 months old at the time.
In the fall of 1934, Olive went to work on a farm near Arcola. She worked as a hired girl in a number of places in that area. When she moved home from Arcola, she helped at home once again. Everyone in the family had measles that year. Times were very hard and Olive tells the story about the price of eggs at that time was six cents a dozen. Her grandfather used to say that it was hardly worth the wear and tear on the poor old hen's ass for that price. In 1937, Olive moved with her father and the rest of the family to Manitoba where they farmed near Bede. Olive took work as a hired girl for some of the neighbouring families to help with family expenses.
Olive met her future husband Allan Gannon at a dance one night and they went together for about three years before they were married on June 18, 1941. Olive tells the story about the day she had got a can of salmon and was going to make her and Allan a sandwich when they were courting. She opened the can of salmon and went to get the loaf of bread. When she returned, the cat had jumped onto the table and was about to eat the salmon. Olive grabbed a stick of wood and threw it at the cat to scare it off. As luck would have it, she hit the cat and it was dead!
Allan was called up for a one month training session with the army in 1940. The training was held in Brandon. This training was in preparation for going overseas. Allan signed up in the fall of 1942 and went to Portage and then to Shilo. He went overseas to fight in World War II in the spring of 1943.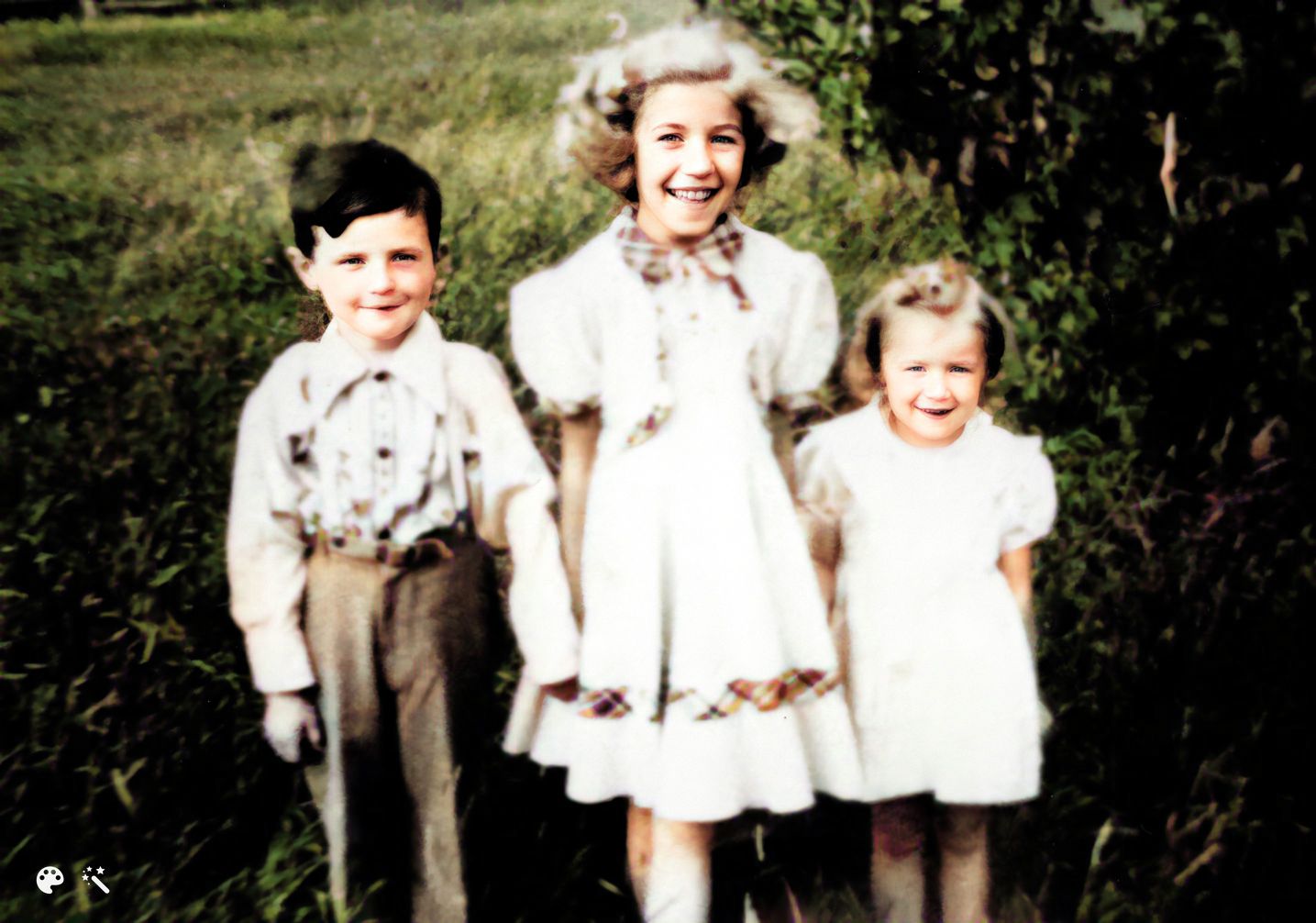 Olive and Allan's first child, Vivian "Marlene" was born April 1, 1942 but passed away on April 25 after surviving only 24 days. Their second child, Janet was born July 24, 1943. She was three weeks old before word had reached her father. Allan served in England, France, Germany, Belgium and Holland. Allan returned home in January 1946.
Allan & Olive started farming near Medora and moved on to the Experimental Farm in the spring of 1948. They stayed there for 5 years and Olive had numerous boarders while there. Their first son, Douglas was born June 14, 1946 and Linda was born September 19, 1948.
In the fall of 1952, they moved to Medora where Allan worked at Tweeds Garage as a mechanic. In 1955, they moved to Deloraine to work at D&M Motors. They started off living in the Perry house, one mile from Deloraine and they paid $25 per month for rent. One month later, they moved to town. In the spring of 1956, they bought the Maynard house. Olive started working at Chernick store in October 1956. She worked there for three and a half years. Olive also worked part time in the Chinese Restaurant. She quit at the Chernick store in 1960 and worked full time at the cafe. She left the restaurant in October 1960 to work at McLeod's and stayed there till the spring of 1964.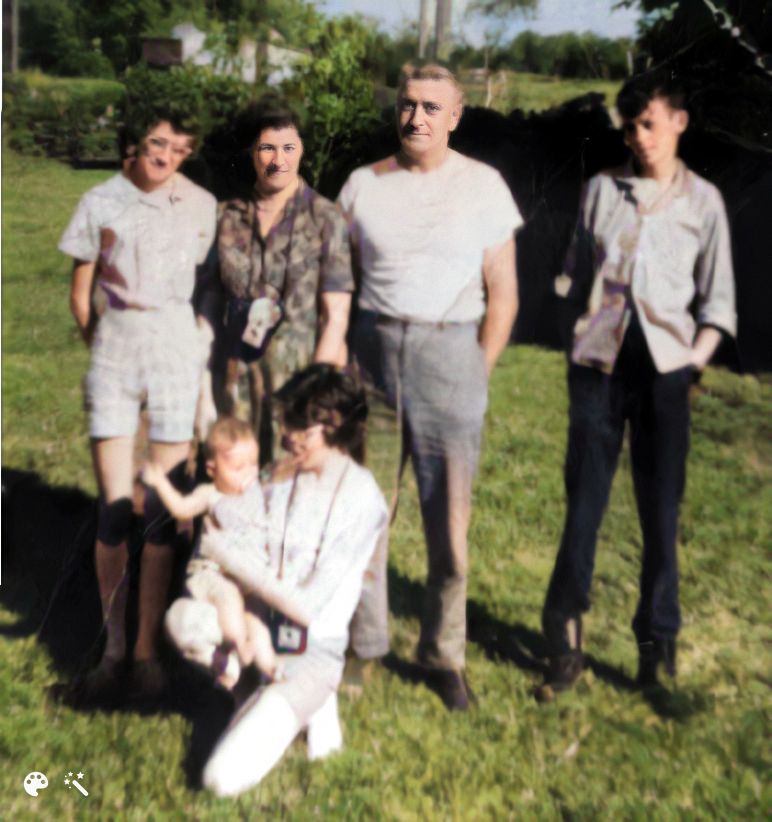 The family moved to Brandon in September 1965. Allan worked at Morgan Motors and Olive worked at the Saan store. In May 1966, they moved to Melita where Allan worked in the Metropolitan Hotel. In 1967, they went to Calgary for a holiday to visit their daughter Janet and family. They liked the city and moved to Calgary in September. Once again, Allan worked as a mechanic for Dave Munroe. Olive worked in a number of bake shops in Calgary. They stayed there until 1972 when they moved to Napinka. Allan worked with his brother-in-law, George Shiels, on carpentry work for the winter.
In April 1973, Allan started again at Tweed's Garage in Medora. In the fall of 1973, they moved to Melita where Olive worked at Ted's Cafe. In the spring of 1975, they bought a house in Medora so Allan was closer to work. Allan was forced to retire due to ill health.
Allan & Olive spent the winters of 1977, 1978 & 1979 in Calgary and moved back to Medora in the spring. In the fall of 1980, they moved back to Calgary to be closer to their children & grandchildren. They both enjoyed travelling and visiting family and friends. They knew people everywhere they went and made friends easily. They made many trips across Canada and were on the road home from visiting their son Doug in New Brunswick when Allan took sick. He died in Brandon on April 5, 1984 and is buried at Bede Cemetery beside their daughter Marlene.
Olive went to McAuley, Manitoba in 1989 to help Don & Linda set up their new store there. In March 1990, Olive moved to McAuley and rented a house for a year and then bought the house. She sold her house in 1995 and moved into an apartment. While in McAuley, Olive remained very active and went dancing every Saturday night. She went to Rainbow Lake, south of Esterhazy, Sask from May till October and goes to Moosmin in the winter. There are four from McAuley that go regularily and there is about 100 people on a regular basis. Olive still had her own garden and celebrated her 85th birthday in 2000. On January 13, 2001, while visiting her daughters in Calgary, she fell and broke her shoulder. She stayed in Calgary while recuperating and went home to McAuley in April.
Don and Linda purchased a retirement house in Deloraine, Manitoba and Olive moved to Deloraine. When Linda and Don retired, Olive moved to the apartment block across the street so they remained very close. Olive moved into the Personal Care home in Boissevain, Manitoba in 2011 and passed away July 30, 2012.
G10: Janet Gannon Patterson-Levi 1943-2012 & Gordon Patterson & Marty Levi
Janet Gannon was born on July 24, 1943. She was the second child of Allan & Olive (Shiels) Gannon. She married Gordon Patterson on June 30, 1962. To this union three children were born: Brenda December 6, 1962; Barrie on January 30, 1964 and Derek on December 27, 1968. The family moved to Calgary in 1965 where Janet and the children still reside. Although Janet and Gordon were divorced in 1981, they remained close until Gordon's death in 1992.
Janet was remarried on September 28, 1985 to Marty Levi. Jan and Marty enjoy country music and dancing. Neither participates in any sports although Marty does bowl now and again. Jan and Linda became partners in a housecleaning business in 1995 appropriately called "2 Sisters Maid 4 U". They keep very busy as there are no shortage of toilets to be cleaned in Calgary! Marty worked for a tour bus company for many years.
Jan passed away suddenly on August 29, 2012 in Calgary, Alberta.
G11: Brenda Patterson 1982 & Terry Koshin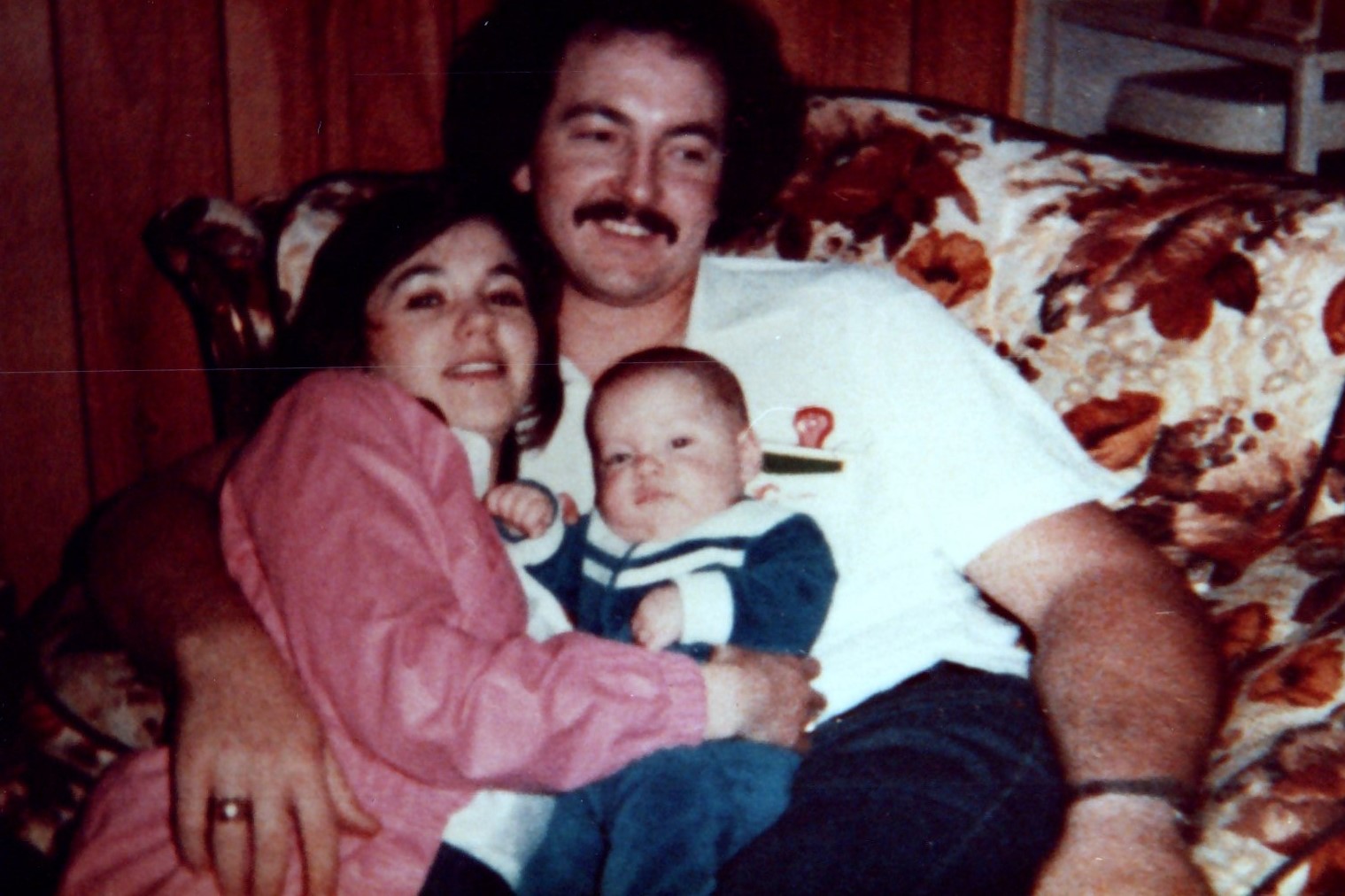 Brenda married Terry Koshin on May 1, 1982. They have two boys: Steven born September 4, 1982 and Corey born 364 days later on September 3, 1983. Hence they are the same age for one day every year. Brenda is employed as office manager for a plumbing company. She has little time for social activities but still enjoys doing her embroidery work. Her latest project was a beautiful pair of pillow cases for her cousin Chris and his bride Sandra. Terry, Steven and Corey are all in the food industry with Boston Pizza.
Barrie remains single and works in windows and doors (building and installation).
Barrie, Derek, Terry and Ryan are all avid golfers when they can squeeze in a few rounds during the season. Barrie always tries to enter a couple of tournaments each year.
Derek and Joanne Sheridan had a son, Ryan born on August 28, 1987. Ryan lives in B.C. with his mom. Derek and Denise lived for many years in Vancouver and had a son, Justin on June 6, 1995. They returned to Calgary in 1998. Derek is office manager for a rental company.
G10: Douglas Gannon 1946-2018 & Fern Church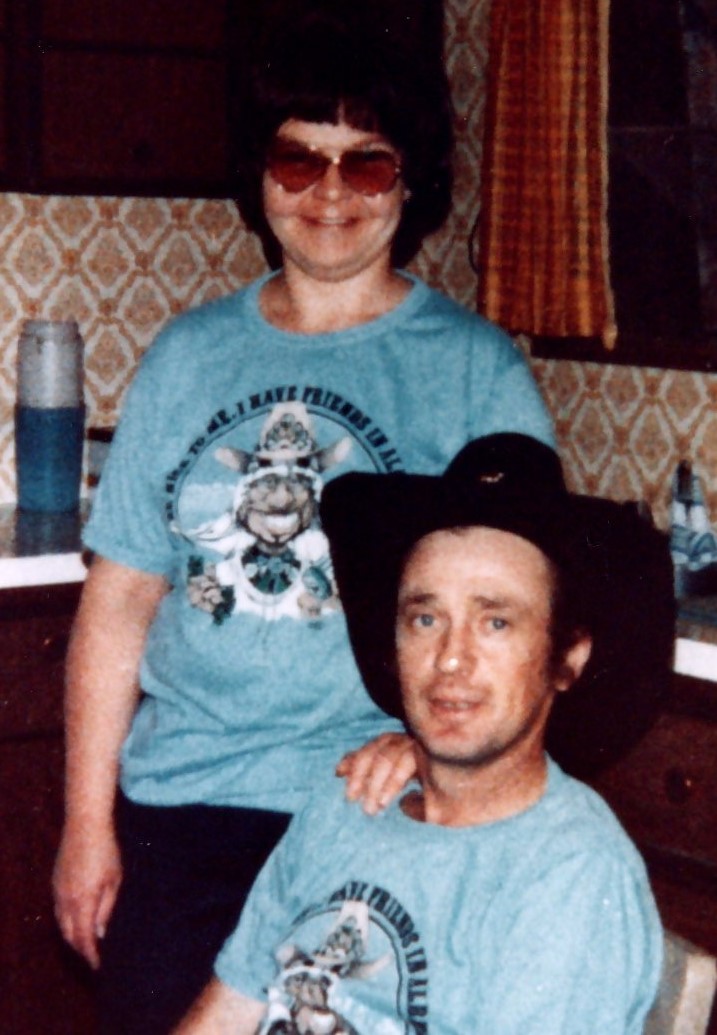 Douglas Gannon was born June 14, 1946. He was the third child of Allan & Olive (Shiels) Gannon. Doug married Fern Church on September 16, 1969. Fern was born in Saskatchewan on January 5, 1948. They had a son Barry, born on October 29, 1970. Douglas and Fern were divorced in 1976. Fern and Barry live in Winnipeg.
Douglas lived in New Brunswick for 9 years and worked as an auto body mechanic. In 1986, he was involved in a car accident and as a result lost his right leg. This did not slow him down much as he can still put in a good day's work. In 1992, he returned to live in Manitoba and lived in Waywaysecapo where he farmed with his friend Doreen. Doug also worked at JJ Foodstore.
Doug passed away Jun 11, 2018 in Deloraine, Manitoba.
G10: Linda Gannon Watson 1948 & Donald Watson
Linda Gannon was born September 19, 1948. She was the fourth child of Allan & Olive (Shiels) Gannon. She was educated in Deloraine up to grade 11 and then went to St. Micheals College in Brandon for 1 year.
When the family moved back to Melita, Linda went to work at the New Era. While working there, she met her mate, Don Watson of Napinka. Linda worked there until 1967 when she decided to move to Calgary. Don didn't want her to go and he went to Calgary for a visit in the summer. Linda came back to Manitoba for Christmas and they set their wedding date for April 5, 1969.
After the wedding, they moved to Calgary where Don was in the printing business for many years. Linda worked at Van Helden Insurance in Calgary, then at Renfrew Insurance and finally at the Chinese Insurance company. They have two sons, Andrew born March 5, 1974 and Christopher on September 19, 1977.
They moved to McAuley, Manitoba in 1989 where they operated a general store for many years. They returned to Calgary in 1995 and Don worked at a golf course. Linda and her sister Janet, operates her own business and also worked at Airport Duty Free.
Following retirement, Don and Linda moved to Deloraine, Manitoba and lived across the street from Linda's mother Olive Gannon.
Don passed away September 17, 2017 and Linda continues to live in Deloraine.