Ken Shiels was born in 1917 and was the fifth child born to John Shiels and Pearl Gerry. He was a ninth generation descendant of Micheal Shiels. 
The following is Ken's lineage.
G1: Micheal Shiels 1671 & Bessie Brown
G2: Daniel Shiels 1719 & Jessie Scott
G3: James Shiels 1750 & Janet Younger
G4: Robert Shiels 1769-1845 & Annie Dickson
G5: Thomas Shiels 1795-1839 & Barbara Jean Cranston
G6: John Shiels 1826-1908 & Janet McNair
G7: Thomas Shiels 1857-1928 & Rachel Ann Brigham
G8: John George Shiels 1885-1975 & Pearl Alberta Gerry
G9: Ken Shiels 1917-1972 & Mary Rodgers

G10: Boyd Rodgers 1950 & Pat Hemphill
G10: Dwight Shiels 1964
G9: Ken Shiels 1917-1972 & Mary Rodgers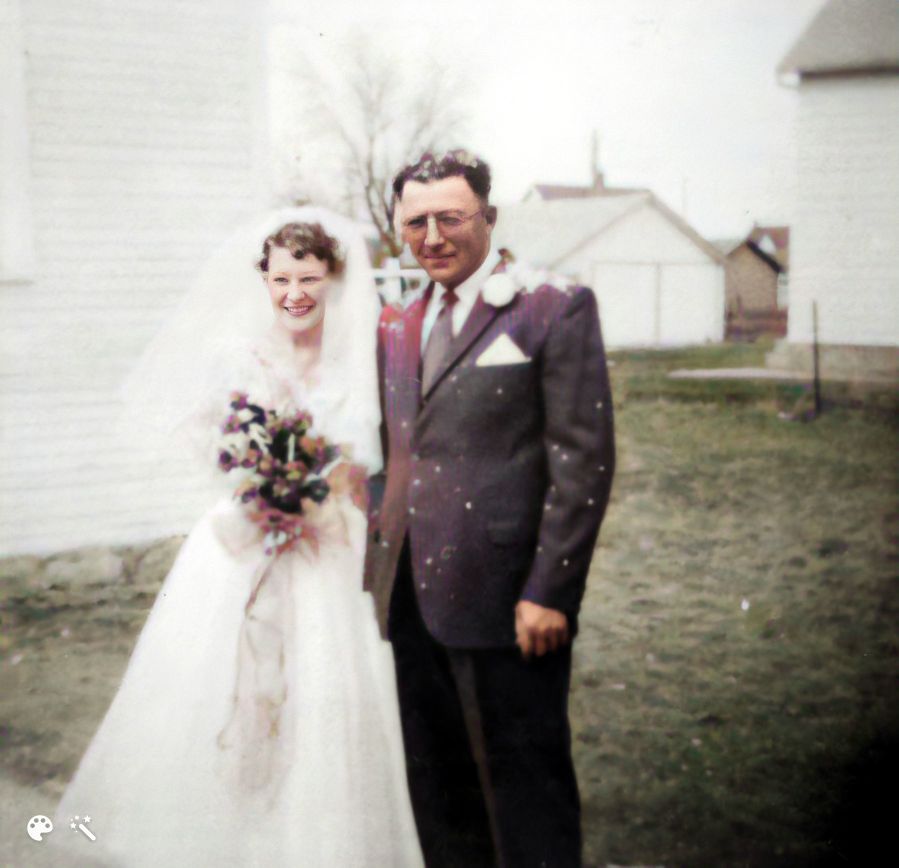 Ken Shiels was born south of Stoughton, Saskatchewan on October 8, 1917. He was the fifth child of John and Pearl (Gerry) Shiels. As the first three children had died in infancy, and John and Pearl's fourth child was a daughter, Olive, Ken was thus the eldest son. Ken farmed with his father as they moved around Stoughton and in 1937, he came to Bede, Manitoba with his father to farm.
In 1942 he moved with his father east of Napinka and in 1945 to a farm north of town, now known as the Johnny Holland farm. Ken's father moved to town in 1947. Ken and his youngest brother Mel, remained on the farm. When his brother George came home from the war with his new wife Betty, they too came to live with Ken.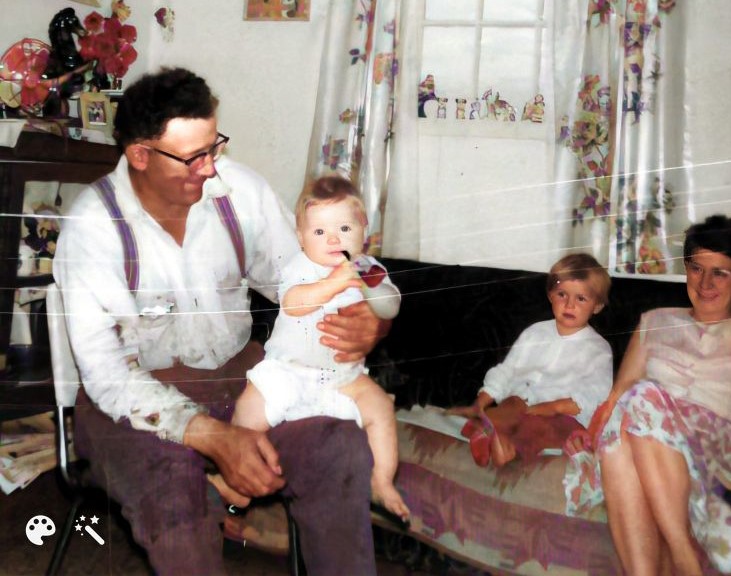 They all moved farther north to the old House place in 1947. In 1948 George and Betty moved to their own farm. In the fall of 1949, Mel went east to Peterborough, Ontario to visit with his other brother Cliff.
This left Ken by himself and he moved just west of Napinka now known as the Red Jones farm. In 1955, Ken moved back to Saskatchewan and settled on a farm near Handsworth, Saskatchewan which was not far from where he had grown up. Ken met Mary Rodgers and Mary came to keep house for him. Mary was born September 2, 1927 in Handsworth, Saskatchewan. Mary had a son, Boyd born June 14, 1950 in Regina, Saskatchewan. Ken and Mary were married at Stoughton on April 11, 1962.
Ken & Mary had a son Dwight, January 28, 1964 in Fillmore, Saskatchewan and a daughter Laura, April 16, 1965 in Regina. Laura was very sick. She never came home from the hospital and she died December 26, 1965 at the age of eight months.
Ken ran the mail for a number of years from Handsworth and made his last trip on June 30, 1968. Ken also played the fiddle and entertained many people during his lifetime.
Ken and Mary continued to farm until the fall of 1971 when they bought a house in Stoughton.
Ken died on April 6, 1972 from a stroke. Mary started working at New Hope Pioneer Lodge in Stoughton on November 1, 1971 and retired after working 21 years on November 1, 1992. Mary passed away April 4, 2014.
G10: Boyd Rodgers 1950 & Pat Hemphill
Boyd Rodgers was born on June 14, 1950, in Regina, Saskatchewan. Boyd married Pat Hemphill (nee James) on March 17, 1979. Pat was born April 10, 1951. Boyd is an electrician by trade. He also worked at the Esso Gas station. Pat worked at the SGI office.
They lived on a tree farm at Stoughton, Sask for many years where Boyd enjoyed gardening. He also enjoyed growing and selling trees and enjoyed the wildlife such as deer and birds. They sold their farm and moved to Stoughton when they retired.
They have an adopted daughter Laura Joan, born December 31, 1983. Laura graduated from high school in 2001 and planed to work for a year before heading off to college.
G10: Dwight Shiels 1964
Dwight Shiels was born January 28, 1964 in Fillmore, Saskatchewan. He was the first child of Ken & Mary (Rodgers) Shiels. After finishing school in Stoughton, Dwight worked on road construction and hauled water for the oil rigs. He spent one summer in Zama Lake, Alberta and 2 years at the Potash mine in Esterhazy, Sask. He worked for farmers in the area and started farming on his own in 1991. He also worked as a truck driver for Coderre's Construction in Stoughton. Dwight started a snow removal business in 1996. He had two bad years with little snow and added rotary mowing to his business in 2000. His business is known as Big D's Lease Service and he plans to add a Road Grader in 2001.
He has downsized his farming operation with the extra business. Dwight is an avid hunter and fisherman. He is very handy and built himself a shop at the farm and an ice fishing shack for some winter fun.
Dwight has also taken up raising Bison and has a heard of 10 in 2002. There is a good market for bison as a specialty meat.