Ethel Shiels was born in 1924 and was the ninth child born to John George Shiels & Pearl Alberta Gerry. She was a ninth generation descendant of Micheal Shiels. 
The following is Ethel's lineage.
G1: Micheal Shiels 1671 & Bessie Brown
G2: Daniel Shiels 1719 & Jessie Scott
G3: James Shiels 1750 & Janet Younger
G4: Robert Shiels 1769-1845 & Annie Dickson
G5: Thomas Shiels 1795-1839 & Barbara Jean Cranston
G6: John Shiels 1826-1908 & Janet McNair
G7: Thomas Shiels 1857-1928 & Rachel Ann Brigham
G8: John George Shiels 1885-1975 & Pearl Alberta Gerry
G9: Ethel Shiels 1924-1995 & Oscar Lindbloom

G10: Randy Lindbloom 1946-2006 & Allison Warren

G11: Kirsten Lindbloom 1972 & Virginia Claire Larsen
G11: Erika Lindbloom 1975 & Chris Pearson

G10: Brad Lindbloom 1957
G10: Craig Lindbloom 1961
G10: Blair Lindbloom 1964
G9: Ethel Shiels 1924-1995 & Oscar Lindbloom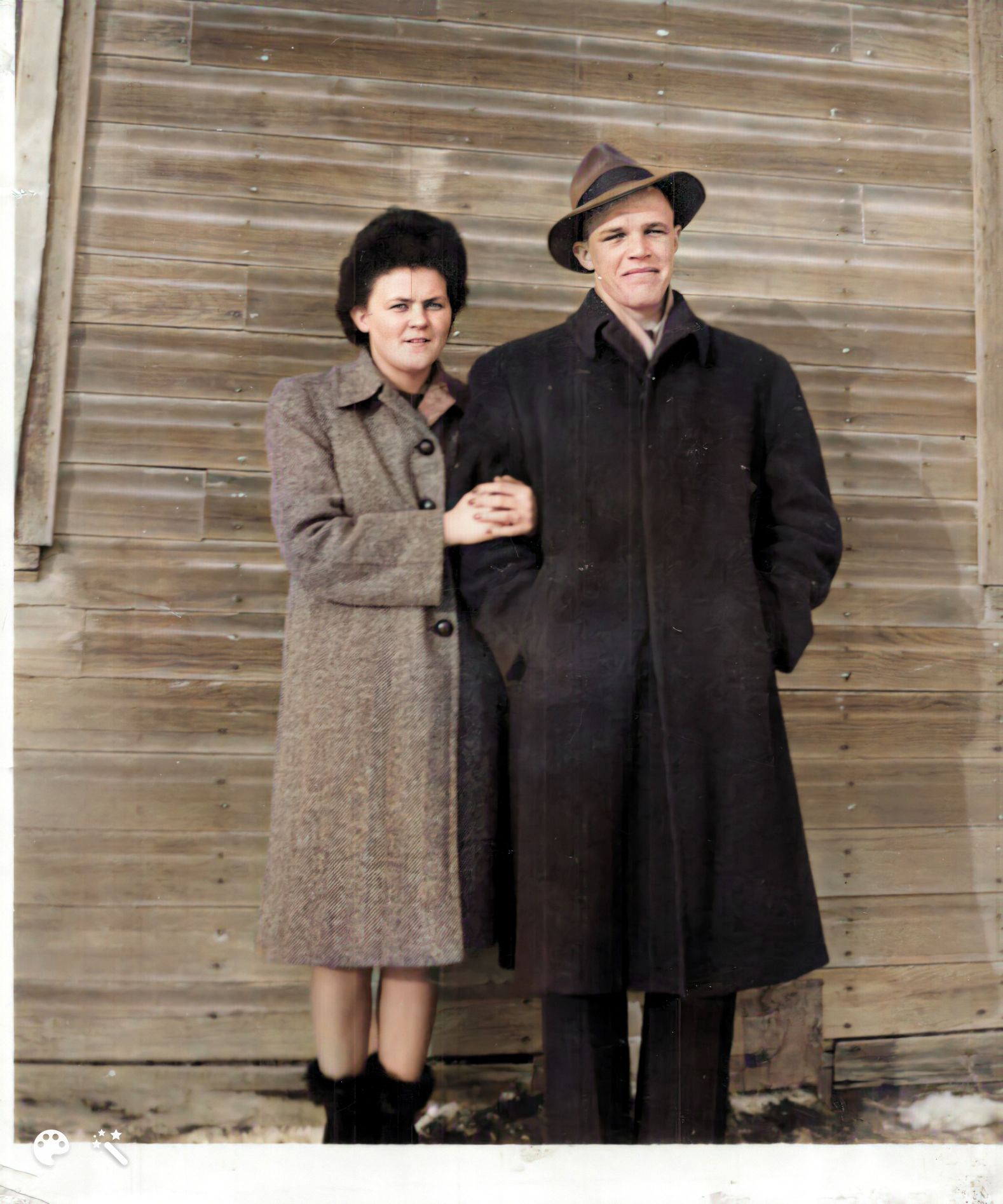 Ethel Shiels was born September 10, 1924. She was the ninth child and youngest daughter of John and Pearl (Gerry) Shiels. She moved around with her parents and moved to Manitoba with her father, brothers and sisters, after her mother died. She went to school at the Walton School in Sask and then at the Bernice school. The family was overwhelmed when they came to Manitoba, the crops and gardens were unbelievable. She worked for Hector and Lavina McInnes and Pearl Line. Ethel also worked three years in the Red and White Store for J. W. Elsey and boarded with Gordon and Mary Ball.
Ethel married Oscar Lindbloom on January 23, 1946. Oscar was born August 20, 1923. They boarded the train in the morning from Napinka and went to Souris to get married. They were married in the afternoon and came home on the evening train. They lived in a little house on the Lindbloom farm east of Napinka. In the fall of 1946, they moved to Moosomin, Saskatchewan and lived with Gar & Doris Blackwell (Ethel's sister). Oscar worked for Frank Smit.
Their oldest son Randy, was born there November 28, 1946. They moved from Moosomin to Bernice, Manitoba in the spring of 1947 and Oscar started work for the Canadian Pacific Railroad on the section line. In the fall of that year, Oscar was laid off and went back to work on his father's farm. In the fall of 1949, they moved to Napinka where Oscar started again for he CPR. In the fall of 1950 they moved to Elva here Oscar was section man for two years.
Then he went as relief foreman for a year and in the fall of 1953, he quit the CPR and moved to Souris, Manitoba where Oscar was foreman of Klierway Stock Farms at Souris for 10 years. They had three more sons while living there, Brad October 24, 1957; Craig May 5, 1961; and Blair April 28, 1964.
In April 1963, Oscar and Ethel bought a house in Souris and Oscar started doing carpentry work for J.A. Williamson.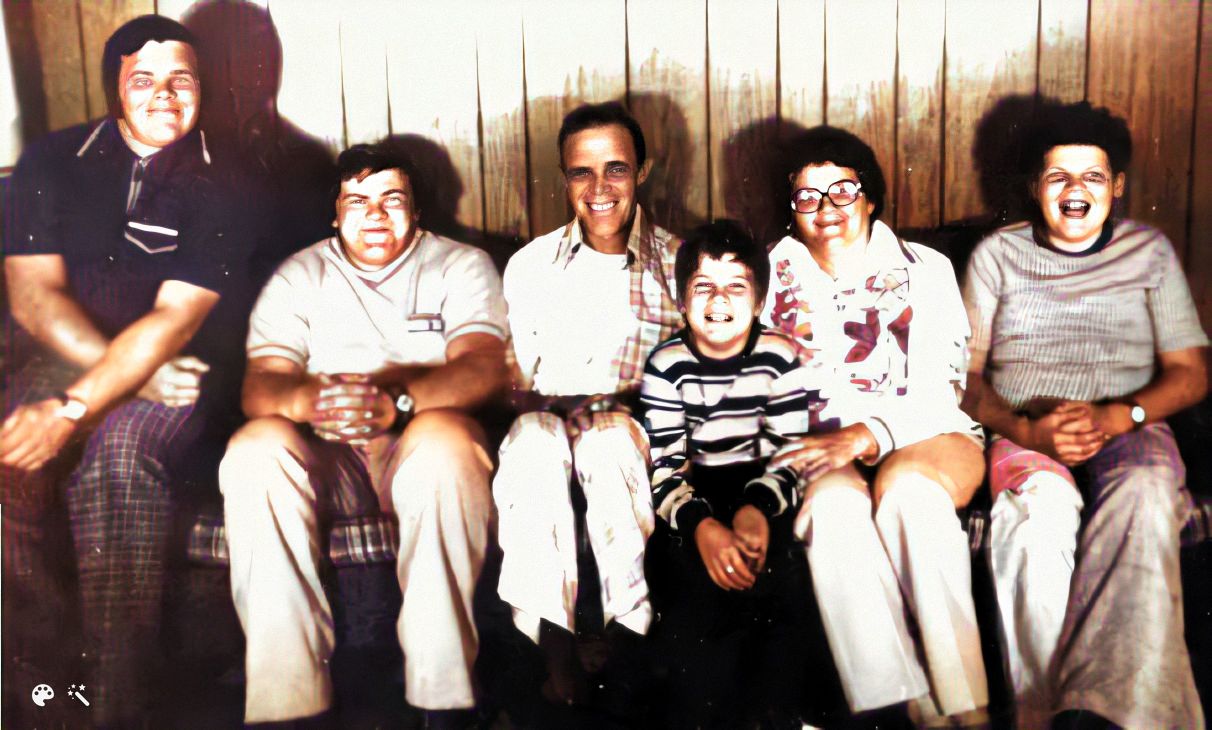 In August 1968 they moved to Calgary, Alberta where Oscar worked for Wilson Arches. He built large storage facilities throughout Alberta for vegetables and potatoes. In December 1968 he went to work for Carl Larson as a carpenter. In the spring of 1969 he went back to Wilson Arches. They left Calgary in the spring of 1971 and moved back to Souris, Manitoba where Oscar worked for Fred Eisler. In the spring of 1972 he went to work for Poole Construction on the new hospital. He worked as foreman to start and was the superintendent for the last three months of construction. When the hospital was complete, Oscar became maintenance man at the hospital. He left the hospital in July 1974 and built silos for J and H Construction till September 1975. He worked for himself until the family moved to Newmarket, Ontario in January 1977 where Oscar worked for Ethel's brother Mel. Mel had a Farm Automation business and Oscar was the foreman of a construction crew.
The family moved back to Souris in October, 1980, where Oscar worked at the Superior Cheese plant. In 1985 Oscar was involved in an accident at the plant and lost his arm as a result.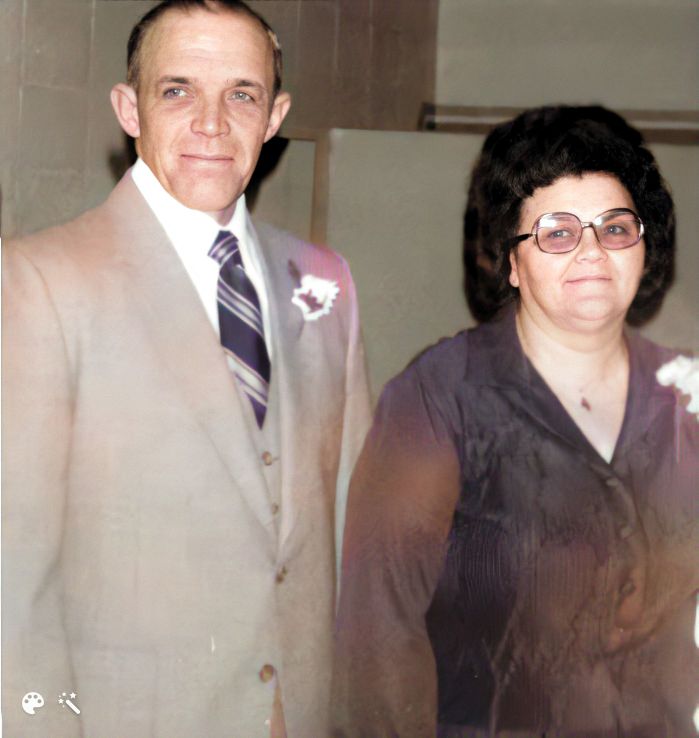 Ethel was a long time member of the Bruce Brommel Chapter of the I.O.D.E. and she was a Life-Member of the The Ladies of the Royal Purple as well as a former honorary Kinette. If the old adage referring to one "getting out of life what you put in", applies, then Ethel was a rich soul indeed. She was always first to help when help was needed and will be sorely missed by her many friends and family, real or adopted. For it was as "Auntie Ethel", as she was known to hundreds, that her easy and loving disposition shone forth and endeared her to those she came in contact with. Her outgoing personality and quick wit made for countless good times for all who had the privilege of calling her "Auntie Ethel". In recent years her involvement with the "Volunteers" musical group (Souris Twilighters) was a source of great contentment to her. Playing the "fiddle" for others was truly a pleasure, a gift to be shared.
Ethel passed away on February 25, 1995 and Oscar passed away December 17, 2004.
G10: Randy Lindbloom 1946-2006 & Allison Warren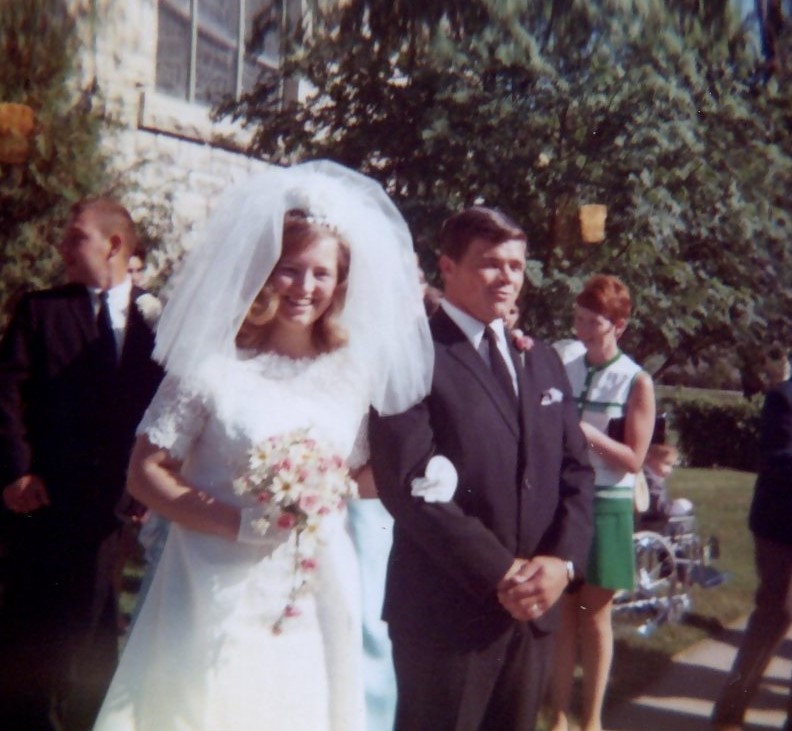 Randy Lindbloom was born November 28, 1946 in Moosomin, Saskatchewan. He was the first child of Oscar & Ethel (Shiels) Lindbloom. Randy went into the military when he finished school.
He married Allison Warren from Portage la Prairie on July 4, 1970. Allison was a registered nurse and was born October 27, 1948. Randy was stationed in Ontario when they were married and was on active duty during the FLQ crisis. Following the birth of their first child, Randy left the military and moved to Portage and then to Souris. While in Souris, he operated Randy's Foodmart. They later moved to Killarney where Randy worked at the Co-op and Allison worked in the Killarney Hospital. Randy started selling machinery out of Brandon and also was studying to become a minister.
The family moved to Glenboro, Manitoba in 1986 where Allison became the Director of Nursing at the Glenboro Hospital. Randy was a lay minister in the Anglican Church as well as working with a company out of Somerset "Darts and Stuff". In 1990, the family moved to McGregor where Allison became the Regional Director of Nursing for that area.
Allison passed away on June 15, 1977 after a long battle with cancer. Randy moved to Portage and started working for the local newspaper, the Daily Graphic and remained there till January 2001. Randy married Michelle in 1999 and started a new job as assistant curator at the Ft Laraine Museum in Portage in January 2001. Randy passed away April 17, 2006.
Randy & Allison had two daughters; Kirsten born March 25, 1972 and Erika February 2, 1975. 
Erika married Chris Pearson in June 2000 and they live in Crypus River, Manitoba. Erika is a school teacher in McGregor and Chris and his father own a trucking company.
G11: Kirsten Lindbloom 1972 & Virginia Claire Larsen
Kirsten Lindbloom was born on March 25, 1972, in Manitoba to Alison Kathleen Warren, age 23, and Randy Lindbloom, age 25.
Kirsten moved to Austin, Minnesota and married Virginia Claire Larsen in Olmsted, Minnesota, USA, on August 10, 2013, when she was 41 years old.
Virginia died on May 5, 2018, in Austin, Minnesota, USA, at the age of 81. Kirsten continues to live in the Minneapolis, Minnesota area.
G11: Erika Lindbloom 1975 & Chris Pearson
Erika Lindbloom was born on February 2, 1975, in Souris, Manitoba, to Alison Kathleen Warren, age 26, and Randy Lindbloom, age 28.
She married Chris Pearson in June 2000. They lived in Abbotsford, British Columbia where Erika is a school teacher and Chris owns a trucking company.
G10: Brad Lindbloom 1957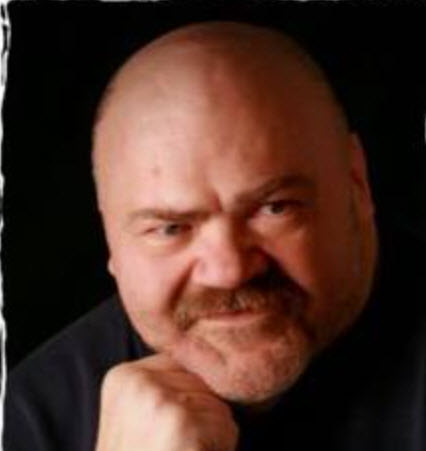 Brad Lindbloom was born October 24, 1957 in Souris, Manitoba. He was the second child of Oscar & Ethel (Shiels) Lindbloom. Brad enjoyed photography when he was younger and started Brad's Photography in Souris and operated it for two years before moving to Brandon in 1977. He worked in Woolco during the day and ran his photography at night. He started as a stock boy and then went into the camera department. He taught photography at Brandon University and was promoted to camera department manager before leaving Woolco. He was the manager of Japan Cameras for a year and then started for Canadian Computer Era. He was a sales representative and now teaches computers and photography at the University.
Brad worked with his brothers Craig & Blair for a number of years and they had a We R. Video business in Souris. Together, they also ran B.B.C. Enterprises which uses their initials and had "Shiels and Stuff" for six months of the year. Brad now lives in Brandon and is the service manager for a computer company.
G10: Craig Lindbloom 1961
Craig Lindbloom was born May 5, 1961 in Souris, Manitoba. He was the third child of Oscar & Ethel (Shiels) Lindbloom. Craig has always worked on construction. He worked for his uncle Mel in Newmarket and then for Keins Trailers. He worked for Dave Brown Construction in Souris. He moved to Brandon in June 1985 and worked for Ben Weibe doing construction work in and around Brandon.
Craig worked for Zenith Paving in Winnipeg for two years before moving to Souris to work with his brothers Brad & Blair in BBC. He went to work in the oil wells in Saskatchewan and was involved in two separate accidents while there. He was working underneath a truck when someone got in and started the truck and he was run over.
His second accident involved poison gas and he was very sick. He came back to Souris and worked for a time in telemarketing but the health problems caused by the poison gas forced him to stop work. He is now on permanent disability and lives in Brandon.
Craig married Anne Atkinson in June 1998.
G10: Blair Lindbloom 1964
Blair Lindbloom was born April 28, 1964 in Souris, Manitoba. He was the fourth child of Oscar & Ethel (Shiels) Lindbloom. Blair was born with cerebral palsy and spent many years in Shriners Hospital. Despite his handicap and the use of a wheel chair, he made a real challenge with learning. He graduated from his grade eleven special class, finished his grade twelve by correspondence at his home in Brandon and is now following in Brad's foot steps in computers.
Blair and Linda were married on December 24, 1997 and live in Brandon.