Ellen Shiels was born in 1869 and was the ninth child of George Shiels & Susannah Wortley. She was a seventh generation descendant of Micheal Shiels and his lineage is as follows:
G1: Micheal Shiels 1671 & Bessie Brown
G2: Daniel Shiels 1719 & Jessie Scott
G3: James Shiels 1750 & Janet Younger
G4: Robert Shiels 1769-1845 & Annie Dickson
G5: Thomas Shiels 1795-1839 & Barbara Jean Cranston
G6: George Shiels 1828-1906 & Susannah Wortley
G7: Ellen Shiels 1877-1951 & George Alfred Ford

G8: Edith Helen Ford 1912-1952 & Harry Koopmans

G9: Gary Lyndon Koopmans 1944-2011 & Catherine M Gesler

G8: Velma Annie Ford 1916-1927 
G8: William George Ford 1918-2007 & Jessie Janet Muirhead

G9: John William Ford 1947 & Janice Ruth Sceiford
G9: Margaret Ellen Ford 1951 & William Samuel Campbell
G7: Ellen Shiels 1877-1951 & George Alfred Ford
Ellen Shiels was born July 12, 1877. She was the ninth child of George and Susannah (Wortley) Shiels. Her name as written in the family Bible by her father, was "Hellen", but she never used that name. Everyone knew her as "Nellie". She was educated at school #8.
The "Brussels Post" of March 1, 1886, shows "highest mark, second class, Ellen Shiels" and the Post of April 9, same year, shows "highest mark, third class, Ellen Shiels".
When Nellie was twelve, her mother died. Her father had promised to send her to "town" (Brussels) to high school, but her mother's death stopped that. Nellie then got the job of "keeping house" for her father and two younger brothers. She did this for several years and then "went out" as a hired girl.
She worked as a practical nurse keeping house and caring for her sister Jemima until Jemima died in 1902. The church register of Knox Church, Cranbrook shows "Miss Ellen Shiels admitted as church member, June 20, 1902" and "Ellen Shiels, Grey Twp County Huron, daughter of George Shiels, farmer, Baptized January 23, 1903". Nellie remained to "keep house" for Jemima's husband, George A. Hart at his farm on con14 Elma Twp Perth County, until he moved to Hullet Twp Huron County in 1906.
Nellie remained in the Hullet Twp, Village of Clinton district. There she met George Alfred Ford, a son of John and Louisa Elizabeth (Cawte) Ford of Gosport, Hampshire, England. Nellie and George were married March 29, 1911, in the manse at Clinton, Ontario, by Alex Stewart. The witnesses were Francis Glew and Elizabeth J Stewart. George Alfred Ford was born January 28, 1884, in Gosport, Hampshire, England. George's mother died at the birth of twin sons when he was nine, leaving his father with nine children, the oldest 13, and newborn twin boys.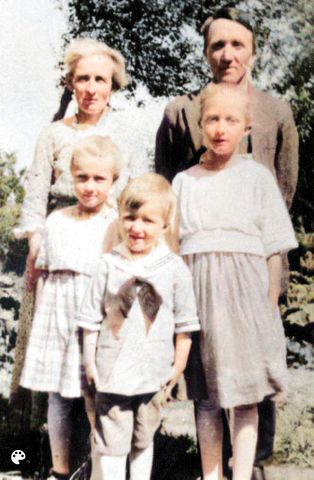 George and his next younger brother, Thomas Walter who was seven, were sent to the Barnardo Home for Orphans in London, England. The older children were left with their father to care for the youngest ones. George and Walter remained at Barnardo Home for two years. At that time the administrators asked George if he and his brother would care to be sent to Canada, to foster homes there. They elected to go, and were sent to a foster home in the Muskoka Lakes district of Ontario, where they remained for two years. They were then sent to Hullet Twp Huron County, to two farmers who were brothers named Brown. Alex Brown took George and had lot 1 con 1 immediately east of the village limits of Clinton. When George turned 18, his was "on his own". He spent the next ten years working on farms as a "hired man" in the summer and working in the lumber woods in the north in the winter. George rented an acreage on the road between Bayfield and Goderich (now highway 21) to raise small fruit. He later headed west in the summer to work in the wheat fields on the prairies in Saskatchewan. On May 26, 1910, George applied for a "pre-emption" on the NE quarter of section 5, township 7, Saskatchewan, near the village of Glasnevin. When he and Nellie were married, they started west.
Apparently, Nellie got a look at the prairies and decided she did not want to be a "prairie wife", so they continued west to Victoria, BC, where they had friends. George and Nellie bought a lot, probably about ½ acre, on Dalmeny Road in Colquitz, a suburban district outside Victoria, with funds inherited by Nellie from her father. George bought a load of used lumber and with the help of friends, built a small four-room house. The writer, in 1981, had the emotional experience of a tour of the house, which he had not seen since he was 1 ½ years old, conducted by Miss Youell, a daughter of the man who purchased the place from George and Nellie in 1920.
Three children were born to them in the home in Colquitz, Edith Helen born March 5, 1912; Velma Annie born December 5, 1916 and William George born October 19, 1918.
George obtained employment with a cereal mill in Victoria and he and Nellie lived in the home until the mill closed and left George without employment. Further search for a job proved fruitless and in 1920, they sold out and moved back to Ontario.
There they lived in rented premises near Clinton for a while and then purchased a farm lot l5 con 14 Grey Twp Huron County. This is 1-1/4 miles south of the village of Cranbrook and two miles from Nellie's birthplace. Their daughters Edith and Velma attended Grey Twp school #7 at Cranbrook while they lived there. They farmed there until the spring of 1923, but crop failures and lack of financing forced them to sell out.
They moved to Detroit, Michigan where they were able to live with Thomas E Shiels, Nellie's oldest brother, until George found employment in the automobile industry. They moved from uncle Tom's home into rented quarters for a couple of years and then bought a small house on the outskirts of Detroit. The writer remembers that the back of our lot was the railroad and much time spent in playing on the tracks, also his father buying a used 1923 Model "T" Ford and the great difficulty George had in learning to drive it!
In 1932, George's employment failed and they lost the house due to inability to make mortgage payments. A longtime friend, a Mr. Brown, nephew of George's foster parents in Canada, provided a home in Detroit free of rent for a couple of years. During those years George began selling food products door-to-door. In 1937 they purchased the home from Mr. Brown and lived in it until 1946. George continued selling food products and spices door-to-door for several years. When WW2 started, he took a job in a war plant until the war ended. He then became caretaker of a large church building. In the fall of 1946, Nellie and George decided to retire to Grand Rapids, Michigan where their oldest daughter, Edith Helen Koopmans lived. They sold their home in Detroit to William and Janet. In Grand Rapids, George worked as a custodian for the American Red Cross office building. They lived in the upper apartment of their daughter's home.
Ellen (Nellie) Shiels Ford died January 23, 1951, age 73, and is buried in Rosedale Cemetery in Grand Rapids, Michigan. George Alfred Ford died January 15, 1973, age 88, and is buried in Rosedale Cemetery alongside his wife.
G8: Edith Helen Ford 1912-1952 & Harry Koopmans
Edith Helen Ford was born March 5, 1912 at Victoria, B. C. She attended school in Victoria, then in Cranbrook, Ontario and finally in Detroit where she completed 11 grades. She was compelled to leave school due to illness. Edith worked for Michigan Bell Telephone Company until she married Harry Koopmans of Grand Rapids, Michigan.
Harry was born in The Netherlands and was brought to the United States by his parents, Mr & Mrs Thomas Koopmans. Harry finished High School in Grand Rapids and went to work for Consumers Power Company, the electric utility. He worked for them until he retired in 1965 at age 65. They had no natural children, but adopted a boy in 1944. They named him Gary Lyndon Koopmans.
Edith died May 9, 1952 and is buried at Grand Rapids. Harry remarried in 1952 to a cousin of his first wife on the Ford side. She died in 1965, and he remarried twice more. Harry died November 18, 1981, age 81, and is buried at Grand Rapids. 
G9: Gary Lyndon Koopmans 1944-2011 & Catherine M Gesler
Garry Lyndon Koopmans was born on September 1, 1944, to Edith Helen Ford, age 32, and Harry Koopmans, age 44.
He married Catherine M Gesler on December 21, 1972, when he was 28 years old. They were divorced on January 6, 1976, in Liberty, Texas, USA, after 3 years of marriage. He was 31 years old.
Garry Lyndon Koopmans died on June 29, 2011, in Boulder City, Nevada, USA, when he was 66 years old.
G8: Velma Annie Ford 1916-1927 
Ellen and George's second child was Velma Annie, born Dec 5, 1916 at Victoria. She attended school first in Cranbrook, Ontario and then in Detroit. Velma was an excellent student but subject to many illnesses. She died May 15, 1927, age 10, and is buried in Detroit.
G8: William George Ford 1918-2007 & Jessie Janet Muirhead
William George Ford was born October 19, 1918. He was the youngest child of George & Ellen (Shiels) Ford. He attended Sherill elementary and McKenzie High School in Detroit. He graduated from high school in January 1937 and worked at various jobs including truck driving, window shade making and Jack-of-all-trades in a tailor shop. When WW2 started, William went to work in a war plant, Vickers Inc. In February, 1943, he was drafted into the US Army. He was discharged in November of the same year and returned to his war job.
On October 21, 1944 he married Jessie Janet Muirhead. Jessie, who was always called Janet, was born December 8, 1921, the daughter of James' A and Margaret (Dodd) Muirhead of Traer, Iowa. She graduated from Traer High School, and attended Coe College in Cedar Rapids, Iowa before moving to Detroit in search of employment. She and William met through a mutual friend who was employed at the same place as Jessie.
When William's war ,job terminated in June, 1946 he began work as an auto mechanic, working first in a general garage and then for Hudson dealers, while taking courses in Electronics. In 1950, the Korean conflict caused the war work to accelerate, and he went back to his old company, Vickers, Inc. He was promoted into the engineering laboratory and began work on a degree in Electrical Engineering. In 1955, William was hired as assistant chief engineer by a company in Milwaukee, Wisconsin.
A year later, he was back in Detroit, working as a hydraulic engineer for Ford Motor Co. Engine Division. In 1970 he transferred to the Foundries Division, where he worked until his retirement. He and Janet lived in Detroit until 1962, when they purchased their present home in Livonia, Michigan. William was granted his University degree by Henry Ford Comm. College in 1976, at age 55. He remained with Ford Motor Co until retiring January 1, 1980.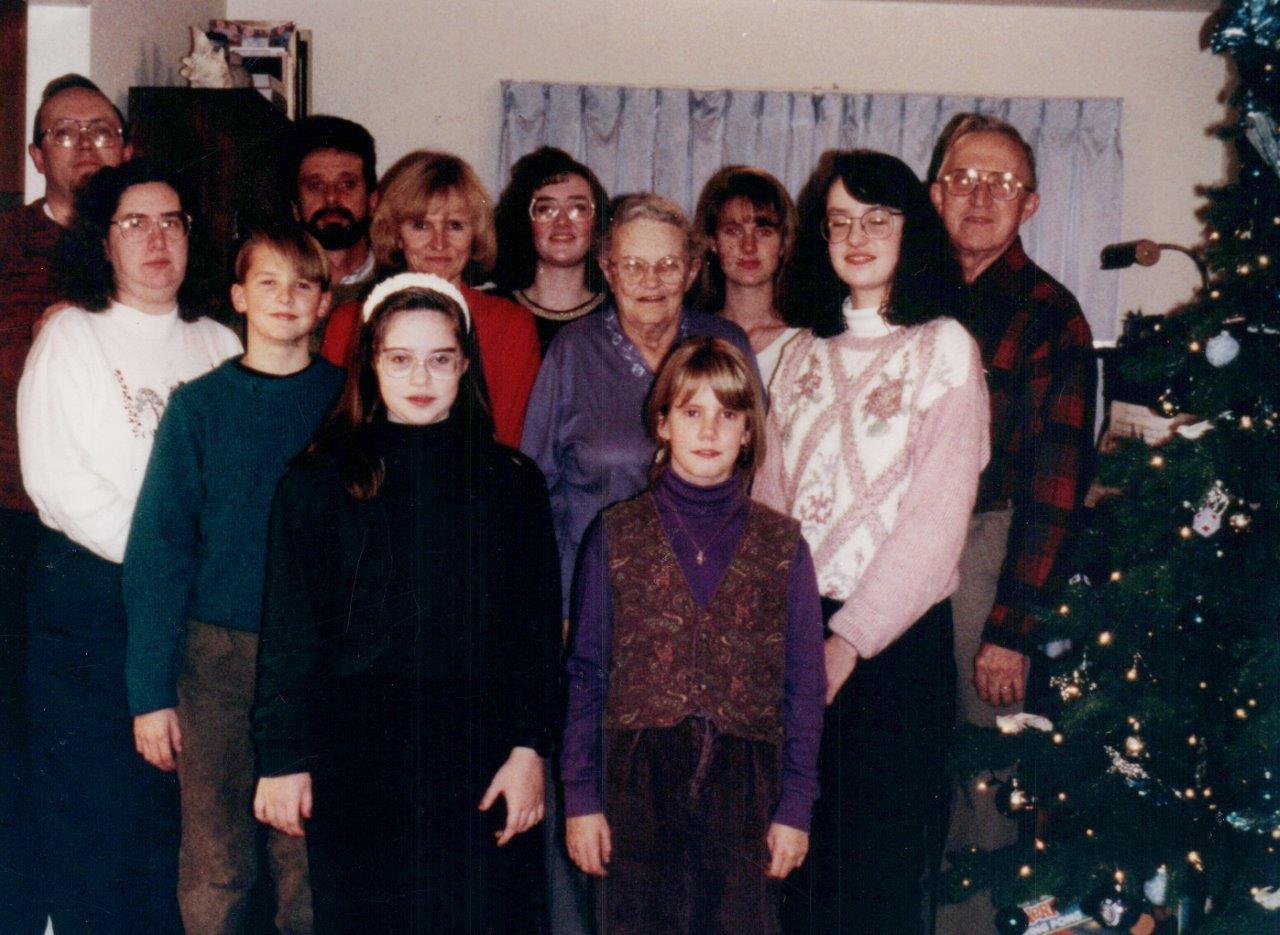 William and Janet have always enjoyed travel. They have visited England and Scotland five times. On the first trip, in 1968, John and Margaret accompanied them. In 1972, Margaret went with them to Britain and they have been there three times since. During their visits to Britain, they have established contact with William's Ford relatives in southern England and the "William Shiels" descendants in Scotland. They have also visited Janet's relatives in southern Scotland.
Searching the Scottish records at St. Andrews House in Edinburgh has added much to their knowledge of their families. Since William's retirement in 1980, they have visited all contiguous states except Rhode Island, and all Canadian provinces except Prince Edward Island and Newfoundland, finding many more family members on the way.
Janet and William had a continuous hobby, namely genealogy. Tracing family tree is always guaranteed to be a challenge. William enjoys his computer which makes recording family information easy and efficient. Janet was historian of her branch of her mother's family.
William and Janet celebrated their 50th (Golden) anniversary on October 22, 1994 by inviting approximately 85 friends and relatives for a dinner and an afternoon of fellowship in a banquet hall. John and Margaret gifted William a FAX machine, and Janet a topaz pendant on a gold chain. The FAX will expedite work for the church and be useful in many other ways. Janet cherished the pendant and it has been passed on to her daughter Margaret. They completed the first two and a half years of the second fifty before Janet's passing into the presence of the Lord on July 3, 1997.
Bill continued to live in Livonia until his passing on August 28, 2007.
William & Janet had two children, John William Ford 1947 and Margaret Ellen Ford 1951.
G9: John William Ford 1947 & Janice Ruth Sceiford
John William Ford was born December 12, 1947 in Highland Park, Michigan. He was the oldest child of William George Ford & Jessie Janet Muirhead.
He attended Emerson elementary school in Detroit and Emerson Junior High in Livonia. He graduated from Franklin High School in Livonia, Michigan in June 1966. He attended Schoolcraft College in Livonia and Western Michigan University in Kalamazoo, Michigan, earning a degree in Mechanical Technology. On May 15, 1971 he married Janice Ruth Sceiford, who was born June 5, 1948, the daughter of Robert J. and Marjorie Bell (Winters) Sceiford of Erie, Pennsylvania.
John was employed in the engineering department at Detroit Diesels Allison Division of General Motors until GM sold the division. He presently is employed as an engineering designer by Aerotek Inc of Warren, Michigan, working at the GM Technical Centre.
John and Janice live in Livonia, Michigan and have three children, Heather Jean; Jaclyn Marie and Rachel Anne.
Heather Jean, born June 27, 1974, attended Vandenberg elementary school in Redford Twp.and Riley Middle School in Livonia. She graduated from Churchill High School in Livonia. She graduated from Eastern Michigan University in Ypsilanti, Michigan in May, 1997. She completed her masters program at Wayne University, being granted her masters degree in Library Science December 14, 2000. She is now teaching in Livonia, Michigan.
Jaclyn Marie, born December 11, 1977, attended Vandenberg elementary in Redford Twp and Riley Middle School in Livonia and graduated from Churchill High School in Livonia. She is presently attending Eastern Michigan University.
Rachel Anne, born April 16, 1981, attended Kennedy elementary and Riley Middle School in Livonia. She graduated from Churchill High School in Livonia and also graduated from Schoolcraft College in Livonia in May 2001. She is currently attending the University of Michigan.
G9: Margaret Ellen Ford 1951 & William Samuel Campbell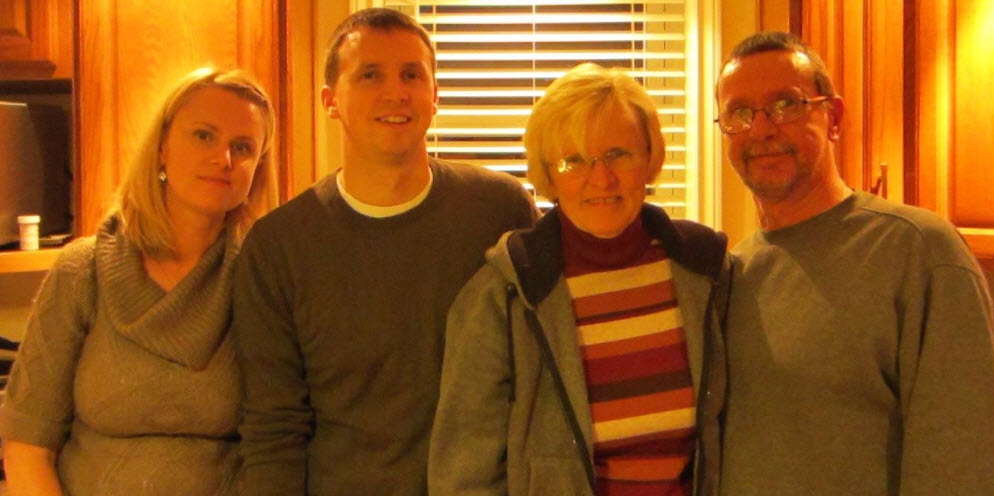 Margaret Ellen Ford was born April 5, 1951 in Highland Park, Michigan. She was the second child of William George Ford & Jessie Janet Muirhead.
She graduated from Emerson Middle School and Franklin High School in Livonia, Michigan and attended Schoolcraft College, receiving a degree in Medical Records.
She was employed at Federal Mogul Corp in Detroit until she married William Samuel Campbell on January 18, 1974. William was born in Lurgan, Northern Ireland, March 10, 1950, the son of William J. and Agnes Greer Campbell of Windsor, Ontario, Canada. William S (Bill) is employed by Ford Motor Co in Windsor, Ontario. Margaret and Bill have a home in LaSalle, Ontario, a Windsor suburb. Margaret graduated from Windsor University, being granted a BSc in Nursing degree. She was employed in the Emergency Room in Harper Hospital in Detroit.
Margaret and William have three children, Kristina Ellen; Eric William and Jamie Janet.
Kristina Ellen, born September 9, 1976, attended elementary school in LaSalle and Windsor Western High School in Windsor. She has completed the Veterinary Tech course in college and is now employed. On September 8, 2001, Kristina married Jarno Suvrnakki. Jarno was born February 26, 1974 in Windsor, Ontario.
Eric William, born January 7, 1980, graduated from Windsor Western High School in Windsor, and is now enrolled in Windsor University.
Jamie Janet, born October 15, 1983, graduated from grade eight in elementary school in LaSalle. She graduated from Windsor Western-High School and is now studying art in college.