Dan & Judy Shiels welcome you to our Family History Site!
This website offers a collection of a number of families starting with
SHIELS – GERRY – JONES – PHILLIPS
Each family is laid out the same with the first Generation labeled G1, second generation G2 and so on.
We have laid these pages out so that Dan Shiels is the 10th Generation descendant in each family. We are constantly adding new info so please come back often. Each page has a button to allow you to move up one Generation and there are a number of links to help you move down. Because there are many branches to a tree, I have added (Dan Shiels Ancestor) to my specific branch in order to make tracing easier.  Please use the Search feature below to find any information we may have on your branch. Good Luck!!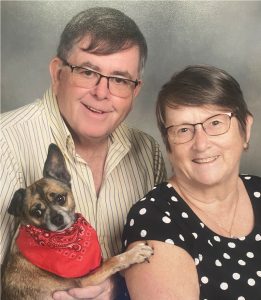 Type a name here to find any history we have on your branch.
Our history on the Shiels Family starts back in 1671 with Micheal Shiels. He came from Kildaire, Ireland to Scotland for the harvest. Family stories say that he liked the country, the whiskey and the Scottish Lassies so well that he decided to stay. He came to an area near Biggar, Scotland. He worked for Dan Scott and married the boss's niece Bessie. 
We have traced Micheal's descendants and although many of them stayed in Scotland, many more moved to North America and their stories are recorded here for future generations.
The photo below shows some of the Shiels Family in the 1800's.
Our Gerry history starts in Devon, England. John Gerry was born there in 1755 and he married Elizabeth Parsons in 1785. 
The family remained in the Devon area their entire life and had 10 children. One son, William, died in infancy. Two of the children never married and the other seven children married and produced 40 grand-children for John & Elizabeth.
Their son John Gerry and his family emigrated to Canada and settled in Ontario. Some of their descendants moved west into Manitoba and Saskatchewan.  
The photo below shows some of the Gerry Family in the 1800's.

The Jones family is a very common name around the world and we have tried to trace one small portion of the larger Jones family from Wales. Our Jones research goes back to Simon Jones, born in 1678 at Llanddeiniolen, Caernarvonshire, Wales. He married Theadosiae Cowell and they had two children, Simon & Anne.
Although the family started in Wales and many descendants remained there, there were a number of descendants that also went to Canada, the United States of America and also to Australia.
If you are connected to this line, you should begin by finding your name, your parents or grandparents name in the table of contents and then go to that page and work backwards. Each section shows who their parents were. Alternately, you can start at the top and work down in the generations. Each generation has a summary of the family and where more information is available, there is a reference to the next section.
Much of the data collected here is from Ancestry and a number of people completed their DNA testing to validate their ancestry.
Dan Shiels is a 10th generation descendant of Simon Jones.
The photo below shows some of the Jones Family in the 1800's.

Our story for the Phillips family starts in Pembrokeshire in a small village known as Navern, about 8 miles southwest of Cardigan and half way between Cardigan and Fishgard.
Thomas Phillips was born there in 1708.  Many of the families remained in Pembrokeshire while others moved to other counties such as Carmarthenshire, Glamorganshire, Monmouthshire, Cardiganshire, Gloucestershire, Linconshire, Montgomeryshire, Staffordshire and Warwickshire. A number of descendants also emigrated abroad to Australia, Canada, New Zealand the United States. The USA descendants were spread across the country in 11 states from New York to California.
There are many occupations spread across the descendants and are listed where available including farmer, shoemaker, coal miner, mason, stonemason, school teacher, grocer assistant, hewer, Post Office Manager and house builder.
Much of the data collected here is from Ancestry and a number of people completed their DNA testing to validate their ancestry.
Dan Shiels is a 10th generation descendant of Thomas Phillips.
The photo below shows some of the Phillips Family in the 1800's.

Please take a moment and let us know you are here.
In family history, it is always exciting to find where we came from. There is always that one more challenge and the most difficult part is keeping it up to date for future generations. We would be happy to add any additional information you may have, including any updates and photos on what we have as well as births, weddings and deaths since our book was published. We look forward to hearing from you. We are also looking to expand and fill in some missing families so we can really use your help.
Please send comments and additions to history@shiels.ca
Thanks
Dan Shiels
Winnipeg, Manitoba, Canada